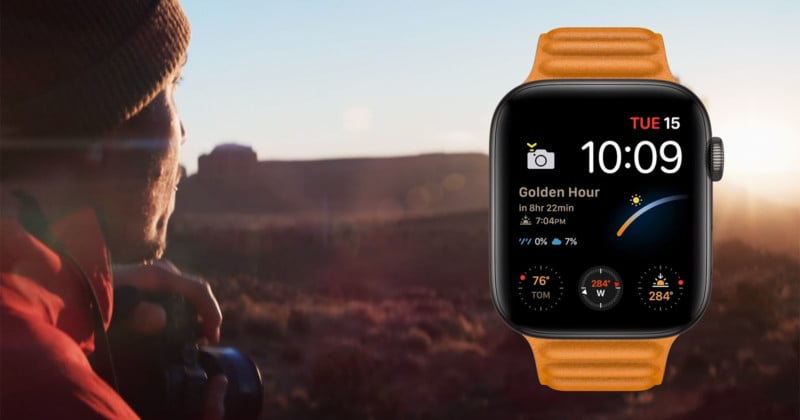 Apple just announced the new Apple Watch Series 6. While the design of the watch has remained virtually unchanged from Series 5, there are a number of innovative features that set it apart.
First off, there's a new watch face (one of 7 in the new watchOS 7) powered by Lumy that photographers will appreciate: one that tells you when it's Golden Hour (the "hour" right after sunrise or right before sunset that produces beautiful light for photos).
In addition to telling you the time Golden Hour starts and how long you'll need to wait for it, the face also provides weather and sunlight information at a glance.
On the front of the watch is a new always-on Retina display that's 2.5 times brighter than the one on Apple Watch Series 5.
One of the main headline features of the latest Apple Watch is a new health sensor that provides blood oxygen monitoring. The reading takes 15 seconds or less and involves a red light combined with the watch's infrared sensor.
Other features and specs include a new 20% more powerful and efficient S6 SiP chip, new case colors (blue, gold, graphite, red), 18-hour battery life, 20% faster charging (a full charge in under 1.5 hours), 5Ghz Wi-Fi support, an always-on altimeter, new bands, a lack of a USB power adapter in the box (to reduce waste),
The new Apple Watch Series 6 will be available for $399 starting on September 18th. Apple also announced a cheaper Apple Watch SE, which leaves out the blood oxygen monitoring but keeps most of the Series 6's new features for a price tag of $279.