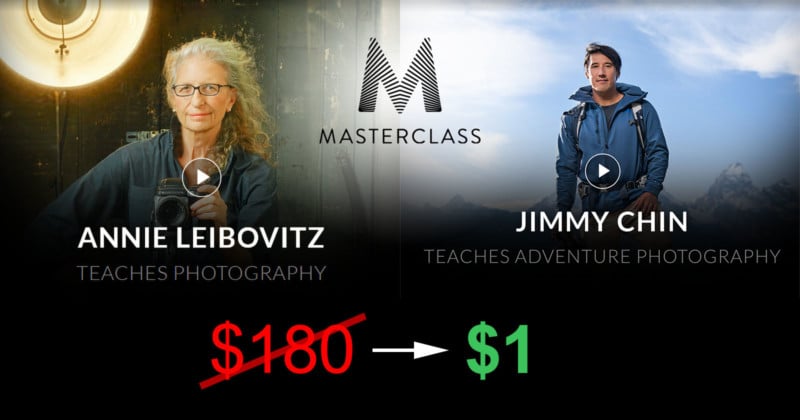 Heads up! If you're a college student, MasterClass is offering to give you a full year of access to its high-quality courses (including in photography) for just $1. The subscription is ordinarily valued at $180 and this deal is only being offered today (Thursday, September 17th).
MasterClass features online courses on a wide range of subjects by over 85 teachers who are at the top of their fields. For photography, there are currently masterclasses taught by portrait photographer Annie Leibovitz and adventure photographer Jimmy Chin.
Annie Leibovitz was the first woman to be named chief photographer at Rolling Stone and the last person to take a portrait of John Lennon. In her first online photography class, Annie shows us that what makes a picture stunning isn't the gear or technology—it's the story. Annie teaches you her philosophy: how to develop concepts, work with subjects, shoot with natural light, and bring images to life in post-production. See the world through her eyes.
Leibovitz's masterclass has 15 video lessons over 3 hours and 4 minutes of instruction.
Jimmy Chin has built his career taking photos at the top of the world, earning him the cover of National Geographic and multiple awards. Now he's taking you on location to teach you techniques for capturing breathtaking shots. In his photography class, learn different creative approaches for commercial shoots, editorial spreads, and passion projects. Gather the gear—and the perspective—to bring your photography to new heights.
Chin's masterclass has 20 video lessons over 4 hours and 10 minutes of instruction.
Examples of other subject matters taught at MasterClass include writing, music, art, fashion, sports, and cooking. Classes can be streamed on any device.
A different kind of school year calls for a different kind of school. Today only, U.S. college students can get one year of MasterClass for $1. https://t.co/nbK9DD0hsp

Offer valid 9/17/20 12:01 a.m. – 11:59 p.m. PT or while supplies last. Terms and restrictions apply. pic.twitter.com/Icj6xEDcB0

— MasterClass (@masterclass) September 17, 2020
If you'd like to sign up for your full year of MasterClass for just $1, head on over to the special offer page — you'll need to provide a valid .edu email address or some other form of proof of college registration.
This deal ends at 11:59PM PT tonight, and note that the 1-year subscription will auto-renew at the full membership price after it's up, so be sure to set a reminder to cancel before then if you're not interested in a full price subscription.
(via Masterclass via Engadget)