IKEA's transition from photography to all-CGI advertising is almost complete. After moving most of their catalog "photography" over to CGI many years ago, IKEA Japan's latest ad campaign takes this approach to the next level by using a CGI model. Specifically, the campaign features CGI Instagram 'Influencer' Imma.
It might all sound a bit Black Mirror, but it's true: IKEA Japan's latest ad campaign, titled IKEA with Imma, features a fake CGI model who "lived" inside a small IKEA-decorated apartment for three days and posted images of her "life" inside that apartment on Instagram.
Her "living room" was on display on an LED screen in the window of the new Harajuku district store in Tokyo, where passers by could watch Imma live her IKEA-strewn life. Other than the occasional outing, she spend three full days inside that apartment: cooking, cleaning, exercising, playing with her dog Einstein, and taking & posting Instagram photo the entire time.
You can see how it turned out below, or watch 10 hours worth of livestream here.
And here's a peek inside Imma's "room" at IKEA in Tokyo:
Unlike some of the agencies and projects that generate portraits of fake people for ad campaigns and other uses, Imma is sort of… half real. According to My Modern Met, her photos are created by transposing her 3D animated head onto a live-action body and background.
The IKEA campaign was probably created in a similar way: a real person with Imma's 3D head transposed on top of it actually had to live in a room for three days and take all those pictures; their life was then played out on an LCD screen and the pictures were posted as they were being "taken" in the virtual world.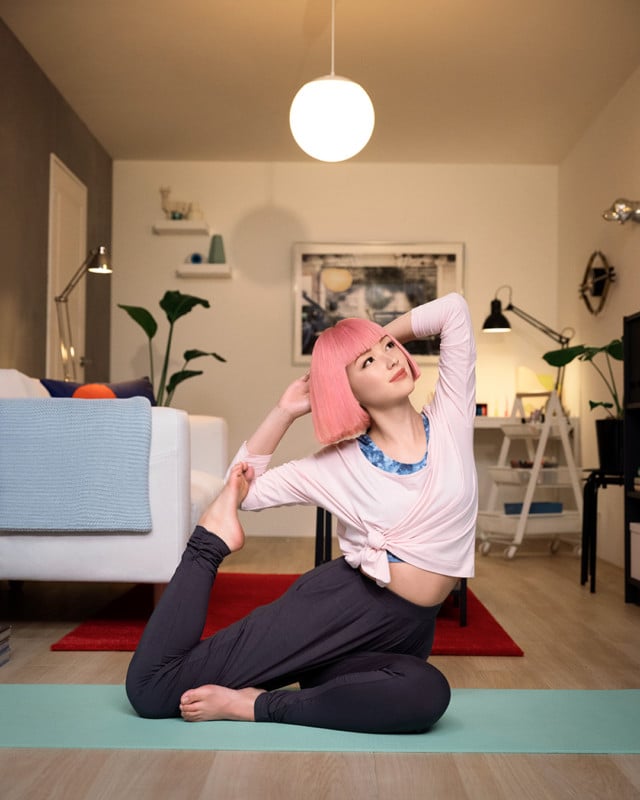 Knowing that this is a half-real person might take a bit of the "magic" out of it, but it still represents a curious "next step" further away from genuine photography and videography for IKEA. In 2014, they were already using CGI "photos" of furniture; in 2020, they don't even need real people anymore.
(via Fast Company)