Canon has announced the successor to the "#1 selling mirrorless camera in the United States," the EOS M50 Mark II mirrorless camera. Featuring a familiar 24.1 megapixel APS-C sized sensor, the M50 Mark II adds a few new tricks like improved autofocus, vertical video support, and live stream support.
According to Canon, the EOS M50 Mark II includes "many of the beloved features of its predecessor" while adding a few more to enhance its usability. The company still believes the M50 to be a good balance between both still and video shooting. It's APS-C CMOS sensor is backed by the same Canon DIGIC 8 processor of its predecessor.
The EOS M50 Mark II new features include:
Improved autofocus including eye autofocus in video
Vertical video shooting support
LCD adds tap video record button and movie self-timer for better vlogging experience
High-quality webcam capability, when used with compatible services, with the free EOS Webcam Utility software or Clean HDMI output
Wireless YouTube Live streaming capability (live stream feature is only supported with YouTube)
The ability to tap the screen to autofocus on your subject while looking through the EVF (for help controlling the main focus of the image)
The autofocus system remains intact from the original M50, featuring the same Dual Pixel CMOS AF that now includes face and eye-tracking. The same number of AF points found on the original are retained here as well. The upgrade comes in the form of support for face and eye-detection. The original M50 could not do face or eye-detection in video or in some still modes, like servo AF. Canon confirmed to PetaPixel that all still and video modes now support face and eye-detection in the Mark II.
Canon's specifications for the M50 Mark II state it supports a burst of 36 Large (Fine) JPEGs and 10 JPEG+RAWs.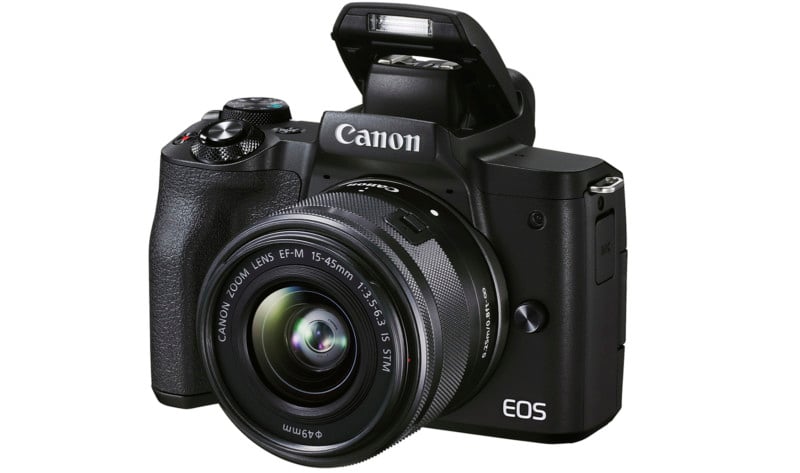 The M50 Mark II can record 4K video up to 24 frames per second and does so to a single UHS-1 SD card. You cannot record 4K at 30 frames per second. This again is unchanged from the M50, as are the Full HD recording options.
Canon currently is the only major manufacturer to actively support two different lens lines for its APS-C and Full Frame mirrorless camera options. While the company does have the entry-level EOS RP in the Full Frame lineup – which does give the line some level of approachability for newcomers – it doesn't have any APS-C cameras that offer the ability to use RF lenses. Canon doesn't even offer a lens adapter for RF lenses (likely due to issues involving flange distance), but you can get the company's EF-EOS M adapter to use its DSLR lenses.
Overall, the updates here seem pretty incremental. The addition of face and eye-detection in video shooting, the ability to capture vertical video, and live streaming capability are nice, but many of the features here feel like they could have been carried over to the M50 via firmware update rather than necessitating the purchase of a new camera.
The Canon EOS M50 Mark II camera is scheduled to be available in Late November 2020 at an estimated retail price of $599.99 for the body only, $699.99 for the camera body plus EF-M 15-45mm lens kit, and $929.99 for the camera body plus EF-M 15-45mm and EF-M55-200mm double zoom lens kit.
Canon Speedlite EL-1
In addition to the M50 Mark II, Canon announced the Speedlite EL-1 which is designed to work seamlessly with any EOS camera. It features a rechargeable lithium-ion battery pack that provides high-speed recycle times and an increase in the number of flashes while using the Canon LC-E6 battery charger. It can continuously fire up to 170 times thanks to a new active cooling system. The Speedlite also has a wireless second-curtain sync, a new joystick, LED modeling lamp, and a new interface and display.
The Speedlite EL-1 provides an expanded power range with a "micro flash" minimum flash output as low as 1/8192 power, a zoom flash head that covers a wide focal length range of 24-200mm, bounce angle expanded to 120 degrees, and the same level of weather-sealing that is comparable with the EOS-1D camera series. The EL-1 ships with two color filters and a bounce adapter for additional lighting control.
The Canon Speedlite EL-1 is scheduled to be available for purchase in February 2021 at an estimated retail price of $1,099.00.