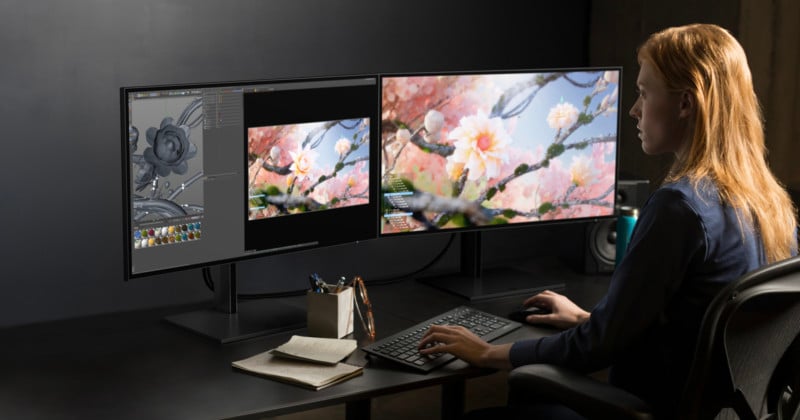 As part of the Adobe MAX creative conference, HP has announced a set of new color-critical HDR monitors under its DreamColor line. The company touts the Z25xs G3 and HP Z27xs G3 DreamColor Displays as "the world's first color-critical HDR monitors with one-touch brightness adjust."
Earlier this year, HP released three "studio" laptops with DreamColor displays aimed directly at artists, and today's announcement follows in those footsteps. HP says its new Z displays are curated specifically for creative professionals and are compatible with all devices and platforms thanks to a USB-C display connection.
USB-C is not the only port available with these monitors, however. The DreamColor displays have multiple connection options including a single HDMI 2.0, a DisplayPort 1.4 out, a DisplayPort 1.4 in, as well as two USB-C ports capable of display, with one offering 100W of power and the other 15W of power.
HP's claim of "world's first" is tied to the one-touch brightness adjust feature, which the company says will allow a creator to simplify "workflow with the ability to increase screen lighting in a single movement."
Aside from that feature, the monitors can project over a billion colors via a PANTONE Validated color gamut with "flawless" color accuracy out of the box. HP says that its Vesa Certified Display HDR offers up to HDR 600, while Dell only offers HDR 400.
The DreamColor displays will be available in both 4K (3840×2160 pixels) in a 27-inch format and QHD (2560×1440 pixels) in a 25-inch format, the former for $749 and the latter for $599. The 4K monitor does boast slightly better peak brightness at 450 nits, while the QHD option reaches 400 nits.
In October, Dell announced its own color-critical monitor that featured a built-in Calman colorimeter, but the asking price for that monitor was a significantly higher $5,000. These HP monitors are a lot more affordable, albeit slightly smaller, for a similar promise of wide color gamut with high accuracy. If Dell's built-in colorimeter seems like overkill, these HP monitors might be a more appealing option for the cost-conscious.
The DreamColor displays are two of eight monitors HP announced today with availability for all starting early next year. The other monitors are in HP's Z line, and have varying features and prices depending on your needs. You can read more about those displays and the two DreamColor monitors here.