TourBox (by TourBox Tech) is a plugin controller that lets you speed up your creative workflow when using editing programs such as Lightroom, Photoshop, Affinity Photos, Capture One, Premiere, Final Cut Pro X, and other design-based applications. It allows you to assign keyboard shortcuts to wheels, dials and buttons, all of which are easily accessible with one hand. In this article, I will give you my thoughts on this innovative tool.
Disclaimer
I had heard about this small controller on a couple of podcasts and a YouTube video several months before TourBox Tech reached out to me. I was intrigued by the device and considered getting one. So when TourBox Tech sent me a copy to review, I was excited to test it out with my workflow. And although the company sent me a controller at no charge, please be assured that this is a completely unbiased review. I will tell you about its strengths, and I will also talk about its flaws and a few glitches that I encountered before I give you my overall impressions and recommendations.
The Technical Stuff
TourBox is approximately 11.5 cm (4 1/2″) wide, 10 cm (4″) deep, 3.0 cm (1 1/4″) tall, and tips the scale at 355 g (12.5 oz). It has a dial, a knob, a clickable scroll wheel, and eleven buttons. All of them are ergonomically placed on the controller to allow easy access with one hand. I am right-handed and have small hands. I found TourBox's size and the placement of its keys just about perfect. If you have a large hand, you may find the unit's controls a bit cramped.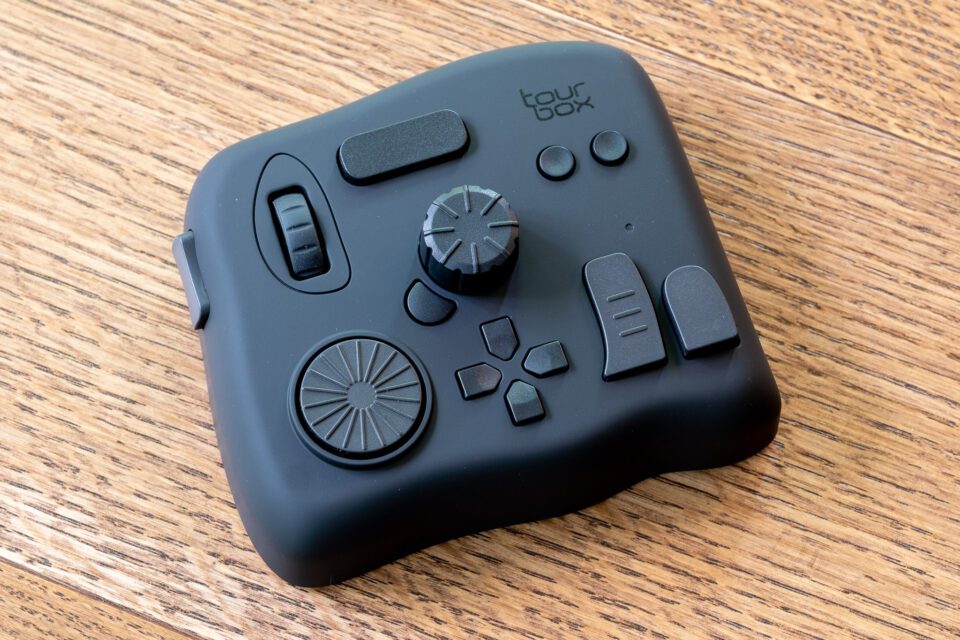 The controller's design is biased towards right-handed users. It is meant to be operated by your left hand, leaving your right hand free for a stylus or mouse. As a result, left-handers may find the buttons and dials a bit awkward, and they may need to reposition their hand more frequently to reach all the controls.
It is worth noting that earlier versions of the controller came with a pass-through USB port. The current version does not. I asked TourBox Tech why they had dropped the port, but did not hear back from them. As a MacBook Pro user, I was looking forward to piggybacking other peripherals off the console.
First Impressions
TourBox arrived in a sharp-looking box. The unboxing experience was similar to experiences I have had unwrapping tech from Apple, except the packaging is black instead of white! My first impression was how exceptionally well built the controller felt. It feels solid and has a beautiful tactile feel to it. Its black rubber-like skin does not appear to mark up with oils and sweat from your fingers. Its four rubberized feet kept the unit from sliding on my desk.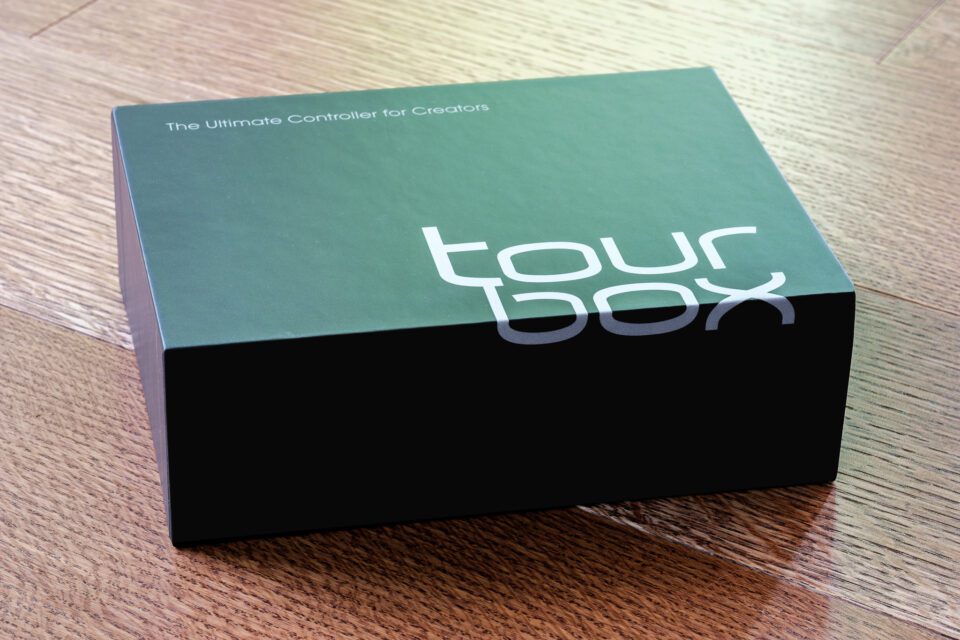 The controller came wrapped inside a black pouch within the box. A separate bag contained the black, braided USB-A to USB-C cable. A safety pamphlet, warranty card, and quick start guide rounded out the contents of the box.
All eleven buttons are very responsive. They have just enough stiffness and throw and make satisfying, audible clicks when pressed. The knob and dial rotate smoothly. However, they are a little too loose for my liking. I want to feel more tension when I rotate them. The scroll wheel clicks when turned. However, I found that when I tried to use the scroll wheel as a button, I had trouble preventing it from rotating as I clicked it. Again, a bit more friction would solve this problem.
Installation and Documentation
TourBox works on both Windows and macOS.
The installation of TourBox seems a bit more complicated than it needs to be. Once you have downloaded the application's zip file, you need to install the driver (v2.1.3 at the time of writing), and then the console software. I am running TourBox on a 2018 MacBook Pro. Because Apple tends to set security settings relatively high, I ran into a couple of roadblocks when the software tried to install. After a bit of troubleshooting, I was able to get the software running. The installation guide, which gets downloaded with the software, is relatively easy to follow. However, more precise explanations and better-worded text would significantly increase the overall installation experience.
The TourBox Console
The Console is the interface through which you customize TourBox from your computer. Again, more clearly worded documentation would make first time programming easier. Once you are familiar with the process, it is incredibly straightforward to customize the TourBox to your workflow.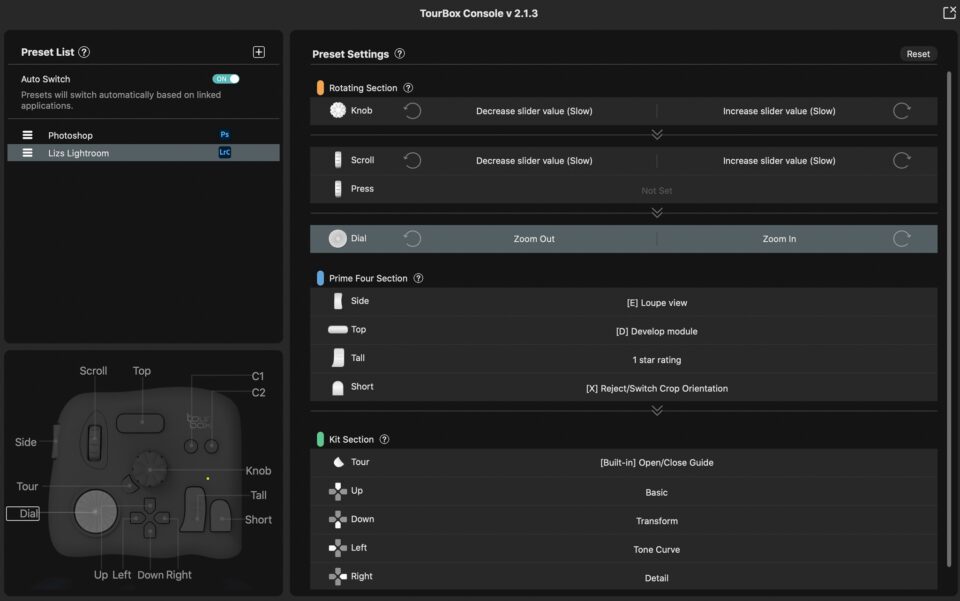 TourBox comes preloaded with presets for Lightroom and Photoshop. You can also download presets for Affinity Photo, Capture One, Premiere, Final Cut Pro X, Clip Studio Paint, and DaVinci Resolve from their website.
User Experience
My photographic workflow involves editing with Lightroom 85% of the time. For those cases where I need a bit more editing latitude, I jump into Photoshop. For these reasons, I did the majority of my testing within Lightroom. I particularly liked that TourBox knows which program you are working with, and seamlessly switches between Lightroom and Photoshop presets automatically.
Although TourBox came preloaded with a Lightroom preset, I found that it was well worth programming the controller for the way I like to work. Lightroom has some 300 odd keyboard shortcuts. TourBox has up to 43 functions spread across individual buttons, dials, or combinations of them. That means that you need to decide what shortcuts are most important to you. On the other hand, it doesn't mean that you need to fill up all 43 places, either! I concentrated on the keyboard shortcuts I currently use in my workflow in the Library and Develop modules. Firstly, I set up shortcuts that would help me cull and rate my images. Then I added buttons and dial commands for editing images.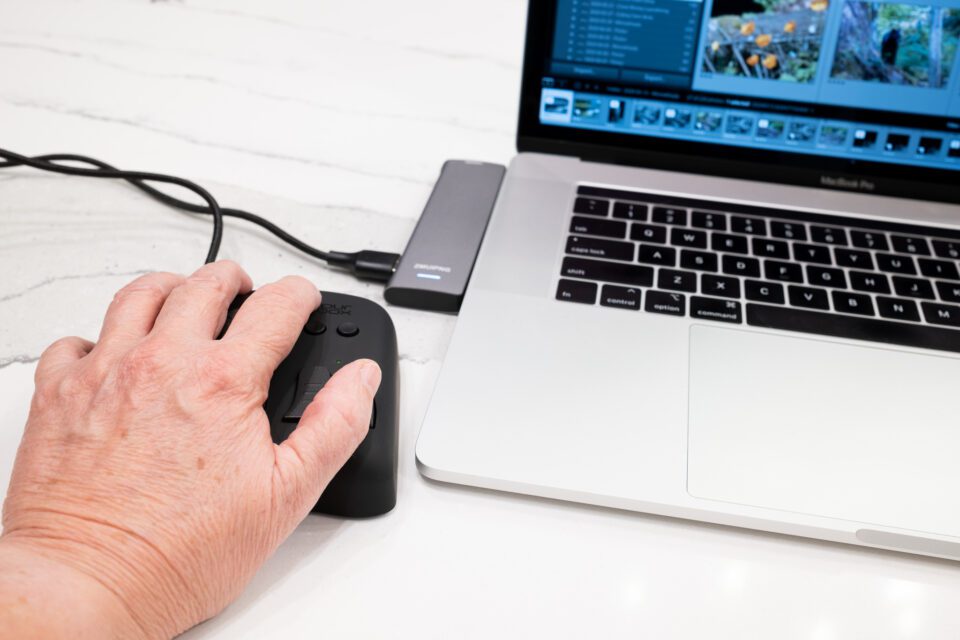 It took a bit of time to design my Lightroom preset. However, that three or four-hour investment of time was extremely beneficial. Firstly, it got me comfortable using the controller. Secondly, it put the shortcuts I use all the time at my fingertips. But most importantly, by assigning the various buttons and dials myself, I found it much easier to remember the button and dial assignments. Just like keyboard shortcuts, you will only recall them if you use them!
Once I got used to using TourBox, I found it much faster and more comfortable on my hands than using keyboard shortcuts. In particular, sorting through images in the Library Module using TourBox involved far less finger gymnastics than using keyboard shortcuts for flagging and starring photos. Also, I found that adjusting sliders in the Develop Module was far more precise by assigning this task to the controller's centre knob.
A Couple of Glitches
I came across two glitches using TourBox. Although neither were deal-breakers, it was frustrating until I understood how TourBox worked.
TourBox lets you assign functions to key combinations. However, TourBox doesn't treat these combinations as single functions. Regardless of how fast you try to press the buttons, TourBox always carries out the function assigned to the first button pressed, then carries out the combination's role. After talking with the folks at TourBox Tech, they said they recognize this is a problem. They suggest that users set the single keys (Side, Top, Tall, and Short) to control keys (Alt, Shift, Ctrl, Space). Once again, better documentation would go along ways in alleviating customer frustration!
A second problem I encountered involved TourBox's built-in functions. If I was using their Lightroom preset, they worked properly. However, no matter what I tried, I could not get them to function with the preset I developed myself. While looking through some of the forums, I found that others were having the same issue. For me, this was not a game-changer. However, for others, it is clearly an annoyance.
Conclusion and Recommendations
If you are a person who spends a lot of time using Lightroom and Photoshop and has a good grasp of these programs, I would highly recommend TourBox. However, if you are new to editing programs or use them infrequently, I'm not sure that you would benefit as much from using TourBox.
Overall, I found the controller an asset to my workflow. I love its small footprint and feel in my hand. But most importantly, I like the more refined control I get adjusting sliders and brushes. TourBox has become a permanent tool in my photo editing process.
TourBox retails for $169 USD at Amazon, or for $159 on pre-order from B&H.
Pros:
Small size and footprint
Very ergonomic
Good value for the price
Well built
Customizable
Easy to configure
Can create application-specific presets
Cons:
Not enough friction in scroll wheel and knob
Instructions vague and poorly worded
Installation awkward for Mac users
TourBox
Features

Build Quality

Handling

Size and Weight

Ease of Use

Speed and Performance

Stability

Value
Photography Life Overall Rating