Every Sunday, we bring together a collection of easy reading articles from analytical to how-to to photo-features in no particular order that did not make our regular daily coverage. Enjoy!
Alexandria Ocasio-Cortez Unveiled as Vanity Fair's Latest Cover Star – CNN
2020 is shaping up to be the year of female power in politics, and now their photos are on the cover of glamour magazines. First, it was Sen. Kamala Harris on Elle, then Rep. Ilhan Omar (and daughter Isra Hirsi) on Teen Vogue and now, Rep. Alexandria Ocasio-Cortez on Vanity Fair. The cover image — and a series of additional pictures for the magazine's December issue — was taken by Tyler Mitchell, who also shot the Beyoncé cover for Vogue.
Quiz:
(1.) Was Tyler Mitchell the first black photographer to shoot a cover for Vanity Fair? No, it was Dario Calmese with his portrait of actress Viola Davis for the Jul/Aug 2020 issue.

(2.) Who is the youngest photographer to shoot a cover of VOGUE? At 23 in 2018, Tyler Mitchell became the first black photographer to shoot a VOGUE cover in the magazine's 125-year history with his portrait of Beyoncé (shown below).

(3.) How old was Irving Penn when his first image appeared on the cover of VOGUE in October 1943? 26 yrs. It was a still life and his FIRST color photograph (You read that right. Art director Alexander Liberman encourages Penn to create that image in color). He would go on to shoot his 165th cover for VOGUE in 2004 at age 87.
Douglas Kirkland, 86, Travels LA to Denver During the Pandemic to Shoot a Portrait of a 106-Year-Old on 8×10 Film!  – The Eye of Photography
That would be a first if there ever were a Guinness Book of Photographic Records (publishers please take note)! "One morning, during the altered reality of our life with the COVID virus, I woke up with a new project in mind: I wanted to photograph Don Isidro Garcia, who is 106," says Douglas Kirkland. Problem: Garcia lives in Denver, CO, 1,000 miles away. No problem: they rent an RV in Aug.
When Look magazine went out of business, the Director of Photography, Arthur Rothstein, offered Kirkland an 8×10 Deardorff camera that he was using and 16 holders for $100.00. He packed "The Old Lady," as he fondly refers to the Deardorff, and off they went through some of the most beautiful parts of this country like Zion and Santa Fe. "Photographing this distinguished gentleman was the highlight of our summer. Taking this trip during the time of the COVID Pandemic confirmed my deep belief that there will always be a way for me to keep making images and make my world complete," Kirkland tells PetaPixel. And before we know it, he's going to be off on another shoot. That's fine, Douglas, but just stay safe–you are a National Photographic Treasure!
"Shooting with the 8×10 camera, you are always on the edge of failure." — Douglas Kirkland
Not Notable: "My 15­-year-old nephew is fascinated with it [8×10 Deardorff] and asked where the battery was." — Douglas Kirkland
36 Tutorials Full of Tips For Creating Amazing Architecture Photos – ePHOTOzine
Architecture is a genre that is easily accessible to all photographers anywhere in the world, and it does not have to be a historic castle from the 15th century as it can be just inside your own house. Keep the light in mind as it will look a lot different from daytime to night to golden hour to blue hour to moonlight. And don't just think of complete buildings as sections and detail can give you an equally interesting picture. Try to get your perspective to be natural looking or distort it for a signature style. Lugging around tripods was once considered essential for good architectural studies, but with today's high ISOs and five stops+ of image stabilization, you could get by in many situations. But the purists would disagree!
10 Facts About Ansel Adams, the Pioneering Photographer and Environmentalist – My Modern Met
Ansel Adams was not only a great photographer but also an environmentalist. Ansel's (1902 –1984) breathtaking images of the American West helped establish photography as a recognized and respected fine art.  He helped found Group f/64, an association of photographers advocating "pure" photography, which favored sharp focus and the use of the full tonal range of a photograph, as he explained in the Zone System.
Adams was a life-long advocate for environmental conservation, and his photographic practice was deeply entwined with this advocacy. At age 12, he was given his first camera during his first visit to Yosemite National Park.  For his work and persistent advocacy, which helped expand the National Park system, he was awarded the Presidential Medal of Freedom in 1980.
Notable: I have always wondered about Imogen's expression in this well-known photo (above) and why she has that scowl on her face as she stands behind a smiling Ansel. I just got the answer two days ago from Alan Ross, Ansel's assistant, about what was going on behind the scene. Watch this video for the answer.
 "It is horrifying that we have to fight our own government to save the environment." – Ansel Adams
The above has been attributed to Ansel Adams and has also been posted to the Facebook page of Sierra Club, where he developed his early photographic work as a member. Please let us know in the comments or by email if you know the source.
DxO PhotoLab 4 vs. Adobe Lightroom: Which is Best for Noise Reduction? – Amateur Photographer
Adobe Lightroom Classic is the go-to software for a large community of pro photographers as it provides organization as well as editing. Lightroom has an excellent cataloging system and is perfectly integrated with Adobe Photoshop and shares the same processing engine as Adobe Camera RAW and can also reduce noise in your high ISO images.
DxO PhotoLab 4, meanwhile, has a background in analyzing lenses and cameras. As well as being able to correct optical flaws such as vignetting, lack of sharpness, chromatic aberration and distortion automatically, DxO has a collection of controls for making global and local adjustments to the exposure, contrast and color of images. It also introduces the latest incarnation of DxO's denoising technology, DeepPRIME. DeepPRIME is powered by artificial intelligence and "deep learning" to inform its ability to reduce the amount of noise visible in images without the smoothing and loss of detail that's seen with some other noise reduction systems.
While DxO DeepPRIME is largely automated, Lightroom will need manual adjusting. The reviewer found one of the programs to be just a bit better. Find out which one it is.
Notable: Fujifilm cameras with X-Trans CMOS sensors are not supported as DxO PhotoLab 4 is currently not compatible with their RAW files, which do not use a Bayer matrix.
Photographer Walks the Perimeter of Britain – in Pictures ­– The Guardian
Covering almost 7,000 miles of coast over five years, with only a tent and meager rations, photographer Quintin Lake set out to capture the beauty of the island nation of Britain. He would walk in sections of two to nine weeks before returning home to edit the pictures, earn money from selling the prints, and prepare for the next section. "I walked an average of 15 miles a day, in which I allowed for three hours of photography," recollects Lake. "I sustained this rhythm for five years through all seasons." Lake mostly slept in a tent to save money. He carried a pack of up to 40 lb. on his back and was self-sufficient in terms of food, fuel and power for five days at a time.
Camera gear: A full-frame DSLR, Canon EOS 6D, 24-70mm f4L, 70-300mm f4-5, and 17mm TS-E f4L tilt-shift in a Mindshift Horizon backpack. He also used a Peak Design Capture Clip attached to the shoulder strap as he liked to have the camera at hand at all times. And a very small knee-high table tripod Gitzo GT-531. And let that be an inspiration for all you photographers sweating to carry that ultralight mirrorless on a 5-mile hike this fall!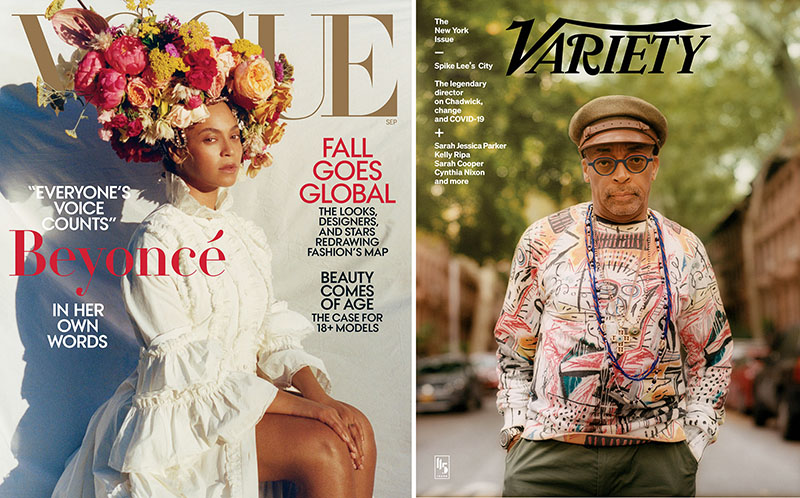 Can Fashion Photography Survive the Pandemic? – Deccan Herald
This post appeared in The New York Times, while the above link is a syndication from the International Edition of the NY Times. A fashion image is never just about clothes. Fashion photographers have celebrated great designers' work for the last century while making nods to wider societal moods and shifts in politics and identity. Though few can afford the clothes, millions consume the pictures. Indeed, numerous photographers — Irving Penn, Henri Cartier-Bresson, and Diane Arbus among them — did some of their greatest work on assignment for magazines. But now the fashion world is in crisis. Can the fashion photograph, of the sort that has littered bedroom walls and been reposted again and again on Instagram or Tumblr, survive while brands and magazines are closing? Even before the pandemic, conditions had grown difficult for the production of great fashion photography as budgets were being slashed.
Notable: Now, COVID-19 has led to an "acceleration of what was going on before the pandemic," said Sølve Sundsbø, a Norwegian photographer whose work has appeared in Vogue. Namely that even established magazines expect photographers to contribute editorial work for free. From The New York Times.
Aaron Anderson, Fujifilm X-Photographer – Swipe to the right for BTS to see a 6-light setup.
Fujifilm Announces 16 New Photographers to Its U.S. X-Photographer Program – Fuji Rumors
The 16 new members join the current group of 16 X-Photographers, beginning their 4-year terms effectively on November 1, 2020. "Over the past several months, we have made a significant effort to broaden the scope of the prestigious X-Photographer program in the U.S. to be more representative of our community," said Victor Ha, senior director of marketing and product management at FUJIFILM North America Corporation, Electronic Imaging Division. "Adding term limits to our X-Photographer program allows more photographers to have the X-Photographer experience than before…" Ha said.
As part of the program's enhancements, several additional layers were also introduced. To be eligible to become an X-Photographer, the photographer must first be part of the Fujifilm Creator program and then apply for the four-year X-Photographer position. Outgoing X-Photographers maintain alumni status and may re-apply to become an X-Photographer again once the next four-year term has passed.
The newly named X-Photographers for the 2020-2024 term are:
PetaPixel salutes veteran Michael McCoy, whom we first met in 2017, on being selected as a Fuji X-Photographer.
Why I Like This Photo – Eric Meola
"I made this photograph in Port-au-Prince, Haiti, while on assignment for TIME magazine to document the country. I was drawn to the logo as it symbolized the influence of American culture on another country. I set up a Nikon F2 with Kodachrome 25, mounted on a tripod, and shot with an 80-200mm NIKKOR from across the street. I spent an hour watching people walk by, but this young boy with white shorts and long arms made the perfect counterpoint to the sign's white letters. The yellow letters added a great touch — 'Buvez' means 'Drink' in French.
The great thing about shooting film was the anticipation — the 'not knowing,' the waiting to see the image you felt was a 'stopper' as you looked through the camera. This was an important image for me, and it jump-started my career. The lines, the graphics, the bold color all work together to create movement." – Eric Meola
Meola graduated from Syracuse University in 1968 with a B.A. in English Literature. He is self-taught in the art of photography and from 1969-70 worked with mentor Pete Turner who influenced his use of saturated color and graphic design. He was awarded Advertising Photographer of the Year in 1986 by the American Society of Media Photographers. Meola is also known for his photos of Bruce Springsteen, including the cover of Springsteen's album Born to Run. In 1972 he photographed Haiti for Time, resulting in one of his most famous images, "Coca Kid," which was included in Life's special 1997 issue 100 Magnificent Images.
Quote of the Week (or a Previous Week): "There's this idea that in portraiture, is the photographer's job to set the subject at ease. I-I-I, I don't believe that." — Anne Leibovitz Teaches Photography, Official Trailer, MasterClass, 21 million views.
---
We welcome comments as well as suggestions. As we cannot possibly cover each and every source, if you see something interesting in your reading or local newspaper anywhere in the world, kindly forward the link to us here. ALL messages will be personally acknowledged.
---
About the author: Phil Mistry is a photographer and teacher based in Atlanta, GA. He started one of the first digital camera classes in New York City at The International Center of Photography in the 90s. He was the director and teacher for Sony/Popular Photography magazine's Digital Days Workshops. You can reach him via email here.
---
Image credits: All photographs as credited and used with permission from the photographers or agencies.