Moment's latest line of products takes advantage of Apple's MagSafe technology, using the magnetic connection to attach the iPhone and new Moment cases together in what Moment promises is a stronger, better way.
Though the collection includes a range of different cases and other accessories that anyone would find a use for (like the vent clip or this wall mount), the line actually has several products that should appeal specifically to content creators who want to use the new iPhone for photo or video production.
Moment has made three different iterations of a cold shoe adapter that can be used to, for example, mount an LED light onto the side of the iPhone. You can get the cold shoe mount as a standalone, or it can come as part of either the landscape-orientation tripod mount or the portrait and landscape tripod mount.
If you don't need the cold shoe, you can still get the tripod mount without one for $10 less than the mounts that do include the cold shoe.
If you plan to use the iPhone in different rigging situations, Moment also has a Universal 1/4″-20 mount that allows the iPhone to fit into any number of filmmaking arrangements using common camera equipment.
If you recently saw reviews of the iPhone 12 and the new MagSafe, you might be wondering if the magnet is even strong enough to use with these different products. For example, in the MKBHD review below, the magnet doesn't seem particularly strong:
Moment has apparently addressed this with a technology it is calling (M)Force. Each of the company's mounts has "unique use of magnets and mechanical features that make them easier (and stronger) to use." The mounts are compatible with the iPhone 12 both with and without a case.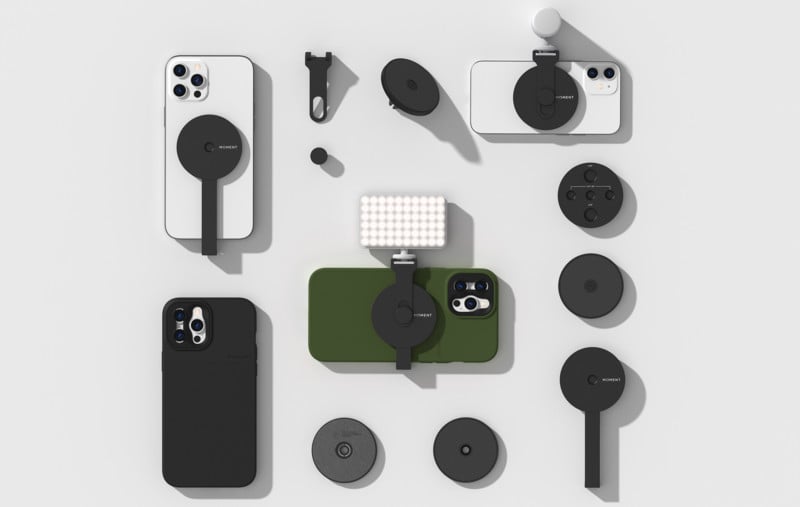 All of Moment's MagSafe products are currently available for pre-order, with estimated shipping of finished product quite a ways off – Moment expects to have all the products available in March of 2021.
Moment's MagSafe cases are available for $49.99, the Tripod Mounts are available for $39.99 (or $49.99 for the Pro model), and the multi-treaded mount is available for $29.99. The cold shoe mount without the tripod adapter will cost $29.99.
For more information on all of Moment's MagSafe cases and accessories, you can visit the online store here.