Kodak has launched a new application – powered by artificial intelligence – that promises to quickly cull your images for you based on a set of rules. Called Kodak Professional Select, the company promises fast, easy, and accurate results.
Kodak says that the service accepts hundreds to even thousands of images at a time and applies its "proprietary Ai" to evaluate those images on a set of criteria. The algorithm looks at technical attributes like color, focus, brightness, exposure, contrast, and sharpness while also considering aesthetic qualities like whether eyes are open or closed, if a subject is smiling, and if faces are centered to the frame.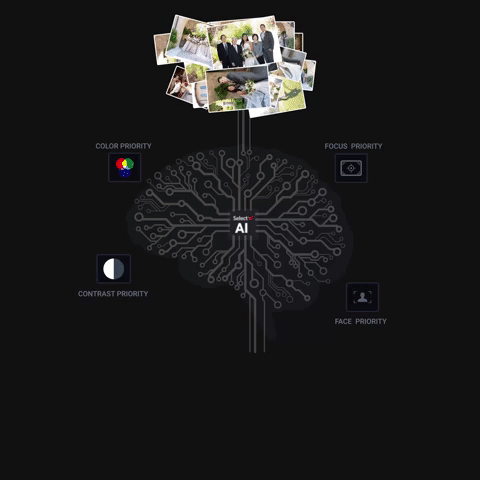 The process for using the application is simple. After installing the software, upload images from an event that you want to have culled. After dropping them into the app, it transmits "appropriately sized images" to the cloud to be processed. The system then analyzes each image and automatically ranks, organizes, and selects what it believes to be the best from the entire event. You can then review its results by adjusting the score criteria, adding or removing your own selections, and separate or combine duplicates among other culling options. Finally, add keywords, assign star ratings, and adjust orientation before exporting selections to then import for editing.
The platform is designed to only provide organizational help and is not an editing tool.
The developers of the software said that they wanted to build a technology that would help the modern photographer, and to do so they asked professionals what they found they needed help with the most. They found that overwhelmingly, the number one pain point was image culling where photographers would spend hours looking at each image, one by one, to determine the good from the bad.
Seeing that as a bad use of a photographer's time, the developers created the Kodak Professional Select software to make a better way. The company says that it applied proprietary imaging science algorithms coupled with photographer feedback to create an artificial intelligence designed to be a "virtual assistant."
This particular branch of the Kodak name appears unrelated to the larger Eastman Kodak Company that is still producing film. According to the Professional Select website, this particular business was spun off from the main company in 2013.
You can try Kodak Professional Select for free for 30 days, after which the service is billed at $29.95 per month or $299.95 per year. To learn more, visit the company's website here.