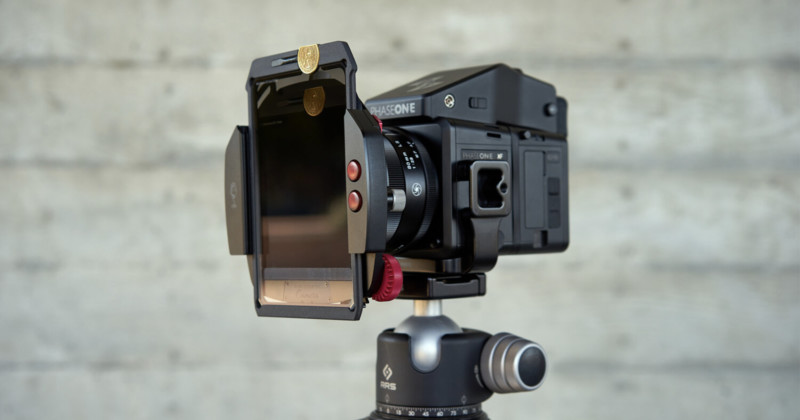 Wine Country Camera has opened pre-orders for the 100mm Filter Holder V2, which has a new design that features a more secure and rotatable adapter ring attachment, improved installation for a polarizer, and an updated ND filter holder with better security.
Wine Country Camera (WCC) was founded by Rod Clack who built his company after leaving Formatt Hitech. He wanted to develop a better and easier filter holding system and chose to do so under his own company. WCC says it pioneered the concept of "workflow" for filter users, allowing the ability to adjust NDs, graduated filters, and a polarizer independently without them interfering with one another along with the ability to remove the ND between exposures without disturbing critical focus and composition.
This latest iteration of his filter holder makes small but meaningful improvements on an already excellent filter holder system.
The most dramatic change on the 100mm V2 holder sees the iconic wood dropped in favor of a full metal design:
The new secure and rotatable adapter ring attachment is an upgrade over the V1 iteration to allow you to loosen the adapter ring and rotate the holder body without fear of the holder itself detaching from the lens.
There is also an improved polarizer system that incorporates what WCC is calling a "three-point guide" that supposedly improves polarizer rotation while also making it easier to install and remove.
The ND filter "vaults" as WCC calls them are designed to be easy to remove without touching the filter glass itself, and the V2 100mm holder now features a more secure vault holder.
The WCC V2 100mm Filter Holder is priced the same as the original V1, with pre-orders currently available on WCC's website. If you're currently a WCC owner, the V2 standalone holder can be purchased for $199. You can order the holder kit with an adapter ring and no polarizer for $299, and a full kit that includes the adapter ring, polarizer, six-stop ND filter, and a two-stop graduated ND filter for $779. You can also pre-order the Master Filter and Holder Kit, which has everything in the full kit but adds a three-stop ND filter, 10-stop ND filter, and a deluxe pouch for $1,099. All pre-orders are expected to be fulfilled by December 25, 2020.
The original V1 100mm holder is also still available if you do not want to wait for until Christmas for a new filter system.
(via Fstoppers)