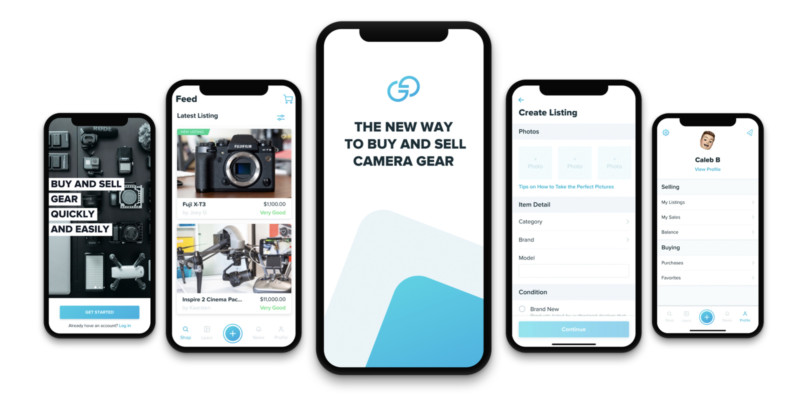 Designed to be a marketplace specifically for the photo and video community, GearUp is an app for the specific purpose of buying and selling camera equipment around the United States.
With the success of platforms like Facebook Marketplace, LetGo, and OfferUp, the founders of GearUp appear to want to give you the same overall experience but tailored specifically to just photography and videography goods. Like KEH, but an app, the platform says it currently supports a diverse collection of new and used cameras, lenses, drones, and lighting equipment listed by users from around the country.
Caleb Blasingame, the founder of GearUp, says that he founded the business because a majority of cameras and accessories purchased by professionals and hobbyists ends up on the used market.
"The digital camera industry has seen a huge influx in new users as TikTok and other video-based social platforms have grown," Blasingame says. "These creatives are looking for new tools of the trade to purchase and for an easy way to sell old equipment to fund these new items."
GearUp boasts more than 7,000 current users and further diversifies itself by offering "professional tips and educational content." From a perusal of the "Learn" tab within the app, that content is a mix of news, product comparisons, and reviews that appears to be a feed of the company's blog. At the time of publication, PetaPixel noted that this section of the app was particularly slow to load but may become better over time.
The app is free to download, and the company makes its money through sales fees. Listing an item for sale is free, but once someone commits to buying the item, GearUp holds the funds during the transaction to make sure sellers get paid. If an item sells, GearUp's cut is 6.5% plus a $1.99 service fee. After an item has been delivered to the buyer (shipping is handled and paid for by the seller), the funds will be released to the seller's GearUp account within 48-72 hours, and from there can be transferred to a bank account.
You can download the GearUp app from the Apple App Store or Google Play.