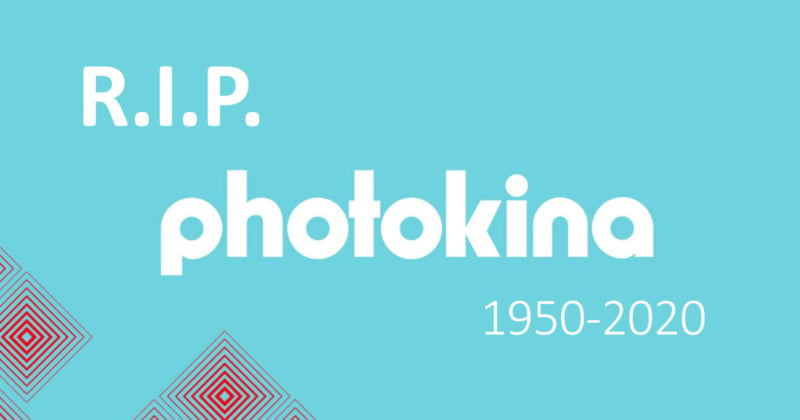 After 70 years of holding its leading photographic trade show in Cologne, Germany, Photokina may be no more. The world's largest photo trade fair has announced that due to a "massive decline in markets for imaging products," it will be discontinued indefinitely.
Photokina was first held in Cologne in 1950, becoming a biennial event in 1966. The show would go on to become one of the primary venues camera manufacturers showed off new state-of-the-art products to the world and a central hub through which business in the industry was conducted.
Signs of trouble first emerged a few years ago when Photokina announced in 2017 that the biennial fair would become an annual event and diversify beyond cameras.
In 2018, Photokina announced that the 2019 edition would be canceled to give companies the time to "further develop the new concept for photokina."
In 2019, major brands including Nikon, Leica, Olympus, and Fujifilm announced they would not be attending Photokina 2020 (though Canon, Sony, and Panasonic affirmed their commitment to the show).
In the end, not a single company would be able to attend, as Photokina 2020 was canceled in March due to the COVID-19 pandemic with the aim of returning in May 2022. It seems this latest cancellation was the final nail in the coffin.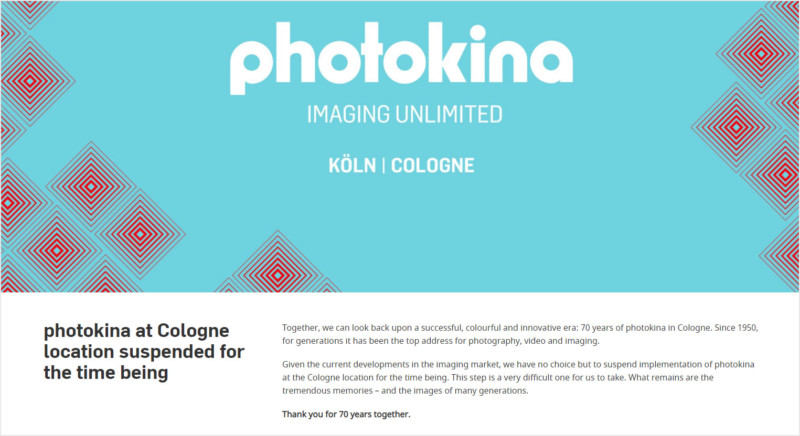 "In view of the further massive decline in markets for imaging products, Koelnmesse has decided to discontinue organizing photokina at its Cologne location for the time being," the organizers write in a press release.
Camera sales have been plummeting in recent years, with sales plunging as much as 50% in 2020, and unless things pick up again, the numbers just no longer make sense for shows like Photokina.
"Unfortunately, at present the framework conditions in the industry do not provide a viable basis for the leading international trade fair for photography, video and imaging," says Gerald Böse, President and CEO of the Koelnmesse center that hosts the show. "This hard cut after a 70-year shared history was very difficult for us.
"The trend in this industry, with which we have always had a close and trusting partnership, is very painful for us to witness. But we are facing the situation with a clear, honest decision against continuing this event, a decision to which, unfortunately, we have no alternative."
Photokina also sent emails out to attendees to share the news and thank them for their support over the years.
"We would like to thank you very much indeed, for your longstanding loyalty to photokina and the enthusiasm that this has involved," Photokina writes in the email. "We can hardly put into adequate words the things we have experienced together, the history we have written together, and our appreciation for your work for and participation in photokina.
"We trust that you know quite well how grateful we are to you, and how difficult it is for us not to be planning a photokina with you in the foreseeable future. If not for you, photokina would not have evolved into the great and emotional world-leading trade fair it has become.
"It is the memory of these unforgettable snapshots that we will always cherish – the opening of the exhibition areas, the spectacular premières of new products to journalists from all over the world and the enthusiastic responses by our international visitors. Nothing short of Imaging Unlimited!"
---
Thanks to Sam of Solarcan for sending in this tip.