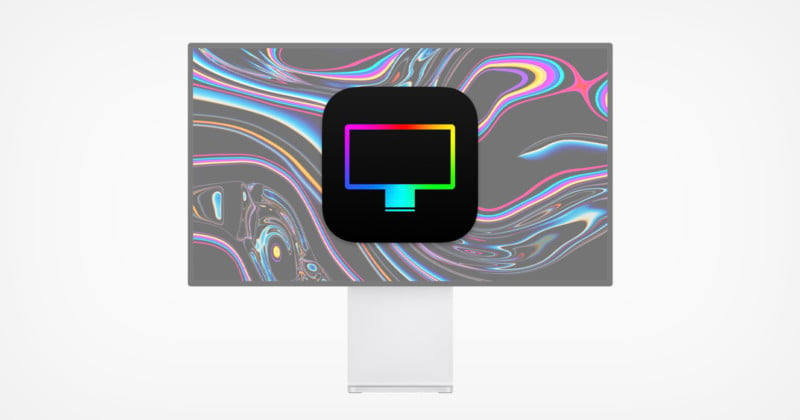 Apple has announced the Pro Display XDR Calibrator along with Firmware version 4.2.30 that allows for in-field recalibration of the Pro Display XDR for specific color workflows that may require custom calibration.
Apple says that every Pro Display XDR undergoes a factory display calibration process on the assembly line to ensure the accuracy of the P3 wide color panel and the individual backlight LEDs. In addition, the factory calibration process enables sophisticated built-in algorithms to accurately reproduce a variety of color spaces used by media workflows today, including sRGB, BT.601, BT.709,​ and even P3-ST.2084 (HDR).
What that means is that for most, the calibration of the monitor is perfect right out of the box. Up until this point, however, in-field calibration was not possible. Thanks to this latest firmware update and new software, however, those who require a custom calibration for a specific project now have that option with one of the most expensive (albeit also one of the nicest) monitors on the market.
For those who need it, they can fine-tune the calibration of (or recalibrate entirely) the Pro Display XDR.
If this is the case for you, you'll need to be using macOS Catalina 10.15.6 or later as well as Display Firmware 4.2.30 along with one of the following supported third-party spectroradiometers: Photo Research SpectraScan PR-740, PR-745, or PR-788 or the Colorimetry Research CR-300.
To calibrate the monitor, download the Pro Display XDR Calibrator and follow the remaining instructions here to complete the process, which can take up to two hours to complete. While slow, it is rather straightforward.
To return the display to its factory calibration, open Pro Display XDR Calibrator, click Reset Calibration, then click Reset.
This is a pretty niche tool for a particularly niche subset of Apple's Pro XDR customer base (which in itself could be also argued as niche). The Pro Display XDR starts at $4,999 (with an additional $1000 if you want the Pro Stand), and spectroradiometers are also expensive (just one of the compatible spectroradiometers noted above can retail for nearly $13,000 used). Still, adding more possible features to Apple's top-tier monitor can only be seen as a good thing and will allow those who need it to get the most out of their displays.