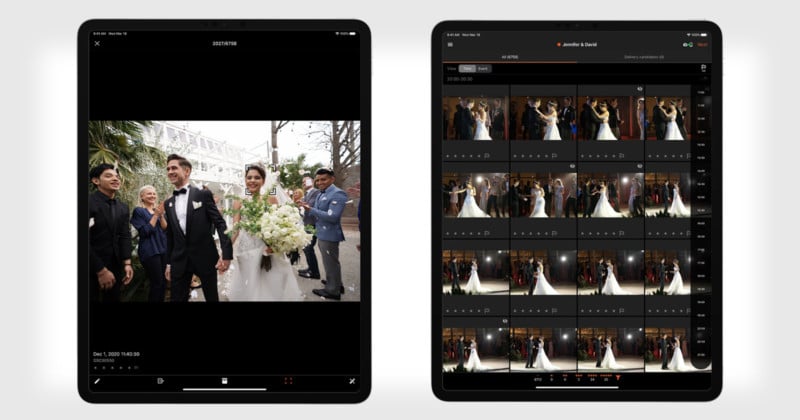 Sony today announced Visual Story, a new free iOS app that provides gallery creation, cloud storage, and web delivery to professional wedding and event photographers who shoot Sony cameras.
Once the app is paired with your Sony camera, the photos you shoot can automatically be transferred to your iPhone or iPad as they're created, as well as to Sony's cloud service.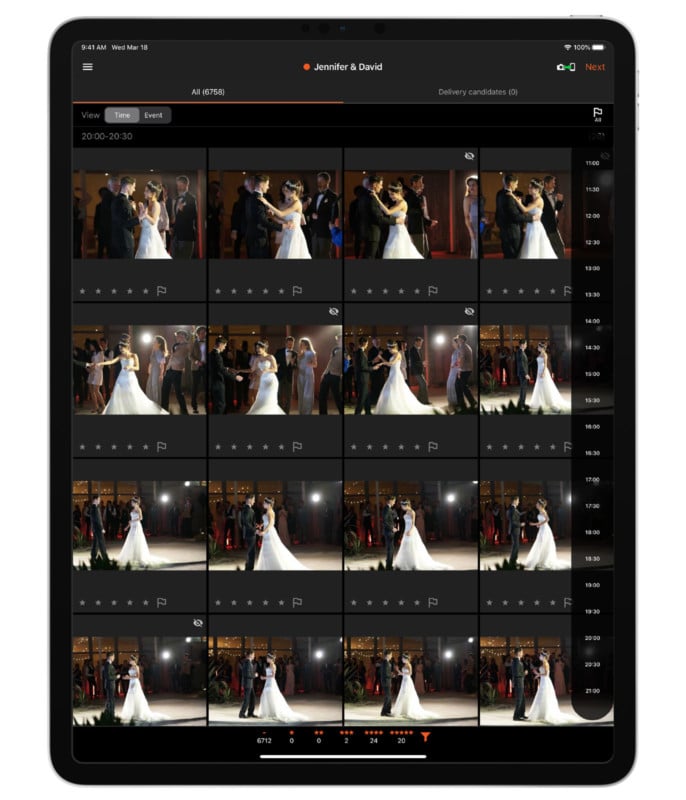 The app then uses AI to automatically sort and filter the photos based on camera, eye detection (i.e. whether the subject's eyes are closed), metadata, star ratings, shooting timeframe, focus position, and more. What's more, the AI will also attempt to group photos based on the subject matter — for wedding photography, these groupings can include ring ceremony, cake ceremony, first dances, and more.
Once photos are automatically curated, photographers can choose to automatically apply edit presets, either custom ones created by the photographer or fixed ones that come with the app. Presets can be registered prior to shooting, giving all resulting photos a consistent look.
If you'd like to tweak things in any photo, the app has basic editing features such as exposure, white balance, contrast, hue, saturation, luminance, and more.
Finally, the service can help you create automated online galleries so that photos from the event can be shared with clients instantly on site. Ratings and selections for the galleries can be downloaded as an XMP file to be used in another app or on a computer.
"This can be offered to their client as an additional service, or complimentary and included in their wedding or event package," Sony says.
Online galleries can include a photographer's logo and social media info for branding and marketing.
"Visual story is perfect for a variety of events from weddings to parties and corporate events to family photos and more," Sony says. "It is ideal for any situation where many photos are taken that need to be delivered instantly. Visual Story will continue to evolve in these various applications, reflecting our customers' needs."
Visual Story is available starting today as a free download over in the Apple App Store. To use the service, however, you'll need a compatible camera — the list currently includes the a7C, a7R IV, a7S III, a9, a9 II. The a7 III will be supported via a firmware update scheduled for Spring 2021.
Sony says it's also considering bringing the platform to non-iOS devices in the future.