The Looking Glass Portrait is the first portrait-oriented digital photo frame capable of showcasing 3D holograms that can be made specifically for it using any camera or produced from a single Portrait Mode photo from your iPhone.
Looking Glass previously successfully Kickstarted a landscape-oriented holographic display that was designed to be used by 3D creators. Ht was able to project objects in three dimensions that were created using 3D modeling software.
Building upon that product, Looking Glass has created the Portrait, a more consumer-friendly iteration of the company's technology. The company claims that it is easy to use and supports multiple ways of creating images that will display on the device with perceived depth.
The Portrait uses super stereoscopic technology, making it the only current multi-viewer holographic display that generates 45 to 100 views of a three-dimensional scene. The result is an image that looks 3D and requires no glasses to produce the effect.
Using depth information that is baked into a Portrait Mode photo that is usually used to generate a fake bokeh effect, the Portrait uses that same depth mapping to generate a three-dimensional hologram with a single click.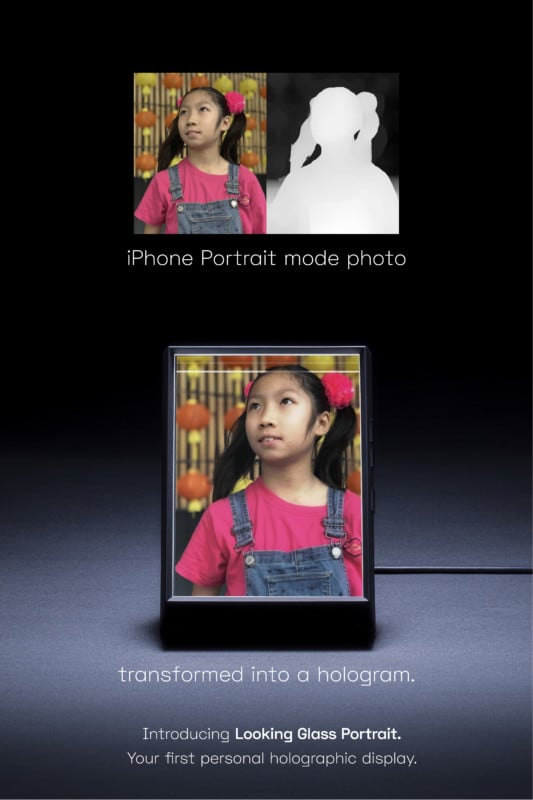 Looking Glass says that the new iPhone 12 Pro uses a combination of advanced machine learning techniques and LiDAR capabilities to capture the best depth photos yet, but the Portrait is also compatible with iPhones as far back as the iPhone 7 Plus. Some Android phones also support portrait mode photos, and that same depth mapping can be utilized by the Portrait to create the same effect.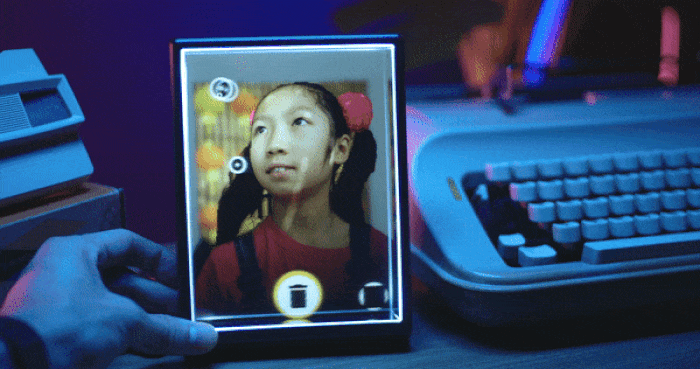 In addition to quick iPhone images, the Portrait can display images that are created specifically for it using a light field capture technique. The term "light field" means a series of images taken from different perspectives. You can now capture these advanced three-dimensional photographs with conventional panning shot techniques using the camera you already own and display them in Looking Glass Portrait.
A simple 4K panning video can be used to create a 3D hologram. Any camera that shoots 4K video will work, and the technique requires a rail or stabilized camera.
Photogrammetry-based 3D scans and the newest LiDAR scanning technology that is packed into the iPhone 12 Pro and iPad Pro can be played back in the Looking Glass Portrait as well. Looking Glass says that this method is the easiest way to take and display 360° captures of people, places, and objects.
This particular method works with point cloud and mesh-based 3D output from most known photogrammetry software packages including Metashape, Zephyr, itSeez3D, and Reality Capture. Also compatible with the exports from LiDAR scanning packages Canvas by Occipital, SiteScape, Polycam, and 3D Scanner App.
Looking Glass has also created an app called Depth Recorder that works with a Microsoft Azure Kinect, Intel RealSense depth camera, or select iPhones to record, send, and playback 10-second holographic messages on the Portrait.
While it works great with the Kinect and the RealSense, the most approachable way to make these types of videos is of course via the near-ubiquitous iPhone. The newest iPhones (X, 11, 12, 12 Pro, 12 Pro Max) have the ability to record depth videos with their front-facing TrueDepth camera, and in the case of the iPhone 12 Pro and 12 Pro Max, also with their back-facing LiDAR enhanced cameras.
There are numerous applications for the Portrait, but most general consumers are likely to just enjoy a tabletop 3D hologram device that can be used to send messages to friends or share images with one another. Since digital photo frames are already popular, it isn't too much of a stretch to believe many will find a lot of value in the added 3D effect.
The base Looking Glass Portrait is priced at $199, which is anticipated to be $150 off the final retail price. The company is also offering bundles for those who want to create content for the Portrait but lack the equipment. Looking Glass anticipates fulfiling deliveries of the finished product to backers by March of 2021.
As always, remember that Kickstarter is not a pre-order platform. While Looking Glass has a record of successfully delivering products in the past, approach crowdfunding projects with caution. Do your research and back at your own risk.