Shutterstock Editorial has just revealed the photographs that documented the historical moments that dominated 2020, a very different year from any other. The year started normally with red-carpet shows like Oscars and then veered off dramatically to pandemic and protests and is winding up with hope as news of vaccines emerges.
The Story of the 2020 Year Review looks at events and people that made a mark in our memories. This curated collection by Shutterstock Editorial is conveniently divided into Top 10,  Top 50, and Top 200. The selection of 200 images by the company's photo editors tells the story of this unprecedented year, which began with hope and has transpired into one that will be remembered mostly for loss but also for a newfound appreciation for humanity.
We were fortunate to get Candice Murray, VP of Editorial at Shutterstock, to throw light on this very crazy year in Photography.
Phil Mistry: Can you give us a little insight into the top 10 images' selection process?
Candace Murray: With a year dominated by major news stories, our curation and photography experts looked at the Editors' Picks, the top images on Shutterstock selected by editors and partners such as AP and epa (european pressphoto agency). They worked alongside key photographers and the editorial team to identify images with exceptional quality that shaped the headlines in a year like no other. Our editorial team saw an opportunity to narrate the year that was 2020––the good, the bad, and everything in between. The images selected were those they felt were the most impactful. You could say that the most meaningful images are those that are timeless and are those that stay with you long after you've viewed them.
PM: What thoughts run through your mind when you see the top 10 editorial images of 2020?
CM: The Top 10 images reflect a year where normality became obsolete, and the world shifted. There's no doubt that current circumstances will influence our actions for years to come. I'm in awe of the resilience people have demonstrated. The year started with Parasite winning Best Picture, a moment of hope for the future of entertainment, followed by countless protests and a global pandemic that inspired a newfound appreciation for humanity. As I look at the Top 10 images, I feel gratitude towards all the photographers and creators who have captured these stories and documented history in the making.
PM: What is one thing that separates a good editorial photo from a great editorial photo?
CM: In one sentence, a great editorial photograph requires no caption or accompanying feature––it tells a story on its own.
PM: Any other thoughts/insights that you would care to share with our photographers at PetaPixel?
CM: Experiment. Take risks. Try to capture the world through a different lens, literally and figuratively. Explore with lighting and categories. Don't pigeonhole yourself––when attending events came to a halt, our entertainment photographers had to pivot completely, and some have found their true calling in photojournalism. At the beginning of the pandemic, our entertainment staff photographer, Stephen Lovekin, looked for a way to feel connected to people in the midst of social distancing by creating the "Words at the Window" project. Soon after, he immersed himself in the streets of New York to capture protests and people celebrating the election outcome, capturing imagery that was incredibly powerful.
If you look at the Top 10 photos, COVID-19 and Black Lives Matter dominate 8 of them. Celebrities are absent. But then what about British actress Tilda Swinton (above) at the 77th Venice International Film Festival, Italy on Sep 2, 2020. She received a Golden Lion for Lifetime Achievement Ceremony, and you might think that Swinton is holding an artistic butterfly-shaped golden statuette. But you would be wrong, as she is holding a mask, and therefore this image too goes to the coronavirus category. The golden-winged device Swinton is holding in front of her face is a designer corona mask. Thank God Dr. Fauci does not have the time to check celebrity photos!
That leaves only two images in the Top 10, devoted to politics and entertainment. President Donald Trump, whether you love him or hate him, has dominated the political news coverage. Alex Brandon (AP/Shutterstock) captures a masterful image of the President (see header photo) in silhouette with rim-lighting, vignetted background, monotone, with a starburst right in the center performing his favorite activity, speaking at the podium at Carson City Airport, Nevada, at an election rally on Oct 18, 2020.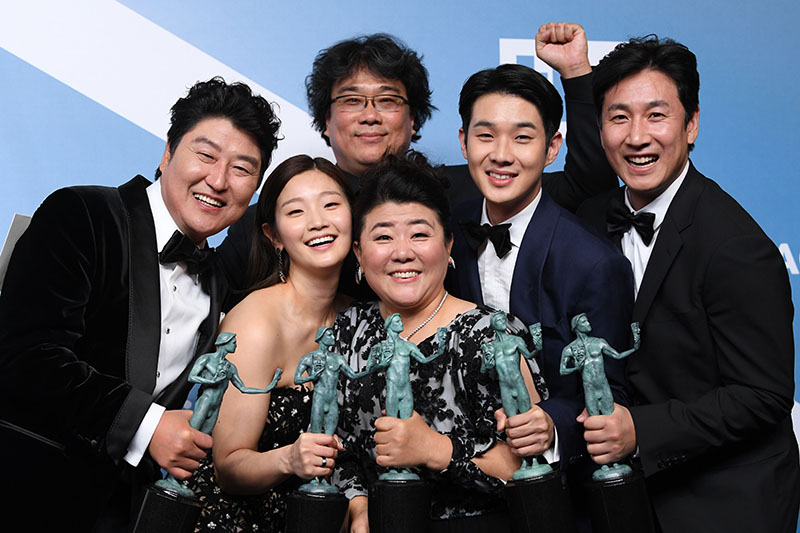 And the other image in the Top 10 goes to the director of Parasite, Bong Joon-Ho, and his cast as they pose with their awards for Outstanding Performance by a Cast in a Motion Picture at the 26th Annual Screen Actors Guild Awards, on 19 Jan 2020. It seemed so bright and cheerful then.
If you go through the Top-200, you will see that Shutterstock has broken up the selection into five general categories.
Coronavirus: This year will go down in history with the keyword pandemic.
Black Lives Matter: BLM grew into a global force and touched many, many lives.
The US Election: There was a nail-biting finale, and it is even still continuing in some way or the other.
The Awards Season: Bong Joon-Ho's Parasite won Best Picture. Even one year ago, it would be impossible to think of a non-English-language film claiming Hollywood's top prize.
Sports: Players played to empty stadiums for the love of the game, but fans had to watch a lot more than 6′ away from their living room TVs.
Here's hoping that 2021 and the vaccine bring back some semblance of normalcy and that the NY-headquartered Shutterstock with its 1 million contributors can add more joyous images to its existing 350 million images and more than 20 million video clips.
---
About the author: Phil Mistry is a photographer and teacher based in Atlanta, GA. He started one of the first digital camera classes in New York City at The International Center of Photography in the 90s. He was the director and teacher for Sony/Popular Photography magazine's Digital Days Workshops. You can reach him via email here.
---
Image credit: Header photo, Alex Brandon/AP/Shutterstock (10964363d). President Donald Trump speaks at a campaign rally at Carson City Airport, in Carson City, Nev, 18 Oct 2020. All other photos courtesy of Shutterstock.