Every Sunday, we bring together a collection of easy reading articles from analytical to how-to to photo-features in no particular order that did not make our regular daily coverage. Enjoy!
---
Photo of ICU Doctor Going Viral for Embracing a COVID-19 Patient – Good Morning America
Dr. Joseph Varon, chief of staff at United Memorial Medical Center in Houston, had worked for 256 days (yes, 9 months) nonstop in the pandemic and was frustrated by the increasing numbers of hospitalized people.
"As I'm going inside my COVID unit I see that this elderly patient is out of his bed and trying to get out of the room and he's crying. So, I get close to him, and I tell him 'why are you crying' and the man says, 'I want to be with my wife,' Varon said. "So, I just grab him, I hold him, I did not know that I was being photographed at that time."
Varon said he was trying to be transparent to the media so that the public could see the reality of his hospital's situation and had given Getty photographer, Go Nakamura, access to his Covid-19 ward, which is how the image of him had been captured.
"The man in the photo may be able to see his wife soon," Varon said. "His condition has improved, and staff hoped that he might be discharged." But Dr. Varon, in the words of Robert Frost, "has miles to go before I sleep."
---
What Would the Disciples Do?– The Phoblographer
Chris Clor is a London based photographer and CGI artist. This project is not just conceptual but also eye-catching, amusing and intriguing.
We want to see The Disciples do what we all do like enjoying a Happy Meal (Last Supper?), shop for Gucci, throw popcorn on one another's head while watching a movie, drive a red convertible too engrossed in conversation while not looking at the traffic ahead, get a headshot with a single key light and a soft fill from one side and then throw in some Instagram filters, etc.
Clor delivers a humorous rendering of a religious topic, but is he treading on sticky territory where offense can easily be taken.
---
Is This Photo of Dubai Skyscrapers Poking Through the Clouds Real? – Snopes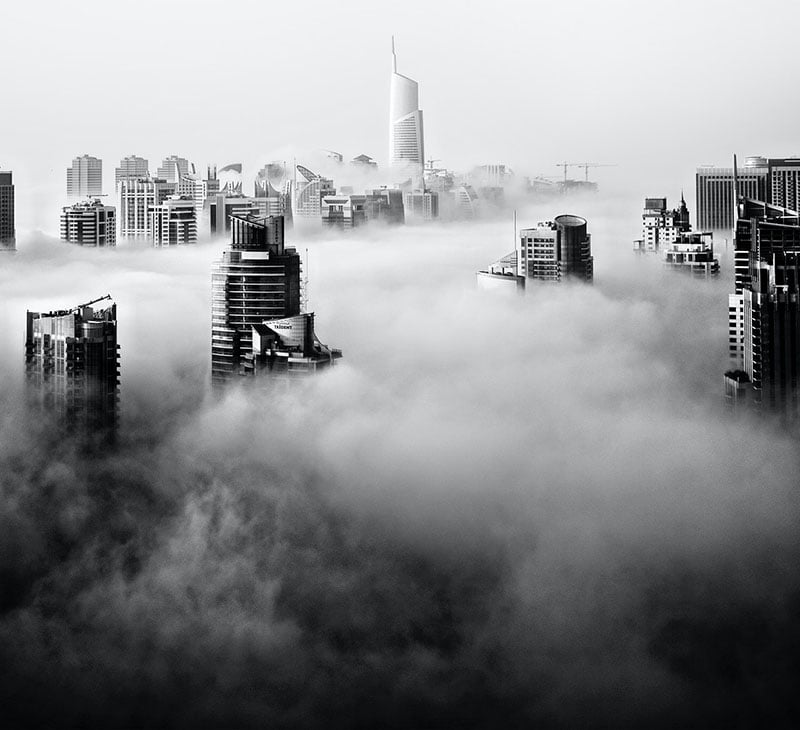 Yes, it is mostly true. Photographs supposedly showing Dubai skyscrapers emerging through the clouds are frequently shared on social media.
The photo above is only an illustration of this phenomenon. To see the actual photo that is being discussed, kindly visit the Snopes link above. This is a genuine image of skyscrapers in Dubai. The "clouds" in this image, however, would be more accurately described as fog.
Dubai is home to the tallest building in the world, the Burj Khalifa, which extends more than 2,700 feet into the sky. If that does not sound high enough, think of it as slightly over half a mile!
Watch this heavenly video of clouds drifting along the tops of Dubai skyscrapers. It comes from reportedly the Crown Prince of Dubai, Hamdan bin Mohammed bin Rashid Al Maktoum himself, who goes as user Faz3
A few times per year, if you are in the right place at the right time, you might get to see this futuristic metropolis become a city in the clouds as a seasonal, thick fog rolls in and envelopes Dubai.
Seeing and capturing this fog is tricky. Accounts vary, but it occurs between two to six times per year, sometime between September and November. The fog appears during the shift from scorching summer to moderately cooler winter. As the nights' cool air meets the hot, humid days, fog forms in the early hours, blanketing the city in a thick haze.
More about Dubai's elusive fog phenomenon from the BBC.
---
Legendary 1910 photograph of Ty Cobb Sells for $390K – Michigan Live
A rare 1910, 8×10 photograph of Detroit Tigers legend Ty Cobb was recently sold for $390,000, Robert Edward Auctions announced on Monday. It had previously sold for $250,000 in 2019.
The photo of Cobb, a first-ballot Hall of Famer inducted in 1936, was taken by Charles Conlon on plate (probably glass) negative on a Graflex camera at Hilltop Park, home of the New York Highlanders, on July 23, 1910. It is universally regarded as the first "action" sports photo ever captured.
"The determination on Cobb's face, the dirt flying in all directions, and Austin's futile attempt to catch the throw from the catcher while trying to avoid serious injury from the steel shards emanating from Cobb's shoes combine to elicit an emotional response that is unmatched by any other baseball image."
Conlon later said that he originally thought he missed the shot but was shocked to find he had indeed captured it when he developed his photos after the game.
"There was Cobb stealing third," he said, according to the lot description. "In my excitement, I had snapped it, by instinct."
Check out:
Restoring the Photos of Charles Conlon, A Pioneer of Baseball Photography
Iconic Collection of Baseball Photos is Expected to Sell for Over $1 Million
Notable: Charles Conlon, the father of baseball photography, however, did not see much of a financial reward from his most famous image. In 1937, Conlon estimated he had received more than 1,000 royalty payments for the famous image, however these all ranged from only a dime to 50 cents.
---
How A Grounded Travel Photographer Stayed Close to Home for This Star Trail Composite – Alpha Universe
Andy Luten (@realandyluten) works as a finance professional and travels the world for fun from imposing cityscapes in Asia to amazing landscapes in Norway and Patagonia. Then the pandemic happens, and Luten is grounded in Dallas, TX.
Luten's thoughts go to astrophotography, and a historic church for a foreground comes to mind. He sets up his Sony a7R IV camera and 24mm f/1.4 G Master lens (f/1.4, 10 sec, ISO 1600) onto a tripod and positions the North Star directly over the church steeple.
At this point, the sky wasn't dark enough, so he uses the built-in intervalometer in the a7R IV to delay the start of the shooting sequence for 30 minutes. The camera ran the sequence on its own and fired off 400 shots, only using a third of the battery.
Post-processing begins with loading the star trail images into a stack in Photoshop and changing the blend mode to Lighten. After that, he incorporated a light-painted image of the church building to bring in some of the structure's details. From here onwards, it becomes digital art more than photography to blend everything together as harmoniously as possible.
The star trails rotating exactly around a 130-year-old church steeple makes one unique star trails image.
---
How iPhones Are Professionally Cleaned – Tech Insider
Warning: Do not watch before dinner, or you will lose your appetite seeing all the crud being removed in an ultra-magnified view through an Olympus microscope!
Phone Fix Craft is a phone and tech repair business based out of Ireland. Its owner, Julius Kaveckas, has gained over 1 million followers on TikTok for his videos of deep cleaning dirty iPhones and other Apple products. Julius walks us through the entire process of cleaning and repairing an iPhone from start to finish and shows us the tools he uses to professionally deep clean.
If the screen is cracked and repairs are not done for a long time, the internals could get exposed, and heavy dirt and grime could get inside, as Kaveckas explains, and all that lint can also become a fire hazard. First, all the crud is loosened with a probe and then blown off with compressed air. The dirtiest part is the charging ports.
It sure is entertaining and informative in a very disgusting way, as 10 million viewers have found out. Enjoy!
---
7 Things To Know About Legendary Photographer And Activist Gordon Parks – The Moguldom Nation
Adjectives that could be used to describe Gordon Parks include photographer, musician, writer, film director, and activist, but they would just be superficial. Parks' impact changed the U.S. in the arts and beyond.
Here are seven things to know about the late Gordon Parks, considered one of the greatest photographers of the twentieth century.
His lens captured America. He used his photography, which ranged from photojournalism to high-end fashion photography, to make a statement, including his most famous photo, American Gothic.
In his words. Besides photography, Parks was a respected author. He published 12 books, including three autobiographies.
His early life. Born the youngest of 15 children in Fort Scott, Kansas, Parks had problems as a young boy with "the white people in town and the segregated schools, but he was comforted with the knowledge of his parents' love and unity of the Black community," according to the International Photography Hall of Fame and Museum.
Second-hand camera. He bought a used Voigtländer Brillant at a Seattle pawnshop for only $7.50
Parks' career was highlighted with firsts. He was the first African American to photograph for Life and Vogue magazines, the first photographer to be awarded the Julius Rosenwald Fellowship, which led to Parks working for the Farm Security Administration (FSA) in Washington, D.C., and the first African American photographer to work for the FSA.
Music in the making. As with photography, Parks was a self-taught musician.
Shaft and more. One of his most famed films is the iconic Black film, Shaft, which he directed in 1971
Check out:
How Self-Taught Photographer Gordon Parks Became a Master Storyteller
On Gordon Parks: The Photograph as Protest
---
Why I Like This Photo – Larry Chen
I absolutely love this photo so much because it's a mix between motorsports and music. It has that Tron-like vibe, and the reason is that there was a full EDM concert going on behind these two cars drifting at full speed. The two drivers, Chris Forsberg and Ryan Tuerck, happen to be some of the best drift drivers in the world. Before the session began, I saw that there was a giant puddle in the middle of the track due to the rain from earlier, so I knew that a reflection shot like this existed, but I just had to go and find it. I was super slow, at a 10th of a second on a 70-200 with a Canon 1D X Mark II.
Canon Explorer of Light Larry Chen is a commercial, automotive/car culture photographer based out of Los Angeles. When Larry is not covering editorial, he also shoots for major brands like Toyota, Ford, and Nissan. He is also the official series photographer for the Formula Drift series and the Pikes Peak International Hill Climb. Larry continues to travel the world to document car culture as he has an innate ability to connect with his audience, be it in his writing, photography, or videos, and that comes from his passion for anything automotive. You can also find his automotive Vlog at Hoonigan, where he has his own web series called AutoFocus. Visit his Etsy store for signed prints.
There are not enough weekends in my lifetime to photograph all the automotive-related gatherings and events, but you can bet I will sure as hell try my best. – Larry Chen
---
---
Quote of the Week (or a Previous Week):
There are no bad pictures; that's just how your face looks sometimes. ― Abraham Lincoln
---
To see an archive of past issues of Great Reads in Photography, click here.
---
We welcome comments as well as suggestions. As we cannot possibly cover each and every source, if you see something interesting in your reading or local newspaper anywhere in the world, kindly forward the link to us here. ALL messages will be personally acknowledged.
---
About the author: Phil Mistry is a photographer and teacher based in Atlanta, GA. He started one of the first digital camera classes in New York City at The International Center of Photography in the 90s. He was the director and teacher for Sony/Popular Photography magazine's Digital Days Workshops. You can reach him via email here.
---
Image credits: All photographs as credited and used with permission from the photographers or agencies. Disciples at McDonald's and Disciples crossing street photos by Chris Clor, CC BY-NC-ND 4.0  Gordon Parks photo by Kingkongphoto & www.celebrity-photos.com Laurel, MD / Wikimedia Commons / CC BY-SA 2.0  Abraham Lincoln photo by Alexander Gardner, Public domain, via Wikimedia Commons.