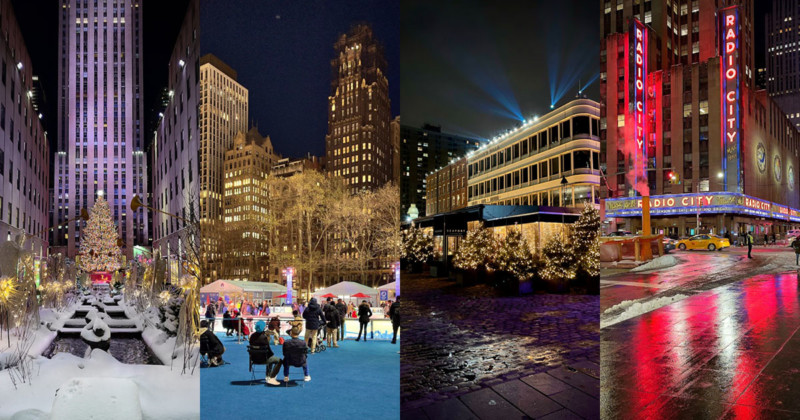 The holidays in New York City are my favorite part of the year. It's such a magical and festive time all throughout the City. You'll find holiday trees, light displays, and the prettiest decorations around every corner.
It's such a joy to take photos in New York City during that time, and I'm excited to share with you some of my favorite tips for capturing beautiful and creative photos of holiday decorations. The best part is you don't need fancy, heavy, or expensive photo gear. Just take out your iPhone and start snapping.
Whether you're a professional photographer or just someone who loves taking photos, I've found that my iPhone 12 Pro Max offers that versatility to meet you at whatever level you're at.
Create a photo story from one location using iPhone's triple-camera system
iPhone 12 Pro Max conveniently combines three rear cameras in its lean body: a Wide, an Ultra-Wide, and a Telephoto lens. Use them all to capture an interesting and varied photo story.
When I get to a location, I usually capture a wide-angle shot to first establish the scene. I look for an anchor point, like an iconic sight or landmark, that connects the space with the theme I have in mind which in this case is capturing the holiday festivities.
Sometimes you want people moving through the scene, other times you wait for the space to be clear. Deciding on the right moment is half the fun. Once I'm happy with the establishing shot I'll start to move around the scene and look for little interesting details that help enhance and tell the story. That can be portraits, close-ups of a decoration or ornament, etc.
Hudson Yards: I used the Wide lens (shot 1) and Ultra-Wide lens (shot 5) to capture shots of the Vessel to establish the location. The other images focus on holiday decorations. I used the Telephoto lens for a detailed shot of the decorations (shot 3), and the Wide lens for shots 2 and 4: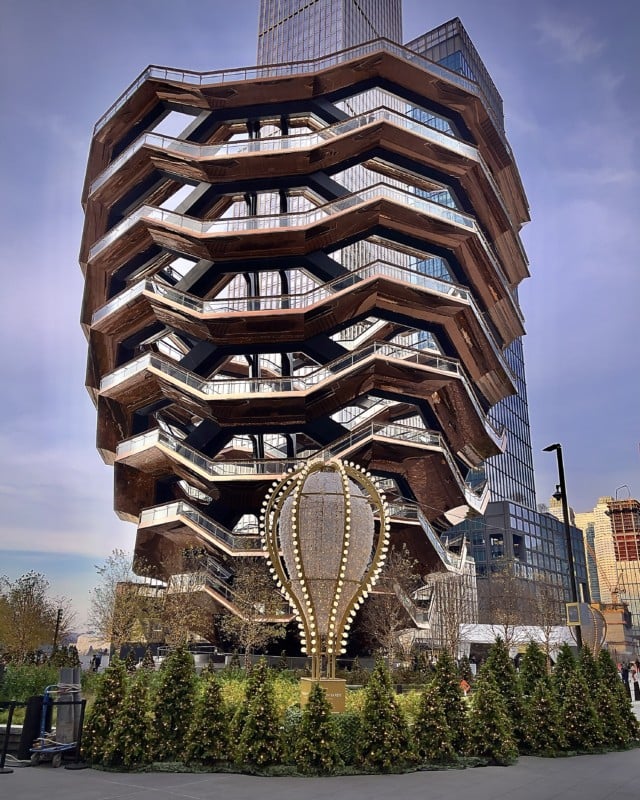 Look for leading lines
The Rockefeller Christmas tree presents an ideal example of how to use leading lines. When you capture the tree from Fifth Avenue, the building facades on the left and right together with the wire-sculpture angels along the Channel Gardens perfectly lead your eye to the iconic Christmas tree.
Leading lines in a photograph lead your eyes to the intended subject of the image. Usually, they start at the bottom and draw your eyes upward and inward to the center of the image. It's a technique I like to apply whenever possible.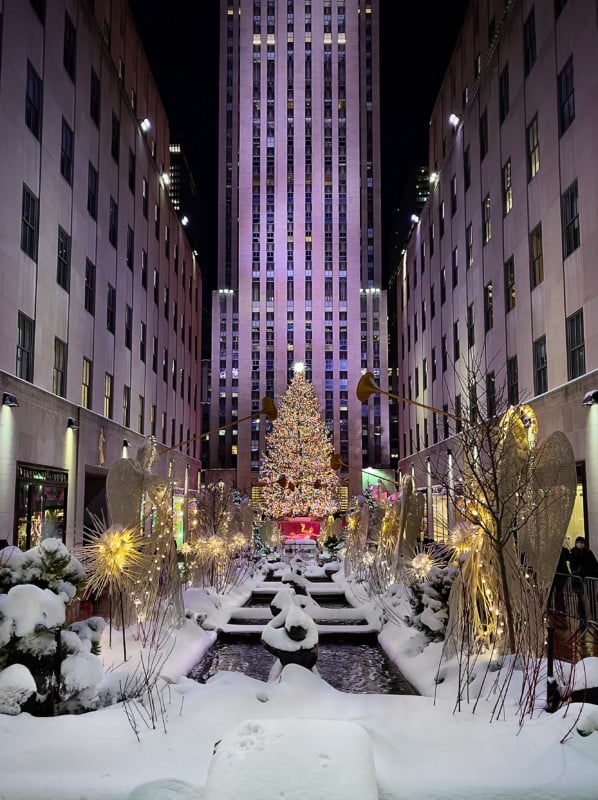 Get amazing night-time shots using Night mode
While there are plenty of pretty holiday decorations you can capture during the daytime, the magic of the holidays comes to life when the sun goes down and the holiday lights are turned on.
Thanks to the fantastic low-light capabilities of iPhone 12 Pro Max, you can now capture amazing shots at night. Night mode is an iPhone feature that is only getting better and better. This year Phone 12 Pro Max makes use of its LiDAR Scanner to detect how far you are away from the subject so you nail focus every time.
Night mode comes on automatically when iPhone's camera detects a low-light environment. You can use the automated setting or adjust your preferred exposure manually. Just remember to hold the camera still for the time it takes to finish the night-time exposure.
It's pretty easy now to take great nighttime shots with iPhone, and with the new larger sensor on iPhone 12 Pro Max it improves the quality even more.
Elevate your photo storytelling by using different and unique angles
Changing up the angle you shoot from might make the shot more interesting. Sometimes you want to get low to the ground, other times shoot from higher ground. One thing for sure, perspective plays a big part in shooting creatively and capturing holiday moments.
Get low to the ground. Try placing the phone as close to the ground as you can. Even flip it upside down so the lens gets even closer to the ground. Always keep the framing in mind and be willing to play around with the angle to get it just right.
Use reflections to add more sparkle to your photos. Puddles, windows, or other reflective surfaces are a great way to create symmetry if the holiday scene permits it. Rainy days are great for these types of shots.
Get your camera up high. Shooting tall holiday trees requires distance and elevation to get the perfect shot. Other times, where possible, elevate yourself to avoid angle distortion when shooting with the Ultra-Wide camera.
Looking Up: Don't forget to look up! iPhone's Ultra-Wide camera lens is a favorite of mine and allows you to capture unique angles in tight spaces.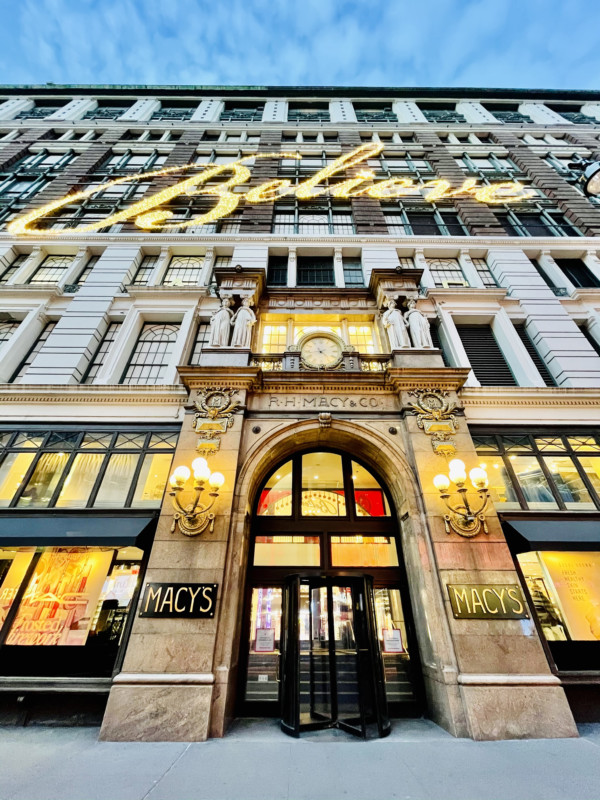 Include people in your shots
Including people in your shots helps create an emotional connection with your images. The holidays create excitement and joy for both young and old, and it's wonderful if you can include that excitement in your photos.
The Macy's Holiday Windows are always on my list each year. They are colorful, thoughtful, and timely. This year's window theme is a thank-you-letter to essential workers. I can feel the magic of the holidays every time I'm there, and it's lovely to watch the astonishment and amazement on the faces of the kids and families. This year, they have social distancing protocols in place that make it a safe and happy place for viewing.
Snow York can be magical this time of the year
New York in the snow during the holidays is an absolute dream. It is a rather rare occurrence and can make for some fantastic photo opportunities. You need to be quick because they clean up the streets and sidewalks very fast.
Where possible, I love to capture the actual snowfall after a base layer has covered the ground. It makes the whole city look like a winter wonderland. A layer of white snow will always add a touch of magic to your holiday images.
In the past, I've ruined a camera and lens when shooting in the snow because they weren't weather sealed. No need to worry here – iPhone 12 Pro Max comes with an industry-leading IP68 rating to withstand water submersion up to 6 meters for up to 30 minutes. Just bring a lens cloth to dry it off if it gets wet.
And of course, dress warm, wear waterproof shoes, bring hand warmers, and/or wear touchscreen gloves so your fingers stay warm. It can get cold out there pretty quickly.
Capturing more detail with ProRAW
ProRAW is a brand new professional file format for iPhone 12 Pro and iPhone 12 Pro Max. While it's rather simple to use it's made up of a complex set of features and functionalities. It makes use of iPhone's Deep Fusion, Smart HDR, and Night mode technology to give you a lot more control in the editing process.
What you really need to know is that it works great, and your holiday pictures are going to look even better with minimal effort. Images shot with ProRAW are now closer to what they appear in real life. You have more subtle control of the editing process with parameters such as white balance, sharpening, shadow detail, noise reduction, etc.
It's kind of exciting to go home and edit on my phone what I could only do with a pro camera and a laptop in the past. ProRAW is a format that I highly recommend shooting with. You will need to first activate the Apple ProRaw format in the camera settings for it to appear as an option in the camera controls. Image files will be larger but it's so worth it.
---
About the author: Katja Sherlock is a photographer and filmmaker in New York City. The opinions expressed in this article are solely those of the author. Sherlock has a BA in business and came to New York from Berlin, Germany, to pursue her career in Finance & Publishing. After rekindling her passion for photography and filmmaking, she pivoted to content creator. Katja has worked on social media projects, ad campaigns, and custom content creation for leading brands worldwide. She leverages her skills as a certified Project Manager to create and develop projects from a simple photo story to a series of short-form videos. She's excited about the future of computational photography and the latest tools and technologies for telling visual stories. Her incredibly inspiring images of NYC touch the lives of people worldwide. For more from Katja Sherlock, you can follow her on Instagram or subscribe to her YouTube Channel.