Lightroom version 6.0, officially Adobe Photoshop Lightroom CC 2015, was the last major release of Lightroom that was available with a perpetual license (i.e. a one-time purchase). Unfortunately, some users who don't wish to make the jump to paying a subscription through the Creative Cloud are finding that "perpetual" isn't as all-encompassing as they thought.
Earlier this month, Lightroom users began reporting in Adobe's official forums that their app had begun crashing when opening the facial recognition module.
As you may recall, facial recognition was one of the major new features introduced in Lightroom v6 alongside things like HDR Merge and Panorama Merge.
Users reported that after switching to the module, their app would be terminated within a few seconds.
What's more, in addition to the facial recognition module, creating virtual copies of photos has also been reported to crash the app.
Some users then discovered that changing their computer's system date to November 2020 or earlier instantly fixed both problems — they could open the facial recognition module and create virtual copies again without the app closing unexpectedly.
One explanation for these issues is the expiration of 3rd-party licenses Adobe used for features in the app.
"Problem is that Adobe licenses Face-Recognition from another company in the form of a DLL," a forum member named TML59 writes. "Adobe has stopped supporting LR6 (which is OK) but the problem is that earlier the Google license for the Maps functionality expired (for which a workaround was found by users) and now the face-id license expired.
"That is not Adobes' fault, but I believe they do have a responsibility to their license owners… Not to change LR itself, but to help fix these external problems."
The map module in Lightroom stopped working last year after Adobe's API key apparently expired. Adobe's official workaround suggestion for users is to copy the GPS coordinates from a photo's Metadata and then do an online search with them, but it was discovered that the issue could be fixed by replacing Adobe's expired Google Maps API key with your own personal key.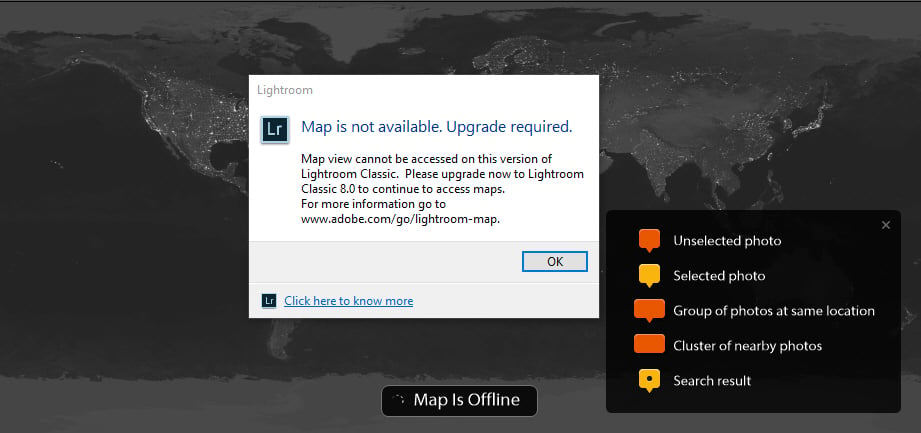 Given that a workaround for these latest crashing issues is to roll back your computer's system date, it does seem plausible that they're due to 3rd-party licenses for technologies expiring after November 2020 and being enforced through a simple date check.
So while Lightroom v6 (and earlier major releases) continues to be functional, users could presumably see more and more features stop working over time as additional 3rd-party licenses expire, and this fact isn't sitting well with users.
"When I purchased (bought and paid for) LR6 it was for a Perpetual version," writes forum user avpman. "It would be interesting to debate the definition of the word 'Perpetual' against the expiration of the license of the face detection dll."
We reached out to Adobe regarding this issue, and the company simply states that it no longer supports perpetual versions in any way.
"The perpetual license version of Lightroom Classic is unsupported," an Adobe spokesperson tells PetaPixel. "Installers, one-on-one technical support, security fixes, and bug fixes are not available for perpetual license versions. A list of supported versions of Lightroom Classic is available here."
Adobe's earnings have been shattering expectations in recent years, sending the company's stock soaring over 700% over the past half-decade, so the Creative Cloud subscription model has definitely been a savvy switch.
While many (or even most) photographers have embraced the switch to paying a subscription in exchange for having always-up-to-date apps, some photographers have still been holding out and riding their perpetual versions for as long as possible. But as those perpetual versions continue to break down, those holdouts may be forced more and more to either jump onto the subscription train or find a non-Adobe alternative altogether.