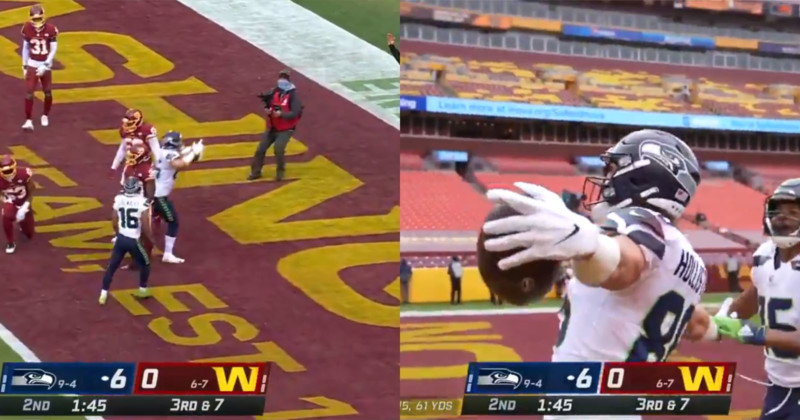 During the Seattle-Washington NFL game this past weekend, keen-eyed viewers spotted a Sony mirrorless camera being used by the FOX broadcast team for some unusual-looking on-field shots that featured a shallow depth of field and creamy bokeh.
After certain plays, a cameraman would run toward the players in the end zone and the broadcast would switch to a never-before-seen bokehlicious view. Here's an example:
.@DangeRussWilson ➡️ @hollister_jacob

TOUCHDOWN @Seahawks!

📺: #SEAvsWAS on FOX
📱: NFL app // Yahoo Sports app: https://t.co/wVOF39iejf pic.twitter.com/qpq6xSjd60

— NFL (@NFL) December 20, 2020
FOX Sports cameraman Mike Smole was using a Sony a7R IV and Sony FE 24-70mm f/2.8 GM stabilized on a DJI Ronin-S handheld gimbal.
The awesome on-field shots on FOX's broadcast of #Seahawks–#WashingtonFootball Team are courtesy of this contraption the crew nicknames "The Megalodon." Here it is. And here's Mike Smole, who is operating it today. He calls it a "poor man's Steadicam." We should all be so poor. pic.twitter.com/RWuYjeaBCe

— Mike Garafolo (@MikeGarafolo) December 20, 2020
Mike Garafolo writes that the FOX crew nicknamed the rig "The Megalodon" and that Smole refers to it as a "poor man's Steadicam." The complete rig with all accessories cost around $10,000, so it's not exactly cheap, but compared to a broadcast camera and actual Steadicam rig, it represents quite a savings.
Viewers quickly noticed something was different about the shots. Many called the shots a highlight of the broadcast. Others thought it looked like cutscenes out of a video game.
"This camera isn't ordinarily made to shoot live video," FOX Sports SVP Mike Davies tells Sports Video Group. "It certainly does a great job of shooting beautiful video but is not typically used for live.
"We were astonished by how much this was recognized. Certainly, we liked it, and people on our crew have been working with it all year, but we didn't know your ordinary viewer would see such a difference sitting on their couch. It's fantastic."
FOX News will reportedly continue deploying this new camera rig for the rest of the NFL season, so keep your eye out for this new look in upcoming close-up shots.