Godox has announced the compact AD100Pro Pocket Flash strobe, which features high-speed sync (HSS), wireless control, TTL, and a modeling lamp powered by a 2600 mAh battery. All in, battery included, the tiny strobe weighs only 524 grams (~18.5 ounces).
Godox says that the AD100Pro uses a can-shaped design in order to be super compact and portable. The flash head is magnetic which allows for the attachment of the optional add-ons found in the AK-R1 accessories kit.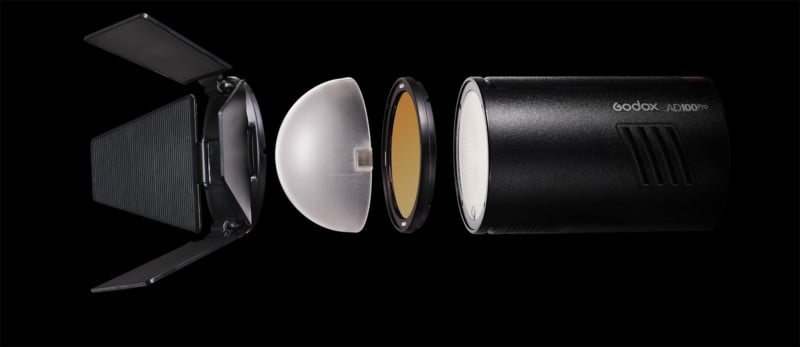 It also works with the Godox S2 bracket which makes the strobe compatible with any Bowens-mount modifier.
As mentioned, the AD100Pro supports HSS up to 1/8000 of a second and additionally supports first curtain and second curtain sync.
The AD100Pro integrates the same Godox 2.4G wireless system as the other products in the AD lineup do and can work with other major camera brands by connecting with the X1, X2, or XPro trigger. Godox flashes are compatible with Canon, Fujifilm, Nikon, Olympus, Pentax, and Sony cameras.
The battery fits into the back of the strobe and is a massive 2600 mAh (the same one used by the Godox V1 speedlight), which translates to what Godox claims is 360 full-power flashes per charge. Godox says that recycle time ranges from between 0.01 seconds to 1.5 seconds depending on flash power.
The AD100Pro has 100Ws of power output that can be adjusted in nine steps. The aforementioned modeling lamp is a 1.8-watt COB LED that can be adjusted among 10 levels.
The Godox AD100Pro is available to pre-order now for $299 (this link is the Flashpoint rebrand of the Godox, but is entirely identical in performance) and comes with a carrying case, battery, charger, light stand bracket, and USB cable. Godox says that it expects to begin shipping the compact strobes by March.
(via DPReview)