Every Sunday, we bring together a collection of easy reading articles from analytical to how-to to photo-features in no particular order that did not make our regular daily coverage. Enjoy!
---
Photojournalist Saul Loeb Captured Some of the Most Indelible Images of the Capital Attack – Rolling Stone
Saul Loeb, staff photographer for newswire service Agence France-Presse (AFP), based in Washington, DC, covering the White House, politics, and "anything behind a podium" had gone to take pictures of the joint session of Congress. "I had no idea what was coming our way," Loeb, who has been working in Washington for 13 years, tells the Guardian.
An announcement warned of a security situation inside the US Capitol building, urging to shelter in place. The last place a photojournalist wants to be is stuck inside a room when all the action is happening outside.
So, Loeb grabbed his camera and started photographing protesters who had face paint and body paint on and wore costumes. One even had a Viking hat on. That's when he saw people going into the offices of Nancy Pelosi. "Normally, this is a very secure part of the building; she's the speaker of the House, second in line from the presidency – nobody can just wander in. But there was no staff, no police. It was just a free-for-all," Loeb tells Poppy Noor of The Guardian.
You're always worried people won't want to be photographed, and you don't want anyone to become violent towards you. But they either didn't notice or didn't care Loeb was there. No one tried to hide their face, and no one tried to discourage him from taking photos.
Andrew Harnik, (in the video above) Associated Press photographer, has been working in DC for 18 years. "We were told to get down on our hands and knees and keep our heads covered," he said. Yet through all that, including watching Congress members put on their emergency gas masks, Harnik was capturing images.
More photos from The Guardian,  The Verge, San Francisco Chronicle, and Daily Mail.
5 News Photographers on What It Was Like to Document the Storming of the US Capitol
---
Hasselblad – A Historical Reflection — Japan Camera Hunter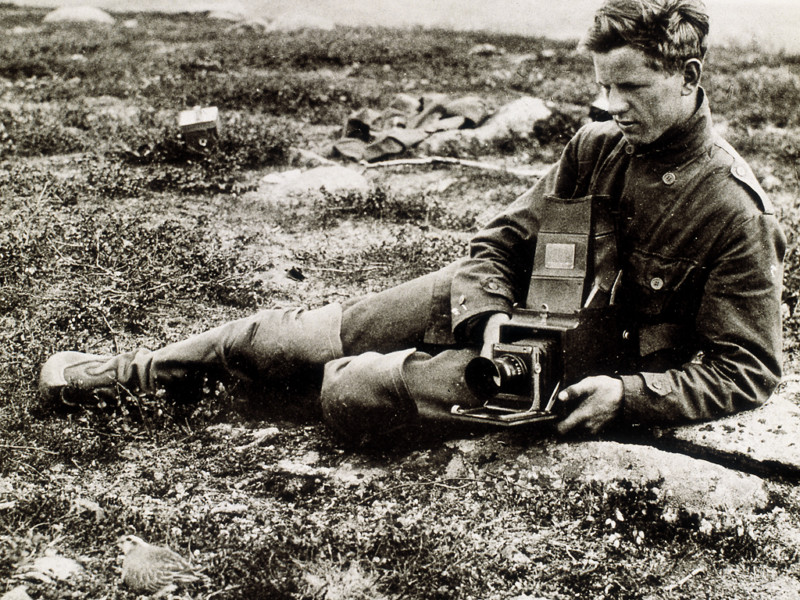 Hasselblad founder Fritz Hasselblad's son Arvid had a chance meeting with George Eastman while he was on his honeymoon. This led to Hasselblad being appointed Eastman Kodak distributors for Sweden in 1888.
When Fritz Hasselblad established the company in Gothenburg, Sweden, in 1841, it was a trading company with no connection to photography, which had just been discovered.
Arvid's son Karl (the third generation of the family) was smart enough to dispatch his 18-year-old son Victor to Dresden, Germany, and Rochester in New York, where he spent several years gaining valuable photographic insights before returning home.
Victor Hasselblad was passionate about photography and is seen in the above photo in his twenties photographing wildlife with a huge Graflex field camera. Maybe, that's when he thought of something more compact.
In 1957 came the Hasselblad 500C, which became the model synonymous with the brand. Then came NASA's use of modified Hasselblads for the Apollo programs, which catapulted the brand with free publicity. Since 2017 Hasselblad is owned by drone maker DJI.
In the above article Tokyoite and Englishman Bellamy Hunt of Japan Camera Hunter reminisces with Dr. David Mitchell about his passion for Hasselblad and shares his personal reflection on how The Blad has shaped his photography.
Notable: Hasselblad's corporate website quotes the founder's son, Arvid Viktor Hasselblad, as saying, "I certainly don't think that we will earn much money on this [when they started the distributorship for Kodak in Sweden], but at least it will allow us to take pictures for free."
Quiz: There is a photo above of Victor Hasselblad using a Graflex camera. Where was it made?
The company started in New York City in 1887 but was acquired by George Eastman in 1909 and moved to Rochester, NY, till 1928, when Kodak was forced to divest itself of this division.
---
3 Ways to Light and Photograph Glittery Portraits – Rangefinder
The most challenging element Daryna Barykina, a Florida beauty and fashion photographer (she also holds an MBA!), has faced has been shooting products that contain reflective particles. Whether it be a shimmery eyeshadow, a blinding highlighter, or glitter, she knows she'll need to build the entire concept and technical elements around the metallic glow or iridescence of what she is photographing.
Shooting such a product can be quite intimidating because your regular lighting setups may not work well with it.
Here are some techniques Barykina has practiced over time. Not only do they help get the job done for the client, but they are also just fun to play with.
Focus on the Shimmer by Underexposing with Soft Light
Light Up the Twinkles with Multiple Hard Sources
Trace Glitter Trails and Fragments by Adding Long Exposure
Check out the full details at the article link above.
---
10 Cameras That Blew us Away in 2020 – Digital Camera World
Most photographers would like to forget 2020 as business was just one cancellation after another. However, camera manufacturers have still been able to launch some great new models, even if you cannot go out and shoot with them right away.
From stunning new mirrorless cameras, through to the weird, wacky, or simply technically incredible, here are our top 10 cameras that blew us away in 2020…
---
5 Quick Tips for New Drone Flyers
Photographers who are venturing out into drone photography have a lot to learn.
Billy Kyle, has drone and other tech videos, on his YouTube channel, but mainly drones.
Kyle uses the DJI Mini 2 as an example, but the techniques apply to other drones as well.
The 5 basic tips are: Monitor your Return to Home settings, Tools for regaining aircraft orientation, Power limiting, Tweak your gimbal and yaw settings, and Propeller changing. If you are a newbie with drones, these 9 minutes you spend here will save you many headaches later.
---
The Top Astronomical Events of 2021 for Astrophotography — Fstoppers
Whether you are looking to get into astrophotography or take your skills to the next level, 2021 has lots of great astronomical events happening worldwide. Planning in advance and being in the right place at the right time is the first step to getting amazing shots.
With tools like PhotoPills or Dark Site Finder, you can plan a lot from your couch at home. Some events are only viewable in particular locations, while others can be seen from anywhere. So, it is essential to know when and where the best times to photograph them are.
Click the link above to see a calendar of various astronomical events, mostly ones that can be seen with basic equipment, to help you start. The year starts a little slow but picks up in the fall and moves into December.
If you are interested in hands-on learning about astrophotography, Boston based outdoor lifestyle and astrophotographer Michael DeStefano will teach a workshop at Palm Springs Photo Festival this April, taking photographers out to the Joshua Tree area.
---
Does Photo Show 2 Women Saving Electoral Votes During Capitol Siege? – Snopes
This photo is miscaptioned, although the photo is real.
Senate Aids transporting electoral votes while the Senate was attacked by Domestic Terrorists from r/pics
After rioters stormed the US Capitol on January 6, 2021, a viral photograph showed two women who appeared to "rescue" boxes containing Electoral College votes by transporting them to safety.
Sen. Jeff Merkley's post claimed, "If our capable floor staff hadn't grabbed them, they would have been burned by the mob."
Electoral college ballots rescued from the Senate floor. If our capable floor staff hadn't grabbed them, they would have been burned by the mob. pic.twitter.com/2JCauUIlvg

— Senator Jeff Merkley (@SenJeffMerkley) January 6, 2021
Getty Images published a similar picture.
Snopes confirmed with the photographer that both photographs were taken before the riots happened.
To get the full details check this Snopes link.
---
Elliott Erwitt: A Lifetime's Work – Rangefinder
Elliot Erwitt, the 92-year-old photographer, has captured every president since Harry Truman. Over the last 70 years, Erwitt has shot iconic photos of Marilyn Monroe, including her famous subway grate pose, the finger-pointing Nixon-Khrushchev Kitchen Debate in Moscow, segregated water fountains, a grieving Jacqueline Kennedy, and hundreds of humorous dog images.
When asked how he has managed to produce such a well-received body of personal work when on assignment for clients, he explains, "I have always brought two cameras; one for the client and one for me …."
Ask him how he's had the time for personal work with so many demanding assignments over the years, and he quips, "I use a fast shutter speed."
Check out:
How Richard Nixon 'Stole' Elliot Erwitt's Photo and Twisted It Into a Campaign Slogan
A Conversation with Photographer Elliott Erwitt
Notable: Why does Elliott Erwitt love photographing dogs?
"They don't ask for prints."
Quiz: Which 3-time past president of Magnum in 1948 exchanged janitorial work for film classes at the New School for Social Research in New York City?
Elliott Erwitt.
---
Why I Like This Photo – Nico Goodden
This photo of a Londoner walking under the rain one winter night has always been one of my favorites and, generally speaking, one that gets love from people who enjoy my work. Many of them relate to it as they know London either from living there or visiting as a tourist. Since I'm UK based, rain is a big part of my life.
Photographs reveal a lot about the photographer as a person. Every decision we make reflects a particular mood or moment in our lives, just like the photo does. I took on photography because I enjoy being alone. I need time for my own. It's also very meditative, and you forget all your worries.
This "theme" is omnipresent throughout my street photography. Often, I attempt to convey a feeling of solitude but one which feels familiar, not necessarily sad. Solitude needn't mean loneliness or sadness.
I often search for balance in my street photography. I never get my ruler out or display the rule of thirds grid in my viewfinder but find myself applying it to my photographs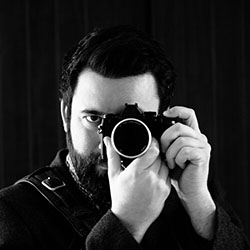 , even if only subconsciously. In this particular example, the person is at a third from the right side of the image. To balance this, the telephone pole is located perfectly at a third from the left. Reflections help further the symmetry in the shot.
You may be wondering why the odd choice of color? It's simple, that night, I saw the shot, and my Olympus camera was set on a creative effect typical of Olympus MFT cameras. It was a choice to either change settings back to normal (and probably miss the shot) or just take the shot that presented itself. So, I went for the full purple look. In retrospect, I think it works perfectly well and doesn't offend me particularly much… Purists may disagree, and that's fine too.
The camera used at the time was an Olympus OM-D E-M5 II. Lens was the Panasonic Lumix G X Vario 35-100mm f/2.8 II POWER OIS. Lens. It was shot at f/2.8, 1/125 exposure (to avoid motion blur), and 100mm as my subject was a bit far.
That night I was heading home after a long shoot with a rock band. I was tired and far from hunting my next shot. I just wanted to wear dry clothes and be home. That's the magic with photography, always have a camera as you just never know when the next photo opportunity will present itself.
I mentioned the rule of thirds. Here's how I feel about rules. Learn photography rules, learn to apply them, learn their advantages AND limitations. Finally, learn to bend them, break them, and explore beyond them.
Rules are prison cell walls for the creative mind, so beware of them, don't let them take-over your photography.
Nico Goodden, who trained to be a chef from a young age in France, is passionate about creativity in photography. For over a decade, he has been a professional London photographer, writer/content creator, and photography tutor who likes to help others improve their own photography. The London photography he produces is regularly featured by Time Out, The Guardian, Evening Standard, The Huffington Post, Creative Review, Fstoppers, PetaPixel, Digital Rev, and many more.
---
Quote of the Week (or a Previous Week):
It is said that even if it is a Pentax, it should be mirrorless. We also have that technology, but we would abandon the enjoyment of an SLR camera that looks directly into the subject through the finder. I cannot do it. — Shinobu Takahashi, President, and CEO of Ricoh Imaging
Ed. Note: This quote is the result of a translation from Japanese to English.
---
To see an archive of past issues of Great Reads in Photography, click here.
---
We welcome comments as well as suggestions. As we cannot possibly cover each and every source, if you see something interesting in your reading or local newspaper anywhere in the world, kindly forward the link to us here. ALL messages will be personally acknowledged.
---
About the author: Phil Mistry is a photographer and teacher based in Atlanta, GA. He started one of the first digital camera classes in New York City at The International Center of Photography in the 90s. He was the director and teacher for Sony/Popular Photography magazine's Digital Days Workshops. You can reach him via email here.
---
Image credits: All photographs as credited and used with permission from the photographers or agencies.