Though LG is responsible for creating most (if not all) of the OLED panels you'll see in TVs and displays on the market, the company had yet to produce its own OLED monitor. Today that changes with the announcement of the LG UltraFine Display OLED Pro.
Using OLED technology for monitors has historically been a bit of a risk. While OLED technology can offer incredible color accuracy, top-tier contrast, low-latency, and near razer-thin designs, they also come with a risk of burn-in. For television applications, this isn't as big of an issue unless the TV is displaying something like a ticker from a major news network eight hours or more a day, every day, for months. But with a monitor, static elements are pretty common.
LG seems to believe that the risk of burn-in is either mitigated with this latest display or that risk will be worth it to professionals (at whom this monitor is clearly aimed).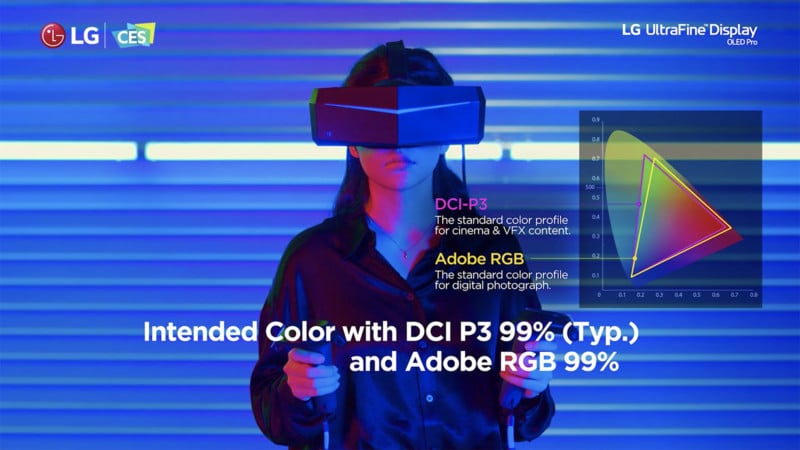 LG claims the UltraFine OLED hits 99% of both DCI P3 color and Adobe RGB, making it an excellent performer in the color-accurate monitor space if the specification holds true in the finished product.
The monitor itself appears beautifully thin and sleek, a hallmark of OLED displays. A look at the rear of the UltraFine reveals two full-size DisplayPorts, an HDMI port, and an assortment of USB ports.
LG doesn't specify if the HDMI port is of the 2.1 specification, which is required for high refresh rate 4K display, though it would be surprising if it was not.
As of its announcement, what is being provided about the LG Ultrafine Display OLED Pro is light on details. The company hasn't released any pricing or availability information, but it's likely a safe bet that this monitor won't be cheap. LG's other UltraFine monitors that do not feature the more expensive OLED technology have typically retailed for over $1000, and OLED televisions can cost up to twice as much as LED/LCD equivalents.
LG has also announced that it will be making a new 42-inch OLED panel available to other manufacturers, likely in response to the popularity of the 42-inch variant of the LG CX television for gaming and computing.
So while OLED technology still carries a significant risk for use in monitors, we are very likely to see more entrants into the segment soon.
(via Engadget)