Nikon Professional Services has added two paid tiers above the complimentary Pro plan that add significant additional benefits for working photographers. Both new tiers include equipment loans, repair discounts, and cleaning services.
Nikon's basic, complimentary, Pro membership includes access to the NPS support hotline, a dedicated NPS representative, prioritization of repairs, no charge for ground shipping on warranty repairs, priority purchase delivery, and access to member-only webinars, launch events and virtual meetups. While useful, working photographers likely demand more.
To accommodate them, Nikon has added the Pro+ and Platinum+ tiers that add significant value to the service.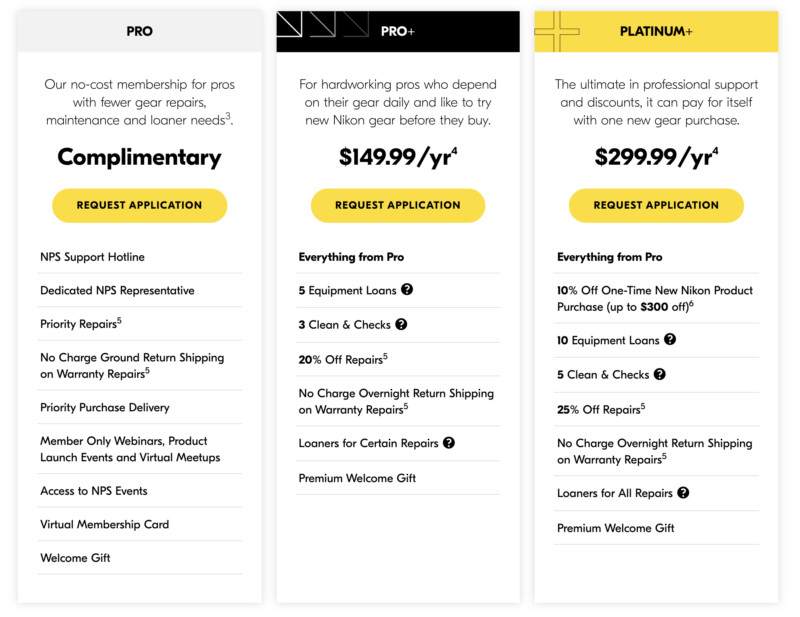 The Pro+ plan is "for hardworking pros who depend on their gear daily and like to try new Nikon gear before they buy" and costs $150 a year. For that price, everything included in the Pro plan gets boosted with five included equipment loans, three complimentary clean and checks, 20% off the price of non-warrantied repairs from service centers in New York and California, no charge overnight return shipping on warranty repairs, access to loaners for certain repairs, and an upgraded "premium" welcome gift.
The five equipment loans are designed to be used on five imaging products (which include cameras, lenses, Speedlights, and accessories) for special projects, assignments, or on a "try before you buy" basis. Shipping is not included.
Pro+ members also receive three complimentary Clean & Check services on eligible Nikon digital cameras and lenses that are registered in their NPS Equipment Registry at its factory service centers. Again, the cost of shipping is not included.
The Platinum+ plan is described as "the ultimate in professional support and discounts." It includes all the perks of the two tiers below it, but boosts the equipment loan amount to 10 items, the cleaning service to five items, and the discount on repairs jumps to 25%. Additionally, Platinum+ members get 10% off one-time new Nikon product purchases. The discount does not apply to new or refurbished items, must be purchased from Nikon or a Nikon Authorized Dealer, and maxes out at $300.
Nikon makes sure it is clear that one purchase of camera equipment maximizing the 10% off discount would offset the cost for one year of Platinum+.
These tiers are only available to Nikon shooters in the United States, and these new tiers still require that members own a certain amount of Nikon camera equipment (at least two Nikon digital cameras and two Nikkor lenses), and only equipment purchased from Nikon authorized dealers qualify for access to membership.
You can sign up for any of the Nikkon Professional Services tiers from the company's website here.