While Sony likes to mention to the media that it is the #1 interchangeable lens mirrorless (ILM) brand globally, its statistics often refer specifically to full-frame. Across all ILM cameras, Canon and Olympus have been Japan's top ILM brands over the last decade, but Sony has regained top position.
BCN has published its's BCN Awards, which are calculated based on point-of-sale data across Japan thanks to BCN Retail's huge reach. The BCN Awards are described by the retailer as indicative of the "current state of information technologies and home appliances." While Canon remains the top dog in the fixed-lens and DSLR markets (Canon has dominated these categories for the last decade), Sony leapfrogged Canon and Olympus in the interchangeable lens mirrorless category for the first time in six years.
Olympus has typically been the brand to beat for interchangeable lens mirrorless cameras in Japan, with as high as 36.6% market share in the segment since 2012. Canon leapfrogged Olympus in 2019 with a market share of 31.6% of ILM cameras sold versus Olympus's 23.5% and Sony's 22.7% that year.
In 2020, Canon again took top honors with 30.9% of sales versus the second-place Sony at 25.9% and Olympus at 23.4%.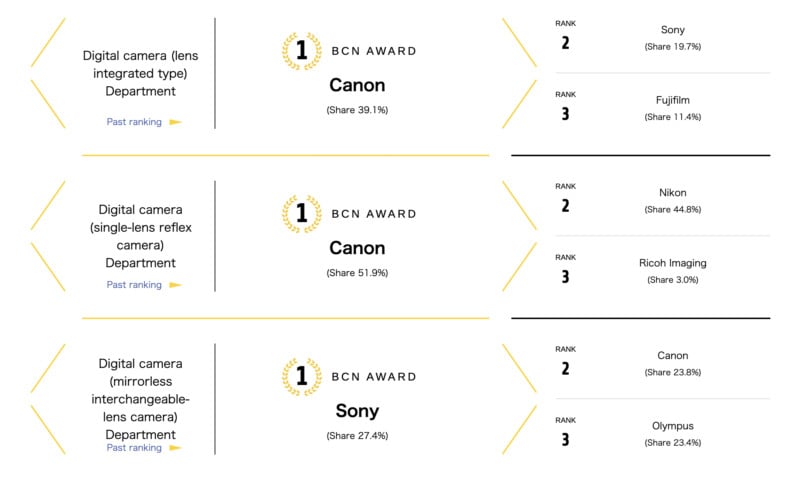 That changed this year, as BCN shows Sony with the number one spot, claiming 27.4% of the market ahead of Canon's 23.8% and Olympus's 23.4%.
Sony's 2% increase compared to Canon's nearly 7% drop was the difference-maker, but another notable takeaway is how all three companies claimed a smaller portion of the total market than in previous years, likely due to the success of other manufacturers in the segment such as Panasonic and Nikon. While Sony does claim top honors for the first time in six years, it does so thanks to the growing popularity of other brands as well as its own continued success.
In the fixed-lens and DSLR categories, not much has changed: Canon reigns supreme. In the fixed lens category, Canon has dominated the last decade with the one exception of 2019, where Nikon jumped into first place. In 2020, Nikon was second behind Canon and ahead of Sony, but 2021 sees Nikon drop out of the top three for the first time since 2012, ceding its position to both Sony and Fujifilm.
In the DSLR sphere, Canon remains strong with 51.9% of the market, with Nikon close behind at 44.8% and Ricoh in a distant third with 3%. This arrangement remains near completely unchanged except for a brief stint in 2013 when Sony replaced Ricoh/Pentax with 7.1% of the market. Nikon has slowly closed the gap on Canon over the years though, gaining three percentage points from 2020 to 2021 as Canon lost nearly five percent of the market share over the same period.
(via Sony Alpha Rumors)