Nikon's worrisome financial situation has cascaded as a result of the deflated camera market caused by the fallout from COVID-19, and in an effort to recover from what is expected to be its worst financial year ever, Nikon plans to focus its efforts on mirrorless.
In two articles published by Toyo Keizai in Japan (both require a "premium membership to view, but that membership is free), the publication delves into Nikon's expected operating loss as well as interviews the company's Managing Executive Officer Hirotaka Ikegami, who leads Nikon's video division.
To start, Nikon's financial situation has spiraled considerably over the past year. According to Toyo Keizai, Nikon's operating loss for the April to September period of 2020 fell to a deficit of 46.6 billion yen (~$449 million), which is in stark contrast to the 17.5 billion yen (~$168 million) surplus the company reported in the same period of 2019. For the fiscal year ending in March of 2021, Nikon is expected to post a colossal 75 billion yen (~$720 million) loss compared to a surplus of 6.7 billion yen (~$65 million) in the previous fiscal year.
If Nikon does indeed lose that amount by March, it would be the worst scale financial loss the company has ever experienced.
To put these numbers in perspective, Canon is expecting to make a profit of 64 billion yen (~$616 million) by the fiscal year ending March 2021.
Nikon's video division specifically is expected to end this upcoming fiscal year operating at a deficit of 45 billion yen (~$433 million), which adds to the previous deficit of 17.1 billion yen (~$164 million) from March of 2020.
Ikegami, in an interview with Toyo Keizai, says that Nikon's poor showing can be directly tied to its slow transition to mirrorless. While Sony has experienced nothing but huge growth, Nikon was too late to the game.
"I wasn't afraid of conflict (with SLR cameras), but rather I wasn't looking at the market calmly and objectively," he says, translated from Japanese. "I was most concerned about how much the performance of the electronic viewfinder (EVF) can be improved, and the number of shots can be increased."
Ikegami says that he was unconvinced that mirrorless cameras would be able to compete with the number of photos per battery that DSLRs could manage, saying that the 500 photos a mirrorless camera could capture did not look favorable compared to a DSLR's 1000 shots.
"I was wondering if it would be accepted by… professionals and high amateurs," he says.
Nikon says that its latest round of restructuring, including moving camera production out of Japan, is expected to reduce operating costs by 59% for the fiscal year ending in March of 2022.
However, as Toyo Keizai writes, it is not enough to reduce operating cost: Nikon must also turn sales around.
Ikegami says that Nikon is poised to recover, and the popularity and performance of its latest Z-series cameras is proof of that.
"The size of the full-frame mirrorless market, which is mainly purchased by professionals and high amateurs, is gradually increasing," Ikegami says, despite the camera market overall shrinking. "At Nikon, the products that make up the core of the business are expanding faster than the market growth pace. I am concerned about the number of units, but I have switched to a policy of firmly appealing to the core business that understands the value of high value-added models."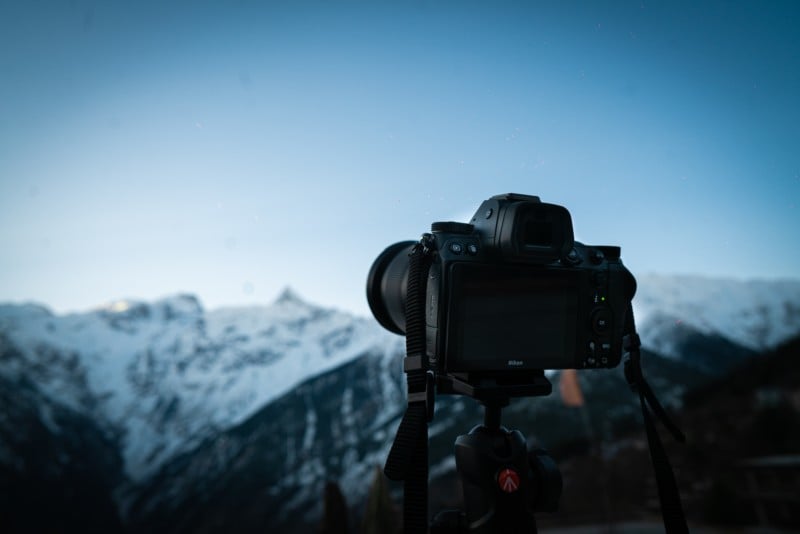 Nikon will supposedly continue to invest in research and development despite the massive financial losses.
"Although it costs money, we will continue to invest firmly in the image processing engine so that we can differentiate ourselves with the body and lens," Ikegami says. "We are not in a situation where we have to cut investment as part of cost reduction."
Because of the success it is seeing in the mirrorless full-frame market, Ikegame says Nikon will continue to press forward in this area of the business.
"In the fiscal year ending March 2021, we concentrated on mirrorless cameras and expanded the lineup, and this attitude will not change in the fiscal year ending March 2022. For the time being, we will concentrate on mirrorless cameras."
In a report from November of last year, Nikon was expected to produce two more DSLRs and more F-mount lenses, but the company's strategy may have shifted since then as they anticipate needing to rely on mirrorless sales to turn the company around.
Ikegami notes that Nikon recognizes the importance of cameras for more than just taking stills, and promises the company will be looking to invest in movie shooting capabilities. But just like with Nikon's slow transition to mirrorless, the question has to be asked: is this too little, too late?
(via Digicame-Info)