If you often find yourself in Zoom meetings in which others on the call don't need to see your face, you now have a great excuse for leaving your camera off: it can help save the environment.
A new study conducted by researchers at Purdue, Yale, and MIT has found that one hour of videoconferencing emits up to 1 kilogram of carbon dioxide, uses up to 12 liters (3.2 gallons) of water, and requires a piece of land the size of an iPad Mini.
In their new paper titled "The overlooked environmental footprint of increasing Internet use" and published in the journal Resources, Conservation and Recycling, the scientists noted that leaving your camera off during that hour-long call could reduce that footprint by a whopping 96%.
Turning off a camera for 15 hour-long meetings every week would reduce carbon dioxide emissions by 9.4 kilograms (20.7 pounds) per month. If one million Zoom users did this, they would save 9,000 tons of CO2, the equivalent of coal-powered energy used by a city of 36,000 in that same month.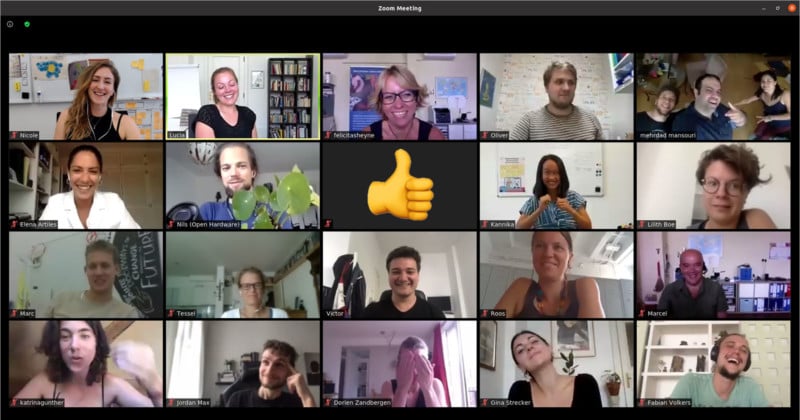 This new study was the first to closely examine the carbon, water, and land requirements of Internet infrastructure, including the video conferencing services that have become ubiquitous during the COVID-19 pandemic.
"Banking systems tell you the positive environmental impact of going paperless, but no one tells you the benefit of turning off your camera or reducing your streaming quality," says study director Kaveh Madani. "So without your consent, these platforms are increasing your environmental footprint."
With so many people staying indoors and working from home these days, Internet usage — and the environmental impact of it — has boomed. A number of countries have seen a 20% increase in Internet traffic since March 2020, and if these trends continue in 2021, the increased Internet traffic would require 71,600 square miles of trees to sequester the additional carbon, 300,000 Olympic-size swimming pools worth of additional water, and a Los Angeles-sized piece of additional land.
---
Image credits: Header photo by Jubjang/RawPixel, and screenshot by Nicole Waleczek (WMDE) and licensed under CC BY-SA 4.0