Every Sunday, we bring together a collection of easy reading articles from analytical to how-to to photo-features in no particular order that did not make our regular daily coverage. Enjoy!
---
Italian Photographer Captures A Rare Phenomenon of a Moon with Rainbow Ring Around It – IT Trending
Alberto Ghizzi Panizza, an Italian photographer, has captured a stunning photograph showing the moon surrounded by a celestial rainbow, as light reflecting off the silvery surface was split by water particles in the air.
Panizza, who is a teacher at Nikon School, shot the photo from the city of Parma. This phenomenon is known as a lunar corona and is created by light reflecting off the moon being refracted by either ice crystals or water particles in the air.
Lunar coronae are much more familiar than those around the sun. They are seen when the clouds are thin enough. Small droplets make the largest coronae as they scatter the moonlight.
This is the blending of a good portion of these shots to emphasize the colors of both the corona and the lunar minerals. – Alberto Ghizzi Panizza
Panizza used a Nikon Z 7II with AF-S NIKKOR 300mm F2.8G ED VR II and Star Adventurer Tracker.
"Tonight, the moon gave us another show. Between 10 p.m. and 12 a.m. I took a few hundred photos of the moon that created halos, iridescences, and crowns among clouds and veils," writes Panizza on his Instagram.
---
The Ethics of Street Photography: This Man from My Walk Looks Like Gru From Despicable Me – Reddit
This Man From My Walk Looks Like Gru From Despicable Me from mildlyinteresting
Street photography is considered a legitimate genre, and generally, there is no permission taken from the people in the photos.
This photo is different as the author has captioned it as "This Man Looks Like Gru from Despicable Me." Does that change the equation? Is that insulting?
Most of the over 600 comments in just one day seem to be outraged.
"I'm glad so many of the top comments are calling out the photographer for taking pictures of strangers without their consent. It's very unsettling and invasive and not at all amusing. This poor guy was just minding his own business, and now his image is floating around the internet forever against his will. Disgusting," says one of them.
What do you think? Would this photo have been OK without the caption? Is it unethical to post this photo even without a caption? Should street photography not show people in a bad light (no pun intended)? Let us know in the comments below.
Check out
Street Photography Ethics and Respect
Controversial OpEd Calls Candid Street Photography a Form of 'Gender-Based Violence'
Why is Street Photography So Contentious?
The Ethics of Shooting Street Photos of Strangers You Can't Identify With
The Ethics of Photographing Random Strangers on the Street
---
Can We Talk About Magnum Photos and Child Abuse? – Duckrabbit
Warning: This link contains distressing details of images centered on child sexual abuse, as well as sexual violence against women.
Magnum Photos' reckoning began in August last when Fstoppers revealed that a collection of images entitled "Bangkok Prostitutes" produced by Magnum photographer David Alan Harvey included sexually explicit photos of females tagged as "teenage girl – 13 to 18."
In the latest in the ongoing saga involving Magnum Photos, the company has published its previously private Code of Conduct on January 14.
Harvey, who has become the center of multiple scandals that have brought to light Magnum's supposed shortcomings, has denied all allegations made against him. A letter by Harvey's attorney republished on Twitter ends emphatically with "David Alan Harvey will not be canceled." So, this saga is not likely to end soon.
Check out the full story and analysis at the link above.
---
Corky Lee, Legendary Asian American Photographer, Dies at 73 – CNN
Photographer Corky (Young Kwok) Lee made it his life's mission to record Asian-Americans' contributions and their everyday struggles for five decades. "He died of COVID-19," reported  The New York Times.
Lee documented social injustices and community events of all Asian Americans, and the community loved him for it. "I had to think that every time I take my camera out of my bag, it is like drawing a sword to combat indifference, injustice, and discrimination and trying to get rid of stereotypes," he told AsAmNews in 2020.
---
Joshua Kissi Is Changing the Pecking Order of Old-School Photography – W magazine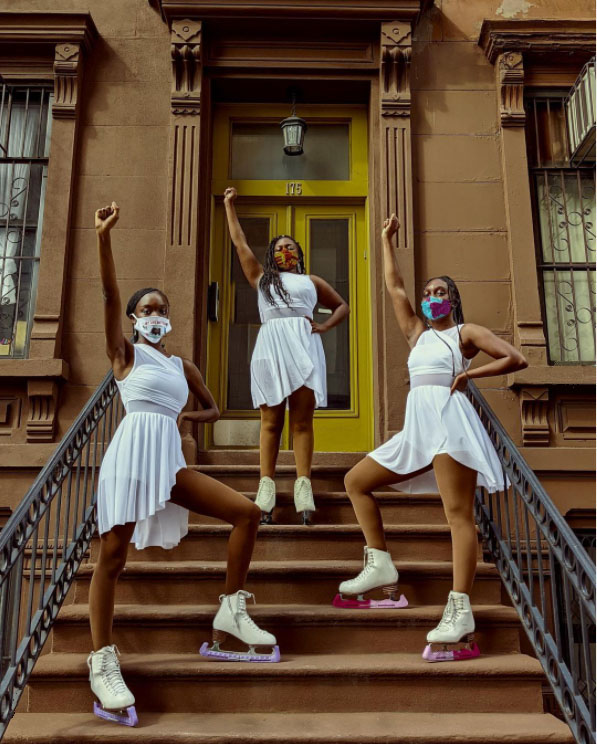 Joshua Kissi's, photography embodies a classical feeling but is wholly modern. Kissi's projects vary in subject matter—he has shot Michael B. Jordan for the cover of People magazine and Fuel the People activists for The New York Times' T Magazine.
Kissi, who started shooting in 2008, has shot for Google on Creator Labs and Nike, and has an instantly recognizable style. He is a first-generation Ghanaian American and has often photographed personal projects there.
"I go to Ghana a lot, and I'm really connected to the culture. Making work there is another way to look at the global Black perspective, and not just from an American perspective," Kissi tells W magazine.
Instagram is sort of the bane of our existence, considering the amount of time we spend scrolling through it; that said, I'm so thankful for it. I wouldn't have this career without it… I don't think the photography community has ever been as connected as it is right now because of it. – Joshua Kissi
---
The Photo Art of the Beatles Album Covers Explained – uDiscover Music
The Beatles' appeal, besides their music, was visual. It included their album covers, which were works of art in their own right.
Abbey Road has an iconic photo of nothing more than the Fab Four popping out of EMI studios' front door and crossing Abbey Road on the last album that the Beatles recorded.
With the Beatles, their second LP cover was shot by Robert Freeman with available light in just a hotel passage while they were on tour. As George Harrison said, "That cover was the beginning of us being actively involved in The Beatles' artwork."
Check out all the details of all the album covers above.
Quiz: Which photographer was Paul McCartney referring to when he said in 2019, on the photographer's death, "He was one of our favorite photographers during The Beatles years, who came up with some of our most iconic album covers"?
Answer: Robert Freeman.
---
MoMA Photography Curator to Lead Aperture Foundation – ArtForum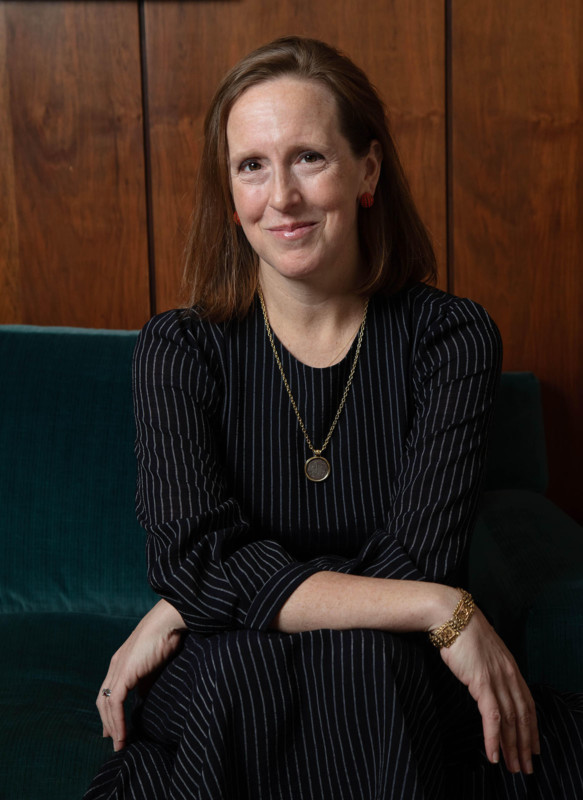 Sarah Meister has been named executive director of Aperture, a not-for-profit foundation that supports and promotes the art of photography.
Meister, 49, has spent her entire career at The Museum of Modern Art as a photography curator. She joined MoMA in 1997 as a curatorial assistant fresh out of college. She was the last person to work with legendary photography curator John Szarkowski who dominated the field for three decades.
Aperture publishes photography books and a quarterly magazine along with organizing talks and exhibitions.
"Founded in 1952 in San Francisco by an illustrious group that included Minor White, Ansel Adams, and Dorothea Lange, Aperture has issued important monographic books by a number of photographers, including Diane Arbus, LaToya Ruby Frazier, Nan Goldin, Richard Misrach, and Deana Lawson," says The New York Times.
I don't believe photography exists in isolation, from life or from art. – Sarah Meister
---
Expert Advice from a Winner of The Nikon Photo Contest  – Amateur Photographer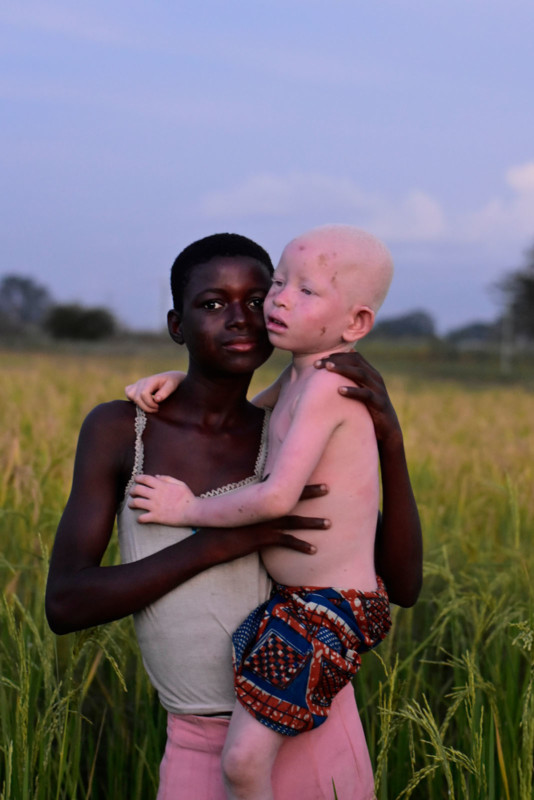 The Nikon Photo Contest has been running since 1969, and there is still time to enter.
Amateur Photographer, a UK-based magazine, caught up with the previous winner of the Next Generation Award Single Photo Gold Prize, Sara De Antonio Feu, to find out more about her work and get some tips for entering photo competitions.
Dr. Feu is a physician and visual artist based in Madrid, Spain, who has been entering photo contests since she was 14 years old, and persistency is essential.
She starts by looking at the topics and then checking her archive to see which image fits the particular theme. The last competition's theme was identity, and the above image worked perfectly.
She captured the winning shot while volunteering with an NGO called Future for Africa in Northern Ghana. She was visiting Ayimpoka, who was just recovering from malaria, and her family. It was while playing with her she decided to take a picture.
---
32 Nikon Cameras are Sonys in Disguise – Digital Camera World
Over 30 Nikon cameras use Sony image sensors. These include the mirrorless Nikon Z 7II, DSLRs like the Nikon D850, and the APS-C Nikon D500.
So, which other Nikon cameras use Sony sensors? Check out the list at the link above.
Quiz: Which only other camera manufacturer produces and uses its own image sensors?
Answer: Canon.
Check out A Look at the Use of Sony CMOS Sensors in Nikon DSLRs ­from 2012.
---
A Single Photo Captures Inauguration from Sunrise to Sunset – National Geographic
Note: The Instagram photo shows only the left side of the panorama. Click on the right arrow to see the other half.
Stephen Wilkes, a Nat Geo photographer, has combined 1,500 photos spanning dusk to dawn on the National Mall during inauguration day.
At 5:30 a.m., he took his position in a shaky scissor lift for an overhead view and only came down 15 hours later at nightfall. He has in the past also done 36-hour captures and called this collection "Day to Night."
It usually takes about 4 months to go through all the images, but he worked with a faster turnaround for the Biden inauguration.
While in the car on the way to the studio in Connecticut, Wilkes selected parts from 50 frames he wanted to keep. These were moments that defined the story, like Trump's helicopter ride, the bright sky, and President Joe Biden taking the oath of office.
Check out more "Day to Night" panoramas from Stephen Wilkes
This Photo Was Shot Over the Course of 26 Hours at an African Watering Hole
Capturing Both Night and Day in a Single Photograph
How One Photographer Captures Time Passing in a Single Photo
---
Lorna Simpson Photographs Rihanna for ESSENCE Magazine – artnet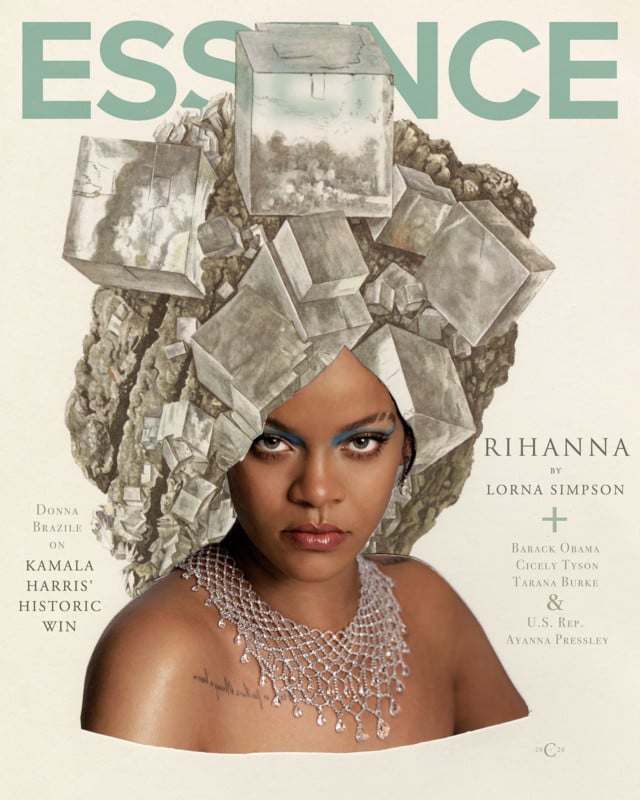 Photographer/artist Lorna Simpson has captured Rihanna for the cover and 12-page portfolio for ESSENCE magazine's Jan/Feb issue.
"The collaboration between Rihanna and the acclaimed artist is an extension of Simpson's ongoing project reinterpreting images of Black women who have posed the pages of Ebony and Jet magazines," says artnet.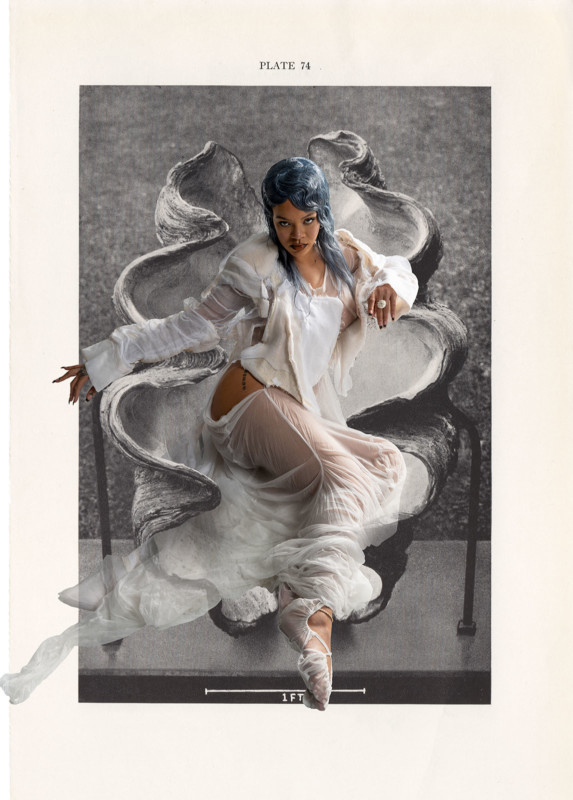 "In 2018, she received the J. Paul Getty Medal and she has been honored by The Whitney Museum of American Art, the Solomon R. Guggenheim Foundation and the Studio Museum in Harlem," writes ESSENCE. "Saying yes to this exclusive project allowed Simpson, 60, to continue exploring narratives around gender, race and identity."
---
Ethical Practices are Changing as a Result of the Increase in Threats to Journalists – Poynter
Embed from Getty Images
The increasing acts of violence against journalists are causing many newsrooms to rethink some ethical best practices. These evolving standards go beyond the recommendations for covering demonstrations and political violence.
---
Telephoto Fear: Japanese Photojournalist Shows How Lenses Affect Views of Crowds Amid Pandemic – The Mainichi
Photographers are familiar with the lens compression from large focal length telephotos. But recently, the general public is also becoming familiar with the term "lens compression."
Wide-angle lenses make the crowd look thinner, and telephoto lenses make the crowd look thicker. It has become a heated debate whether certain media are exaggerating crowding by using telephoto lenses.
Check out Controversial Photo of 'Crowds' on CA Beach Was Shot with a Telephoto Lens
---
'Black Resistance Endured': Paying Tribute to Civil War Soldiers of Color –The Guardian
African American soldiers who fought in the Civil War have long been overlooked by history. The Black Civil War Soldier: A Visual History of Conflict and Citizenship, published by NYU Press, aims to bring to light the story of Black Civil War Soldiers.
"If we search, if we listen, it can reveal worlds of brutality and kindness, of shame and glory," writes the book's author, Deborah Willis, a photo historian and New York University professor. "In this book, I want you to see and hear the world of the black soldiers and the wives and mothers of the civil war."
The book features more than 70 images of black soldiers who fought in the civil war, alongside handwritten letters and old newspaper clippings. "Men of color to arms!" reads a recruitment poster from 1863.
---
Adam Schultz is White House Chief Official Photographer – CNN
Adam Schultz was appointed as chief official photographer at the White House on January 15 by President Joe Biden. Schultz was earlier the lead photographer for the Biden campaign.
Shealah Craighead was ex-President Trump's chief photographer, and before that, Pete Souza was Barack Obama's chief photographer. The majority of Craighead's photos were not released for public consumption, unlike Souza, where we saw all the candid and official moments of the Obama presidency.
Schultz has a photostream on Flicker, which has 13,000 of his photos of Biden's campaign.
Schultz's gear during the campaign: His essential kit includes three Sony a9 II bodies, Sony FE 16-35mm f/2.8 GM, FE 85mm f/1.4 GM, FE 100-400mm f/4.5-5.6 GM OSS, and FE 24-105mm f/4 G OSS (for backup).
Check out our interview with VP Biden's photographer David Lienemann during his eight years in the White House.
Notable: What do White House photographers do with out-of-focus frames? You archive them. NO OFFICIAL PHOTOS can be deleted. Not even the ones that are shot on a phone.
"Yes, out of focus, blurry, I have some really terrible photos in the archives," said David Lienemann in our interview.
---
The Trump Legacy in Photos
Embed from Getty Images
Reuters
Watch 100 photos by Reuters shooters as they take you through Donald Trump's four years in the Oval Office, which have been marked by "America First" nationalism, two impeachments, a pandemic, and contentious stand on race and immigration.
New York Magazine
The all-time funniest photos of President Trump
MSN
Flip through 70 photos of the 4-year term for a visual recap.
Huffington Post
2 photos that sum up the course of Trump's presidency
CNN
Watch Trump from early childhood to the political arena.
---
Why I Like This Photo – Michael DeStefano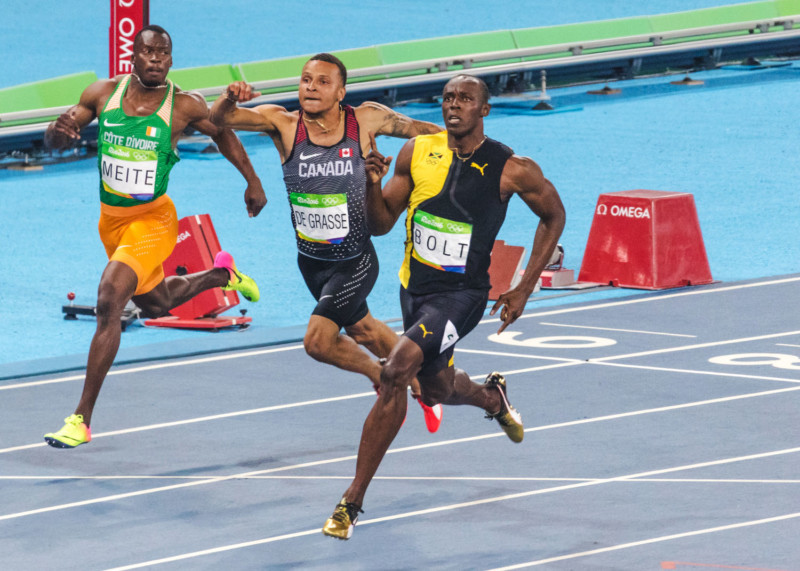 I like this photo because it brings me back to my own track & field dreams, because it represents the culmination of a legendary career, and because it reminds me for 9.8 seconds, I was a part of it. I've had a love of track & field since my own track days in HS and college, and being in that stadium working as a photographer was a big bucket list moment for me.
What makes this shot interesting is the comparison of expressions and visible exertion on the runner's faces. The composition is different from a lot of photos from that day because of my location to the finish line and long focal length. You get to see the more relaxed composure of Bolt as he sees he has won juxtaposed to the look of pure determination of Andre De Grasse from Canada who shaved 0.1 sec off his personal best to take bronze and the strained side glance from Ben Youssef Meïté of Ivory Coast who set a new national record for his country.
I took this photograph of the Men's 100-meter finals during the 2016 Rio Olympics in Brazil. It was an evening race, and the stadium was packed with energetic fans. There are always multiple events going on simultaneously, and I was positioned so I could photograph the men's High Jump, but this also put me near the finish line for the Men's 100-meter finals.
You don't always get to choose your assignments, and the high Jump was my priority, but I set up my second camera with a long lens to get a few shots of the finish. This was going to be Usain Bolt's last Olympic appearance, and the 100 meters was the race to watch with several record-holders in the finals.
I knew from watching the prelims that there was an opportunity right after he crossed the finish line where he would look up at the clock for his results, and that was the moment I wanted to aim for. From the gunshot to the finish line, it was over in 9.8 seconds. If you blinked, you would have missed it, and just like many races before, Bolt crossed the finish line with ease.
The crowd roared, and most of the other events stopped for a brief second to look at the big screens. At that moment, every eye was on Bolt, the stadium atmosphere was electric, and he looked up towards the sky and raised a single finger. After that moment, Bolt, ever the showman with a massive grin on his face, started playing it up for the crowd and cameras.
Shot on Canon EOS 7D Mark II with a Sigma 150-600mm Sport lens set at 600mm.
Michael DeStefano is a Boston, MA, based photographer and writer specializing in adventure, outdoor lifestyle, product, and travel. Combining his education in anthropology with photography, he blends the cultures of the locations he journeys to with outdoor lifestyle brands. DeStefano creates beautiful, often environmentally based images that capture both the subject and surroundings to tell a more in-depth story. When he's not behind a camera or on assignment, you'll find him off traveling on an adventure: camping, hiking, or riding his motorcycle around the country.
---
Quote of the Week (or a Previous Week):
People say photographs don't lie, mine do. – David LaChapelle
---
To see an archive of past issues of Great Reads in Photography, click here.
---
We welcome comments as well as suggestions. As we cannot possibly cover each and every source, if you see something interesting in your reading or local newspaper anywhere in the world, kindly forward the link to us here. ALL messages will be personally acknowledged.
---
About the author: Phil Mistry is a photographer and teacher based in Atlanta, GA. He started one of the first digital camera classes in New York City at The International Center of Photography in the 90s. He was the director and teacher for Sony/Popular Photography magazine's Digital Days Workshops. You can reach him via email here.
---
Image credits: All photographs as credited and used with permission from the photographers or agencies.