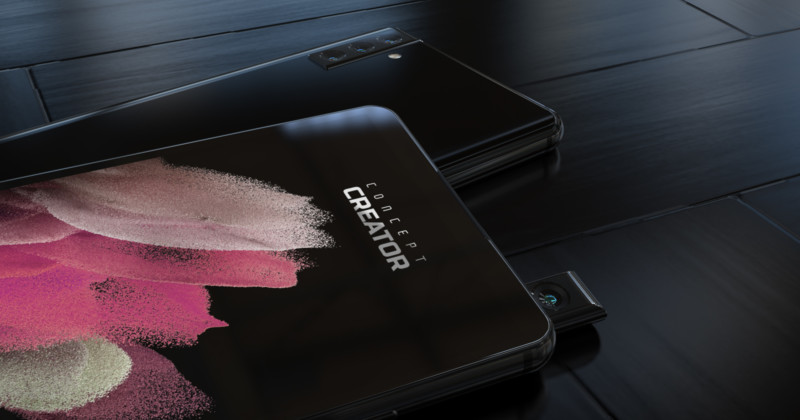 Samsung's unusual patent for a pop-up, rotating smartphone camera was recently published by the World Intellectual Property Office and the details sound intriguing. LetsGoDigital took a look at the application and mocked up what they think it might look like.
The idea behind this design is to make it so that the main camera array, which is normally aimed in the opposite direction of the display, would be able to be utilized as a selfie camera. This change would have two benefits: Firstly, it would make it so that the usually much better rear-facing cameras could be utilized in either direction, eliminating the need for the normally much worse selfie camera. Secondly, it would provide a unique solution to the selfie camera "cutout" or "hole punch" we see today.
There are currently companies testing ways to hide that camera behind the display, but so far the results are… not great.
If the goal is to give customers a completely clean, bezel-less display without compromising the selfie camera image quality, then this is actually a pretty good idea.
According to the patent, the pop-up camera system would work automatically, depending on the input to the camera app. Inside the phone is a motor connected to the battery. Two gears and a long propeller shaft are connected to a pop-up mechanism which rotates the moveable built-in frame. A flexible printed circuit board is stored in this frame, which moves when the camera system is extended.
"This frame is located directly under the pop-up camera system," LetsGoDigital explains. "When the camera rises, an opening is created at the back, which is covered by the frame. Samsung can optionally design this in such a way that you can see the flexible circuit board in it, as described in the extensive documentation."
LetsGoDigital mocked up this blueprint that shows how the motor looks and how it would operate.
To get a better idea of how a finished phone might look, LetsGoDigital worked with Jermaine Smit, also known as Concept Creator, who made a series of graphics that show a finished product. Though in his designs only the top camera is revealed, the patent actually explains that more of the entire camera module can be raised to allow additional focal lengths to be used.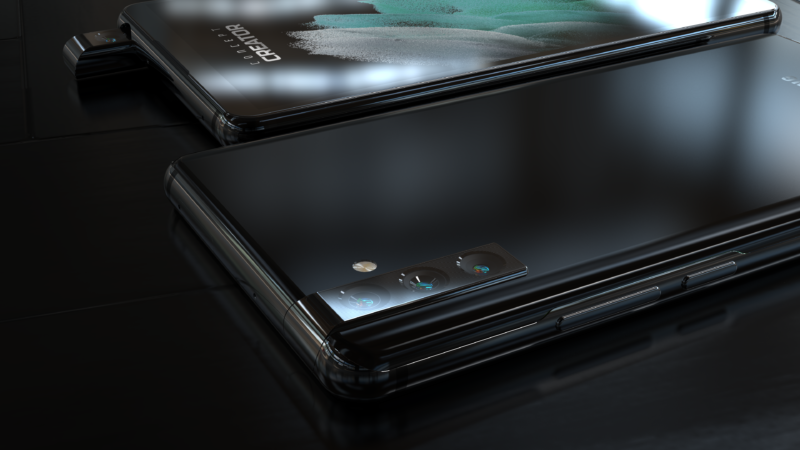 This is not the first time we've seen a company dabbling in the idea of a pop-up camera. Oppo, Vivo, Honor, and even Motorola have all tried the design, but there are generally too many downsides associated with it that have led these early adopters to ditch the idea.
And for good reason.
Samsung's patent seems to take the idea of a pop-up camera and crank it to the extreme. One of the major reasons companies stopped developing the pop-up camera was because adding more moving parts added more points of possible failure. Samsung, undeterred, not only has the piece that moves the smartphone camera array up and down, but also another unit that rotates the camera a full 180-degrees. Another reason the design has been largely dropped is that it adds another area that would need to be waterproofed, which is not only difficult but also expensive. So while there seem to be advantages to the pop-up concept, there are a couple of very notable downsides that have yet to outweigh the positives.
LetsGoDigital speculates that it would be unlikely to see this patent used in a flagship S-series camera, but more likely in the more affordable A-series. What is just as likely is that Samsung never actually implements this design in a consumer device. As mentioned, there are just too many downsides with this many moving parts in a smartphone. In short, there are just too many risks.
Still, it's a neat idea that shows smartphone companies aren't satisfied with the status quo. It's only a matter of time until someone will come up with a way to improve the optics on front-facing cameras and give consumers a beautiful, uninterrupted, edge-to-edge display.
(via LetsGoDigital via Tom's Guide)
---
Image credits: Mockups and blueprints by LetsGoDigital, and used under publication guidelines.