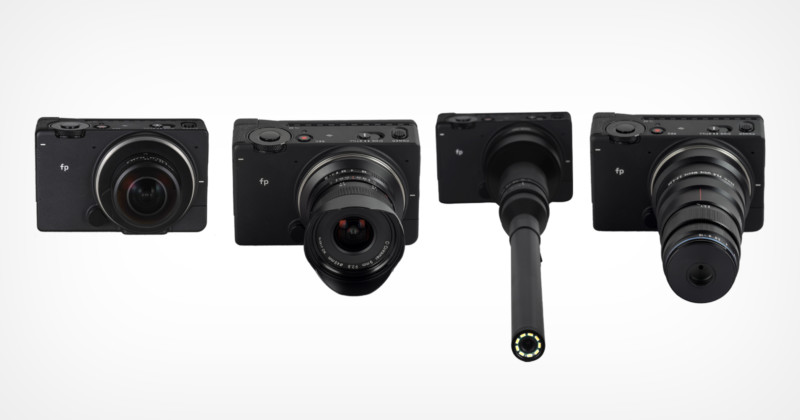 Venus Optics has announced that four popular Laowa lenses are being released for L-mount. Two wide-angle lenses, the 4mm f/2.8 Fisheye and the 9mm f/2.8 Zero-D, and two macro lenses, the 24mm f/14 2X Macro Probe and the 25mm f/2.8 2.5-5X Ultra Macro, are available to order now.
All four lenses are also available for Micro Four Thirds, Fuji X-mount, Sony E-mount, and EOS-M. The addition of L-mount would seem to indicate that these lenses, previously only suited to crop-sensor bodies, do have the ability to work across a 35mm full-frame sensor. However, only one of the four lens descriptions provided by Venus Optics explicitly stated that it would work on both Super 35 and Full-Frame (the macro probe lens). Given that the majority of L-mount cameras on the market are full-frame (including the camera Venus Optics chose for product photos of the lenses on L-Mount: the Sigma fp), it would be odd for these lenses to not support larger sensors.
PetaPixel has reached out to Venus Optics for clarification and will update this article if a response is received.
4mm f/2.8 Fisheye
The Laowa 4mm f/2.8 Fisheye lens features a 210-degree angle of view with a circular fisheye perspective on Micro Four Thirds cameras. On the contrary to the Laowa 'Zero-D' wide-angle lenses, the 4mm fisheye lens is designed to create an extremely distorted circular fisheye perspective. No statement was provided on the lens's capability with L-mount full-frame. It is available for $200.
9mm f/2.8 Zero-D
The Laowa 9mm f/2.8 Zero-D provides an extreme 113-degree angle of view and fast f/2.8 aperture which Venus Optics designed for astrophotography and low-light photography. Venus claims that its two aspherical elements plus three extra-low dispersion elements correct chromatic aberration, realize close-to-zero distortion, and deliver excellent corner to corner sharpness. Like the 4mm f/2.8, no mention was made of its compatibility with full-frame. This lens retails for $500.
24mm f/14 2x Macro Probe
The Laowa 24mm f/14 2x Macro Probe was the world's first consumer-grade probe lens which focuses from 2:1 macro to infinity and with a compelling wide angle 'Bug Eye' perspective. This lens has allowed more photographers and videographers to achieve eye-catching product shots and macro wildlife photos than before, basically commoditizing what was once incredibly hard to shoot. For dark spaces, the lens comes eqeuipped with an LED ring light that. The front of the probe barrel is also waterproof. As mentioned, this is the only lens of the group that definitively states that it can cover both standard 35mm full-frame and Super35 image sensors and retails for $1500.
25mm f/2.8 2.5-5X Ultra Macro
Venus says the 25mm f/2.8 2.5-5X Ultra Macro is optimized for macro shooting between 2.5x and 5x life-size. The company says this lens is specially designed with an extended working distance (45mm at 2.5x & 40mm at 5x) and a small lens barrel to allow sufficient lighting on the object for easier shooting in the field. The company offers an optional LED Ringlight or Tripod Collar as well. It is available for $400.
All four lenses are available to order now in L-Mount with an anticipated shipping date of early March.
With these four lenses, Venus now offers 12 L-mount lenses in total:
Wide-angle lenses:
4mm f/2.8 Fisheye
9mm f/2.8 Zero-D
9mm f/5.6 FF RL
11mm f/4.5 FF RL
14mm f/4 FF RL Zero-D
10-18mm f/4.5-5.6 Zoom
15mm f/4.5 Zero-D Shift
15mm f/2 Zero-D
Macro Lenses:
100mm f/2.8 2X Ultra Macro APO
24mm f/14 2X Macro Porbe
25mm f/2.8 2.5-5X Ultra Macro
15mm f/4 Wide Angle Macro