Canon has announced the availability of the ST-E3-RT Version 2, an update of the original model. This new version enables a few new features like wireless second-curtain sync, new FE memory mode, and support for low-power "micro flash."
The wireless second-curtain sync is particularly useful for long exposure photography. This new feature can fire a flash at the end of the exposure to, as Canon says, "help photographers produce natural-looking images when capturing moving subjects." While possible when directly connected to the Speedlight EL-1 directly, the updated trigger now offers this functionality wirelessly.
The aforementioned micro flash feature is an extremely low power flash (1/8192) that is designed to add "subtle nuances" of light without causing too noticeable of disruption to the ambient light on set. Canon says that photographers shooting at high ISOs or with a wide-open aperture may find that flash levels, even at their normally lowest setting, can overpower a subject or scene, forcing a change to the camera settings which may disrupt the desired look. The ST-E3-RT V2 can now trigger the EL-1 flash, which has this micro flash capability already, remotely.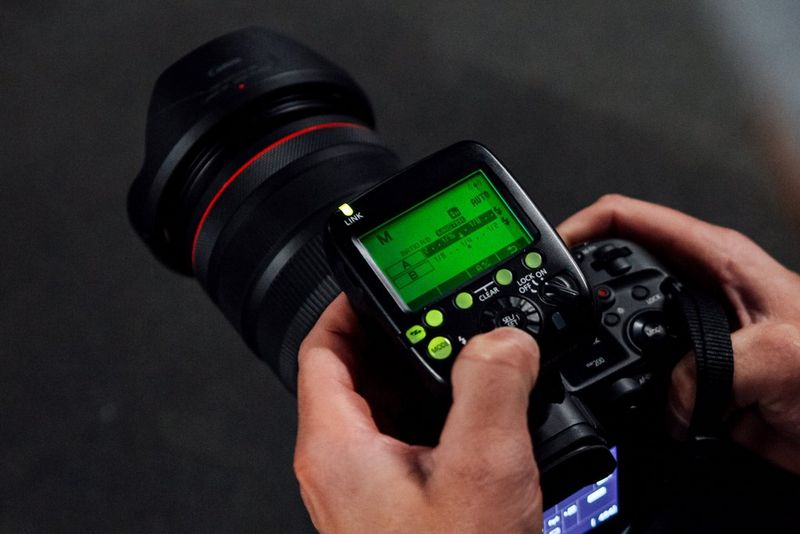 The final main update is the addition of the new FE Memory mode, which Canon says offers a quicker and more convenient manual flash setup.
"Alleviating the need for multiple test shots, professionals now have the option to perform an initial shot in E-TTL mode, capturing the E-TTL flash settings," Canon explains. "Users can then switch the Speedlites to manual flash to allow for manual adjustments where needed – all whilst retaining the original E-TTL settings."
The ST-E3-RT Speedlite Transmitter Version 2 is available now for $300, which is much less than the $470 that the original ST-E3-RT originally retailed for. Version 1 of the transmitter is still available (likely while supplies last) for a slightly less expensive $289.
The transmitter retails for £289.99 in the United Kingdom €329.99 in Europe.
(via Ephotozine)