Every Sunday, we bring together a collection of easy reading articles from analytical to how-to to photo-features in no particular order that did not make our regular daily coverage. Enjoy!
---
Snappr Photographer Goes Rogue! – Inside Imaging
A Snappr client has been left high and dry when their photographer failed to deliver the photos. Now the only advice that Snappr has is an offer to re-enact her son's church baptism with another photographer.
Client Natalie Westernoff hired "Joe S" from Snappr, who arrived and shot around 600 photos. Later, when she texted Joe, he told her that he was not Joe but had been sub-contracted by the original Joe. Also, his attitude indicated that they were not going to get any photos from him.
Snappr has removed "Joe S" and provided a full refund, but Westernoff is left with no baptism photos to remember her precious day.
Check out Snappr Has Raised $13M to Be the Uber of Photography
---
Is Patreon the New Photography Lifeline? – The United Nations of Photography
Patreon is a platform that allows you to make money from your community and your work. "Stop rolling the dice of ad revenue and per-stream payouts. Get recurring income through monthly payments from your patrons," says Patreon on its home page.
Check out the pros and cons from a photo site that gave it a try at the link above.
---
How Much $$$ I've Made on YouTube in 10 Years – Jared Polin

---
56 Of The Most Powerful Photos Of 2020 – BuzzFeed News
Dana Clark, and her son 18 month old Mason, wait in line at City Hall as early voting begins in New Orleans, Louisiana. Dana said she wasn't sure how many people would be wearing masks while they voted so she wanted to be safe. Photo by @kathphoto pic.twitter.com/2BuAtVSeMo

— corinne_perkins (@corinne_perkins) October 16, 2020
If you want a photographic summary of what happened in 2020, here it is—from COVID-19 to the fight for racial equality, to the bitterly contested election to climate change.
---
How Instagram Expanded Nat Geo's World – National Geographic
The idea was launched in an elevator. National Geographic, known for its photography, should post on a new image-driven social site called Instagram. Nine years later, they have just passed 150 million followers on their "Hero" (main) account, @natgeo.
Climber Conrad Anker pitched the Instagram idea in an elevator ride to then-Editor-in-Chief Chris Johns' office in 2011. Conrad, a fan of the platform, thought we should cover the Everest Expedition that he was leading in real-time. The team posted every few days, including the photograph above—in what would come to be known as a selfie—of euphoric climber Emily Harrington at the summit. "What a climb it's been!" Emily wrote, in a caption, as buoyant as much of Instagram's strongest material.
Notable
In early 2019, @natgeo became the first brand to top 100M followers on Instagram, in hot pursuit of the more popular pop music and reality-TV stars to the top.
---
8 New Vogue Photographers Capture the New Year's Fashion – Vogue
To put a newfound spin on Vogue's favorite looks from the spring season, they picked eight photographers who had not worked with them before, including a photography student doing her MFA at Yale School of Art. At the end of the shoot, the magazine invited the photographers to comment on their experiences.
---
A Photographer and a Fist Pump. The Story Behind the Image that Will Haunt Josh Hawley – The Kansas City Star
A Missouri senator raised his fist the day rioters breached the Capitol. Photojournalist Francis Chung, whose publications do not typically cover politics, grabbed the exclusive shot without any inkling that he was about to capture one of the iconic political images about which a lot would be written and analyzed. Since I do not understand politics or even wish to, you will have to read more at the link above.
---
FOTOfusion Returns for 26th Year with Virtual Events, On-site Exhibit – Palm Beach Daily News
FOTOfusion, featuring five days of online presentations and workshops by 40 photographers, runs from Tuesday to February 20. This year, like all other expos, it is almost entirely online because of the pandemic.
FOTOFusion is run by Palm Beach Photographic Centre, founded in 1986 by Art & Fatima NeJame. There are 500 presentations free to everyone and 600 presentations free to members and passport holders.
Photographer Robert Farber who has had a 50-year career will start the festival with a free presentation. Other photographers giving virtual presentations include Craig Blacklock, Susan Currie, Jack Davis, Jill Enfield, Laurence Gartel, Alissa Hessler, Lewis Kemper, Erika Larsen, Richard Liebowitz, and J. Thomas Lopez.
---
The Best Photos from the 2021 Super Bowl – CNN
The Kansas City Chiefs had the best record in the NFL this season, and they were favored to win back-to-back Super Bowls on Sunday night. But standing in their way was the greatest…STOP, STOP. You don't want to read all that…just enjoy the photos!
---
With Power, Poise and Confidence, These 'Women R Beautiful' – NPR
Ruben Natal-San Miguel, who likes to photograph people where they live, has been challenging the expectation of who gets featured in art galleries.
Natal-San Miguel's portrait Mama (Beautiful Skin) is an impactful image. The details—her skin, her cornrows, the white T-shirt, even the red van—are not elements often seen in an art gallery or museum. Twenty-six of his photos are on view in "Expanding the Pantheon: Women R Beautiful."
Natal-San Miguel often moves around New York with his digital cameras (a Nikon and two Canons), looking for photos, looking for the beauty that others would not see.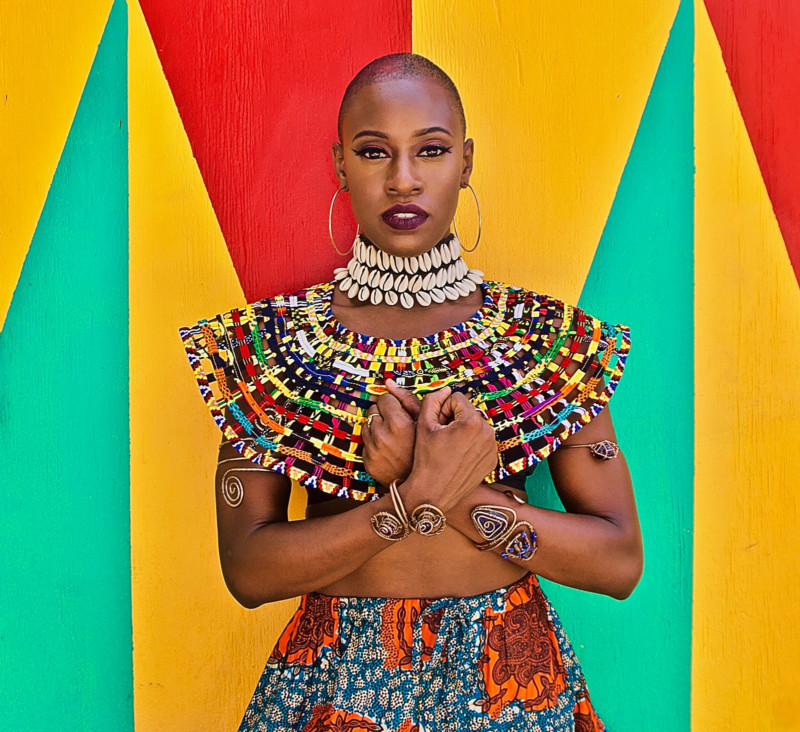 "Natal-San Miguel constructed his latest series, Women R Beautiful, as a critique of Garry Winogrand's 1975 series Women Are Beautiful," says Jen Sudul Edwards, chief curator at Mint Museum in Charlotte, NC. "Both are, in theory, a census of women on the streets of New York City, but Natal-San Miguel highlights Winogrand's narrow perspective."
It's a way to have people understand otherness and other beauty, another definition of beauty. – Ruben Natal-San Miguel
---
Goodwill Camera Mystery – Help Find the DC Owner of Photography Gear Found in Georgia – WUSA9
Sidney Goodman is continuously on the lookout for vintage cameras. She found a great deal at the Goodwill store in her hometown of Columbus, GA. It was a leather bag with two vintage 35mm cameras and two rolls of undeveloped film. The photography gear was engraved in multiple areas with the name "Joseph L. Jones, Wash, 3 DC."
What's on the 40 year old undeveloped film?
A woman in Columbus, Georgia paid $6.99 for some old camera gear at Goodwill.
That gear belonged to someone who lived HERE.
Do YOU know Joseph L. Jones from Washington, D.C.?
I'm getting the pics in an hour. Story @wusa9 11pm. pic.twitter.com/SJwtutzBgy

— Adam Longo (@adamlongoTV) February 13, 2021
Goodman paid the bargain price of $6.99, and the Petri 2.8 camera had the film in it. Goodman dropped off one of the rolls at her local Walmart and will get the results next week. Come on!! What about that One Hour Photo thing?
---
Water Reversal Photography: by Gavin Hoey
If you're looking for a simple stay at home photo project, then Olympus Ambassador in the UK, Gavin Hoey, has the perfect technique for you to try. All you need is a glass or two filled with water and some of Hoey's custom-made backgrounds.
Download Hoey's Backgrounds here.
"Essentially, this is a science experiment cleverly disguised as a photography project," Hoey tells PetaPixel. "The curved glassware acts as a convex lens when it's filled with water, and that reverses the image. The effect can be fine-tuned by slight movements towards or away from the background in exactly the same way that a lens focuses."
"The backgrounds make the effect really stand out, but with a bit of lateral thinking, there are endless options," continues Hoey. "You could make your own background of arrows and see them reverse through the water. You could mirror some writing and only see it the correct way round through the water. You could also set it up without a background at all and reverse the real world."
---
Hasselblad Ambassadors Cooper & Gorfer Honor Healthcare Workers 
Sweden-based Hasselblad Ambassadors Sarah Cooper & Nina Gorfer created a piece, Delirium.  COVID-19 is a constant battle for healthcare workers, and this image pays tribute to them.
The two artists were thinking of a Renaissance battle scene with soldiers consisting of nurses, doctors, physiotherapists, and anesthesiologists fighting bravely together to save symbolic comatose patients.
Gear: Hasselblad H6D-100c Medium Format DSLR Camera and Hasselblad HC 50mm-II f/3.5 Autofocus Lens.
Delirium describes this whole experience – for the nurses, for the patients, but also for us who maybe are just in our own bubble trying to cope with what's happening in the world. – Cooper & Gorfer.
---
Daniel Wolf, Collector Who Helped Shape Getty's Photography Holdings, Has Died – ARTnews
Embed from Getty Images
Daniel Wolf, a well-known photography collector, and dealer who was married to the Vietnam Veterans Memorial architect Maya Lin, died on January 25.
Among his accomplishments, Wolf played a crucial role in developing the Getty Museum's photography collection. A 1994 Los Angeles Times article describes how during the 1980s, he "circled the globe for the Getty, methodically acquiring the most important photographs money could buy."
Notable: After he graduated from Bennington College in Vermont, Wolf started off his career in New York by selling photographs literally outside the Metropolitan Museum of Art.
---
Federal Court Holds National Parks Service Film Permitting Rule Unconstitutional – National Press Photographers Association
NPPA is celebrating a victory for videographers after a federal judge struck down a portion of the Department of Interior film permit requirements. The judge ruled that the "commercial filming" permit requirements violated the First Amendment and enjoined their enforcement.
The government may not impose a charge for the enjoyment of a right granted by the federal constitution, including the First Amendment right to free expression. — Judge Kollar-Kotelly
Although "representatives of the news media" were already exempted in the statute, the question of who qualifies as a representative of the news media is not well defined, and in an era where more and more journalists are independent, NPPA believed the definition was a threat to freelance visual journalists as well.
Check out No More Light Painting Inside National Parks?
NPPA recommendation for videographers: Going forward, NPPA's attorneys recommend that videographers carry a copy of the judge's January 22 order, a copy of which is available here.
Important: The ruling had no impact on still photography regulations, which are less onerous, but which nonetheless are being looked at by NPPA's lawyers.
Author's Note: In the film era 20 years ago, it was very easy to distinguish between filming and still photography. Today with compact 8K hybrid mirrorless cameras being used by even pros and without a crew, how can the authorities determine that you are shooting stills and not video (filming), and what if you are shooting both?
---
10 Things to Know About Henri Cartier-Bresson – Christie's
Cartier-Bresson, one of the founding members of Magnum Photos in 1947, was considered one of the greatest photographers of the 20th century. He bore witness to world-changing events, from Spain's Civil War to the death of Gandhi. He immortalized the term "decisive moment," which exemplified his photography.
Check out
A Look at 'The Decisive Moment' by Henri Cartier-Bresson
The Masterful Photo Compositions of Henri Cartier-Bresson
A Closer Look at the Iconic Cyclist Photo by Henri Cartier-Bresson
An Interview with Henri Cartier-Bresson from 1958
---
The Making Of A Stunning Lightning & Cityscape Timelapse – Alpha Universe
Mike Meyers has a decent view of the Chicago skyline from his balcony, which is also covered and protects him from the rain and keeps his gear dry.
Find out how Meyers set up the built-in intervalometer to help him capture a time-lapse on his Sony α7R IV & 24-70mm f/2.8 G Master lens, also white balance, focus and postproduction.
Warning: If you're going to be shooting storms, it's extremely important to do it from a safe place as no shot is worth getting hit by a bolt of lightning!
---
Why I Like This Photo – Damian Strohmeyer
There are several things that I particularly like about this image. It's unique! It's made with a basic 50mm lens that photographers can easily keep in their bags. While the image has an unusual posture for the subject, it maintains a face that keeps the human emotional element part of the frame.
I've always considered myself as a photojournalist who happened to photograph sports. The photographs need to tell a story while still having what the editors at Sports Illustrated called "the WOW factor." An image needs to scream, "Look at me," but still have enough information to get the editorial point across.
This image of Baltimore Ravens wide receiver Derrick Mason landing on his head while holding on for a touchdown catch was a gift from the photo gods. I was in the right place at the right time, with the right gear to make the photo.  Over my career, I've put myself in that same position numerous times, and while that has yielded some nice images, this one is pretty unique.  A wise photo editor once said that you would always be in demand if you can make humorous photos. Looking at Mr. Mason on his head, you can't help but smile, even knowing that landing had to hurt. I'm thinking he got to the Ravens bench begging for an Advil, or six!
The gear on this shot is pretty basic—Canon EOS1-D Mark III with a 50mm f1.8 lens. Exposure was 1/1000 at f/5. The light was pretty flat, which helped keep some detail in the subject's face. A harsh overhead light might have made the image challenging to reproduce.
I've always felt fortunate to have so many mentors and editors who helped light the path for me. The great Rich Clarkson gave me my first job in Topeka, Kansas, and my second one in Denver. The indomitable Heinz Kluetmeier kept me focused and competitive through a long stint at Sports Illustrated.  While these guys and many others were instrumental in aiding my career path, I'd be less than forthright if I didn't include my most important editor Joanne Rathe, a photo assignment editor at The Boston Globe who is also my wife of 30 years. She has always been the final word.
Damian Strohmeyer has had a long career at Sports Illustrated magazine, where over 25 years, he worked on over 2,000 assignments and produced 71 covers. A committed educator and Canon Explorers of Light, Strohmeyer frequently teaches camera techniques along with tips about photographing in the world of photojournalism and sports. He believes that his best photograph is the one he hasn't taken yet.
---
Quote of the Week (or a Previous Week) – David Bergman
I actually think many photographers are introverts by default because we like to be behind the camera, not in front of it.* – David Bergman
*1.31 min in the video above
David Bergman is a Canon Explorer of Light starting 2015 and has been the Bon Jovi tour photographer since 2010. He has photographed 13 Sports Illustrated covers, including New Orleans Saints quarterback Drew Brees raising his son over his head after winning Super Bowl XLIV. And in his own words, "Photographed seven US Presidents (from Carter to Trump) and one dictator (Fidel Castro)." And… The band Barenaked Ladies, along with 600 of their naked fans on a ship.
---
To see an archive of past issues of Great Reads in Photography, click here.
---
We welcome comments as well as suggestions. As we cannot possibly cover each and every source, if you see something interesting in your reading or local newspaper anywhere in the world, kindly forward the link to us here. ALL messages will be personally acknowledged.
---
About the author: Phil Mistry is a photographer and teacher based in Atlanta, GA. He started one of the first digital camera classes in New York City at The International Center of Photography in the 90s. He was the director and teacher for Sony/Popular Photography magazine's Digital Days Workshops. You can reach him via email here.
---
Image credits: All photographs as credited and used with permission from the photographers or agencies.