Three new fast Pentax manual-focus prime lenses are rumored to be coming soon: the HD Pentax-FA 31mm f/1.8 Limited, HD Pentax-FA 43mm f/1.9 Limited, and Pentax-FA 77mm f/1.8 Limited lenses. Additionally, Pentax will supposedly be releasing the K-1 Mark II in four new colors.
The HD Pentax-FA 77mm f/1.8 Limited will be available in two colors, according to a new report from Nokishita. Images of this lens leaked in greater numbers than the other two upcoming optics, and the price is expected to be $799 — notably less expensive than the current version which retails for nearly $900. Visually, the two lenses share a lot in common, and the re-release is unlikely to be a completely new take on the lens but rather small adjustments.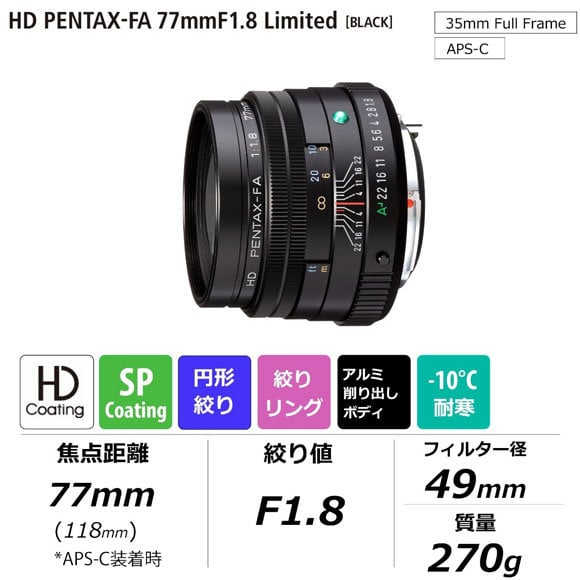 While the 77mm f/1.8 leaked first and with the most number of images, it appears that the 31mm f/1.8 and the 43mm f/1.9 will also be re-released at or near the same time.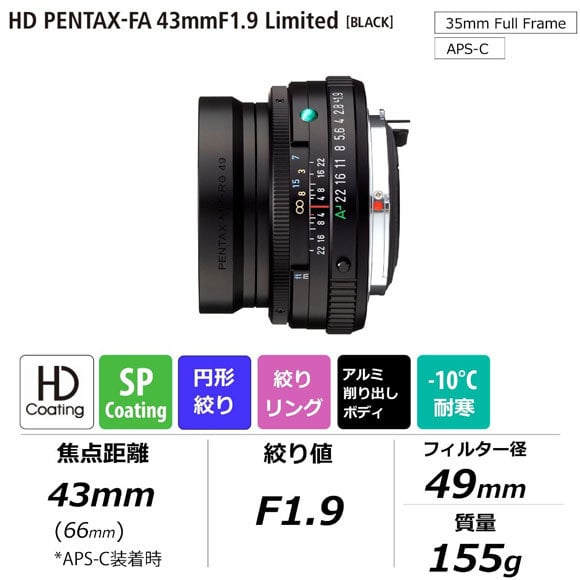 As was the case with the 77mm, all three manual-focus lenses appear to be re-issues of current lenses in Pentax's lens library but upgraded with new coatings. Notably, all three lenses feature "SP Coating" and "HD Coating" branding that is not present on product descriptions for the current versions of the lenses (31mm f/1.8 here and 43mm f/1.9 here).
Additionally, Nokishita reports that Pentax will be releasing a limited edition run of four new colors for the K-1 Mark II: Black & Gold, Viridian, Scarlet Rouge, and LX75 Metallic.
While these products were leaked ahead of their official announcement, there was no indication for the specific date the lenses or DSLR were supposed to become public.
It's possible that Pentax will be focusing on these re-releases because of the recent news that it would not be able to announce the K-3 Mark III at Photokina this year due to problems sourcing parts. Pentax spent a considerable amount of its efforts hyping the K3 Mark III since late summer last year and losing its flagship APS-C announcement at Japan's largest photography-focused tradeshow was likely a huge blow for the Ricoh subsidiary.
Pentax has been languishing in the bottom tiers of popularity among competitors for some time, and recently doubled-down on its strategy of building new DSLRs and stating that it could not go mirrorless despite sales data regularly coming out of Japan that shows DSLRs are capable of drawing significantly less value from the market than mirrorless. Considering the K-3 Mark III was set to retail for $2,500 despite its reliance on old technology and a crop sensor, Pentax appears dead-set on bucking trends despite all data available to it.
Still, there are those that argue Pentax is making the right business choices.
(via Digicame Info and Pentax Rumors)