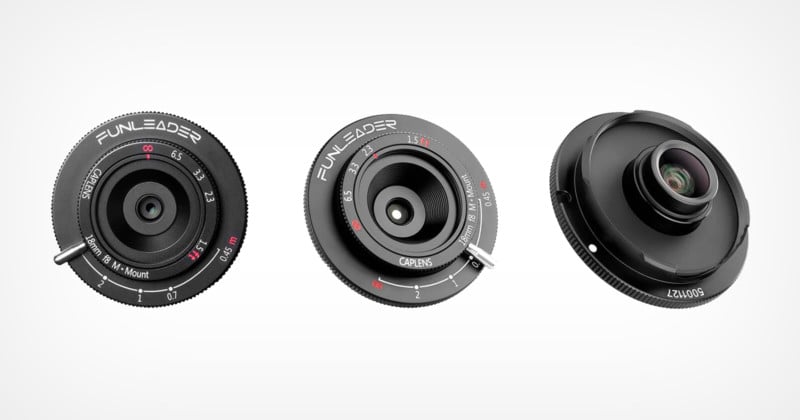 Funleader has announced an updated version of its Caplens 18mm f/8 for M-Mount that it claims has been adjusted to make for a better user experience in street and landscape photography, specifically on Leica rangefinders.
This new version is available in M-Mount, but Funleader also makes L-mount, Sony NEX, Canon RF, and Fujifilm X adapters that are compatible with it if the updated design is important to you over the original.
Funleader made news when it successfully funded a Kickstarter campaign in late 2019. That original iteration featured a traditional focusing ring which may have been difficult to use due to the thinness of the lens. This updated version addresses that issue and ads M-Mount support at the cost of $50 more dollars, but it doesn't appear much else, if anything, has been changed.
Funleader says that this new version is designed to work perfectly with Leica M-Mount rangefinder cameras thanks to the integration of a focus stick that allows photographers to "shoot blindly" by estimating focus distance. The cap-style lens is incredibly thin (14mm / 0.55 inches thick) and lightweight (40 grams / 1.4 ounces) and covers the entire width of full-frame sensors.
"It doesn't include any electronic components," the company writes. "The lens barrel is completely made of aluminum alloy, which makes the lens solid and durable. The one-piece structure highlights its slim shape and excellent quality.
The lens has a 120-degree focusing dial to control the depth of field with a shortened minimum focus distance of 1.48 feet (0.45 meters) from the original's 2.62 feet (0.8 meters), which the company says was done to help capture smaller details with closer focusing distance. Speaking of focusing, the 18mm f/8 is hyperfocal, with a depth of field from that 1.48 feet to infinity.
As was the case with the original Caplens, the M-mount version is constructed of six elements in five groups with an unspecified "multi-coated" coating.
"The 18mm powerful ultra-wide-angle lens gets everything in the picture with enough details and high contrast," Funleader writes. "When shooting landscapes, architecture, or interiors, Funleader CAPLENS 18mm F8.0 for M-mount will enable you to capture it all without cropping out important parts of the scene."
The Funleader 18mm f/8 M-Mount Cap Lens is available for $198 and the aforementioned adapters can be added for $29. Delivery to the United States, Canada, United Kingdom, Australia, New Zealand, and all European Union Countries can take between two and four weeks, while delivery to the rest of the world can take between two and six weeks.
The original Caplens is also still available for those who do not need the new focusing adjustment design changes.