Every Sunday, we bring together a collection of easy-reading articles from analytical to how-to to photo-features in no particular order that did not make our regular daily coverage. Enjoy!
---
Port Washington Photographer is the Only Person to Capture all 55 Super Bowls – CBS 58 Milwaukee
John Biever is now the only person to have photographed all 55 Super Bowl games. And what comes next? He's going to photograph five more Super Bowls. But why does he want to stop after that? He would like to watch on TV and see the commercials for the first time!
He started with his father, the Packers' team photographer for the first two Super Bowls. And if you still don't believe this story, there is a photo at the link above where Biever is with his father, and he is holding probably a Nikon F, Nikon's first SLR, with the Photomic FTN finder.
Check out:
(2015) Keepers of the Streak: A Film About the 4 Guys Who Have Photographed Every Super Bowl
(2016) Photographer John Biever on Shooting Half a Century of Super Bowls
---
Photography in The National Parks: The Art of Patience – National Parks Traveler
"Even when I think it might be time to move on to the next photo op, my gut instinct will often tell me to stick around an area a little bit longer," photographer Rebecca Latson tells PetaPixel. "I've come to trust that instinct more and more with my photography, and as a result, I'm almost always rewarded with new images for that extra bit of patience."
---
Photographs That Look At The Black American Experience On The Road, Then And Now – BuzzFeed News
Amani Willett's A Parallel Road examines the Black experience of driving in America over the past 85 years. The American ideal of the road trip has been marked by fear and violence for the Black community. He looks at Black Americans' and white Americans' distinctly different experiences when they step behind their automobile's driving wheel in their pursuit of a road trip.
---
'Firefall' 2021 Lights up Yosemite in Orange Glory – CNN Travel
In the evening, this phenomenon can look like hot lava streaming down the sides of a mountain in Yosemite National Park in California. Actually, the firefall is just a waterfall glowing orange if it is correctly backlit by sunlight.
"Horsetail Fall flows over the eastern edge of El Capitan in Yosemite Valley," explains the National Park Service. "This small waterfall usually flows only during winter and is easy to miss. On rare occasions during mid-to-late February, it can glow orange when it's backlit by sunset. This unique lighting effect happens only on evenings with a clear sky when the waterfall is flowing."
Photographing this phenomenon is a hit and miss as even some haze or cloudiness can diminish the beauty or even eliminate it that day.
This natural firefall is named after Yosemite Firefall, where the owners of Glacier Point Hotel actually threw burning hot embers to the valley 3,000 feet below. Even more surprising is that this tourist attraction went on for 100 years from 1872 to 1968 when the National Park Service ordered it to stop.
Check out:
My Experience Shooting the Yosemite Horsetail Firefall
A History of the Yosemite Firefall and Tips for Photographing It
Capturing the Incredibly Rare Moonlit Firefall at Yosemite
This is What the Crowd of Photographers Looks Like During 'Firefall' in Yosemite
Photos of 'Firefall', When a Yosemite Waterfall Looks Like Lava
---
Boston Red Sox Photographer's Best Sports Photos from 2020 EXPLAINED
Billie Weiss is the photographer for the Boston Red Sox since 2012. In this video, he does his end-of-the-year review of the photos of 2020, a year that was curtailed owing to the pandemic. Weiss gives a little behind the scenes of how he set up the shots, lit them, and cool little backstories that went with some of these photos.
---
Slit-Scan Technique Presents a Twist on Flowery Photography – Scientific American
The spirals that you see in the Instagram photo have been created by slit-scan photography of a dahlia flower. This technique has been around for a long time and is used in photo finish cameras at horse races.
To get a good grip on slit-scan photography's technical side, check out the first link below.
Check out:
The Role of the Slit-Scan Image in Science and Art
Slit-Scan Technique Makes Dancers Look Like Human Slinkys
---
This Robot Photographer Can Make You Smile – Yale News
Bleep-bloop-bleep! Say 'cheese,' human. No, that is not exactly how the robotic photographers make you smile.
A good portrait photographer manages to make an emotional connection with the subject. Can a robot photographer do that?
The research team at the engineering dept at Yale University wants to find out. They have given this robot, named Shutter, a retro-futuristic look that includes "eyes" on a touch screen which are programmed to interact with the subject.
---
Familial Gaze: the Black Photographers Drawing on Their Family Albums –The Guardian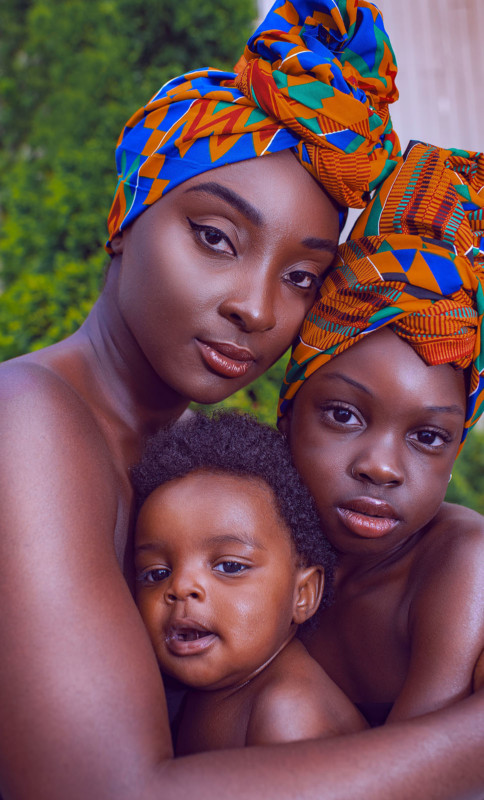 Young black photographers are looking at their family photo albums from the past as a creative catalyst. These albums provide them with inspiration and the energy to help in their own imagery, to connect to their history and culture.
---
Then and Now: A Photographic Vision of the Past – Pocket-Lint
History and photography buffs always enjoy comparing old city photos with their present-day versions. Some may find these changes as improvements, while others may perceive them as a loss of beauty.
Here is a collection from the re-photos archives for you to enjoy as you take an armchair trip (remember it's COVID time) around the world.
---
Looking Back: Those Photographers we Will Miss – Holden Luntz Gallery
This photo looks photoshopped but it was actually taken in 1960. from r/pics
Ormond Gigli 1925-2019, who created Girls in the Windows in 1960, above
Frank Horvat, 1928-2020
Gilbert Garcin, 1929-2020
Terry O'Neill, 1938-2019
Victor Skrebneski, 1929-2020
The story behind Girls in the Windows in TIME is worth reading. It was personal work made on a whim and not for an assignment.
---
Shutterstock Launches the Vault – How Do You Organize 40 Million Photos? – Amateur Photographer
Shutterstock, headquartered in New York, has launched The Vault. This archival collection has over 50 million assets across photo and video, covering royals, film, music, sports, wars, politics, and celebrities, making it one of the largest photo and video archives that provides a comprehensive chronicle of the 20th Century.
The physical location of The Vault is in an Iron Mountain facility in London, England, with a significant number of photographs already digitized and made available on Shutterstock Editorial.
---
Dorothea Lange's Legacy Lives on Through a Fellowship at UC Berkeley – Berkeleyside
Dorothea Lange (1895-1965) was a documentary photographer and photojournalist known for her Depression-era work for the Farm Security Administration (FSA).
Lange was born in Hoboken, NJ but lived in Berkley, CA, for most of her life. Lange is remembered by all documentary photographers, especially students and faculty at UC Berkeley since economics professor Paul Taylor established a fellowship to honor his late wife some two decades after her death.
The $4,000 fellowship has helped support and launch a bevy of excellent photographers, including Logan Professor of Photojournalism Ken Light, who in 1987 was the first person to receive the prestigious campus award.
---
 21 Best Photography Books to Help You Become a Better Photographer – SLR Lounge
Physical books maybe are not as popular as digital media, but they still, in 2021 at least, have a valid place in photographic learning.
These 21 books will help you understand exposure, pose your models, improve your lighting, tweak your composition, help you to shoot in unconventional locations, get portrait ideas but NOT teach you how to build rockets*.
*When Elon Musk was asked how he learned to build rockets, he replied, "I read books."
---
Jokes Only a Photographer Will Understand
Before Christmas in the 90s, the departmental store's staff photographer had had it with crying kids on a Saturday evening, and a big line is waiting for family portraits (those were the days!).
In walks, an elderly lady and entreats the harassed photographer, "Can you not please take just one passport photo for me?"
He shoots the passport, trims it, puts it in the holder, and hands it over.
"Sheesh! This photo DOES NOT do me justice," she loudly protests, alerting the customers who were waiting patiently in line.
The photographer grabs the photo from her extended hand, takes one look at it, and then at the person, proclaiming, "Lady, (pause) you don't need justice. You need mercy!"
---
Why I Like This Photo – Sandro Miller
The first time I saw the original photograph of Picasso created by Irving Penn, I had not yet even picked up a camera. I was 16 years old going through a difficult time in my life. Had it not been for the discovery of this image, I'm not sure I would be the photographer I am today. Like a bolt of lightning, my life changed when I saw this image for the first time in an American Photography magazine.
Unsure if it was the haunting stare of the single-lit eyeball, the starkness of the black shadows, or the feeling that this man being photographed was resisting and not giving into the act of participating in a portrait session.
Penn created his portrait of Picasso in Cannes, France, in 1957 at Picasso's home. I re-created this image in 2014 as part of my Malkovich, Malkovich, Malkovich, Homage to The Masters project, in which I would go on to re-create 61 of the most iconic images first produced by the Masters of Photography.
The project was conceived while recovering in bed from a stage 4 cancer that about took my life.  The thought of the project gave me hope and light in a time where I was hollowed in darkness. I chose my dear friend John Malkovich to be my muse for the project as he had this incredible talent to transform himself into anybody he wanted to become. It is the images in this project that I have studied many times over in my career learning time and time again what makes a great portrait. I feel forever in debt to these masters that came before us, the pioneers of the universal language, photography.
Nikon Ambassador Sandro Miller began his thirty-plus-year career photographing in Chicago at the age of sixteen. As a young teen, Sandro embraced the idea of making photographic portraits after seeing Irving Penn's portrait imagery. For the past five years, in juried competitions within the industry, Sandro has been voted one of the top 200 advertising photographers in the world.
Editor's note: In 1957, when Irving Penn arrived at Pablo Picasso's house in southern France, the famous painter pretended not to be home. Penn's assistant climbed over a locked gate to spot him, and the artist agreed to do a ten-minute shoot. Picasso put on a dark cape and even tried to playfully avoid the photographer. Ultimately Penn, being the master, captured that piercing look of Picasso's left eye. It is this image that Sandro has recreated above with actor John Malkovich.
Check out:
7 Things Pablo Picasso Can Teach Us About Photography
Clever Fashion Photographs in the Style of Picasso Paintings
---
Quote of the Week (or a Previous Week)
Wow, that's a great picture; you must have a really nice camera. – Anonymous, and a few people I've run into over the years.
---
To see an archive of past issues of Great Reads in Photography, click here.
---
We welcome comments as well as suggestions. As we cannot possibly cover each and every source, if you see something interesting in your reading or local newspaper anywhere in the world, kindly forward the link to us here. ALL messages will be personally acknowledged.
---
About the author: Phil Mistry is a photographer and teacher based in Atlanta, GA. He started one of the first digital camera classes in New York City at The International Center of Photography in the 90s. He was the director and teacher for Sony/Popular Photography magazine's Digital Days Workshops. You can reach him via email here.
---
Image credits: All photographs as credited and used with permission from the photographers or agencies.