Here's a quick, easy idea for something you can try in your kitchen with a macro lens. Yesterday as I was doing the dishes, the water stream hit an egg cup and bounced up in a concentrated jet, splashing water up all over me.
We have all been there, and we all hate when it happens. But this time, the macro photography lover in me noticed that the structure of the jet that splashed up from the egg cup actually looked pretty interesting!
So I brought out my Sony a7 III camera, my Godox TT685 external flash, and my trusty Venus Laowa 60mm macro lens, and started blasting photos of it. And to my amazement the results looked pretty cool.
What you should ideally do is place the flash behind the water stream, but not directly behind it — more at a slight angle so that the flash does not shine straight into your lens. You should have some kind of diffuser on your flash for better-looking results. I used a plastic light dome that I got at a hardware store. See the video above for more details. But you could also just point the flash at a white surface close to the sink, such as white tiles (or maybe the underside of your cupboard is white?). That will give very good diffusion.
Set the flash at maybe 1/16 to 1/32 in strength, your camera to ISO 100, the aperture to f/8 or f/11, and a shutter speed of around 1/60s. The shutter speed does not matter that much, as the flash is extremely fast (in the magnitude 1/10000s) and will stand for the majority of the light in the exposure anyway.
Lean in carefully and slowly so you do not get water on your lens, and blast away with the camera once the water drops are in focus. Make use of focus peaking or focus magnification, or just take test shots until you see that they are sharp. You should get some interesting photos similar to the ones I got.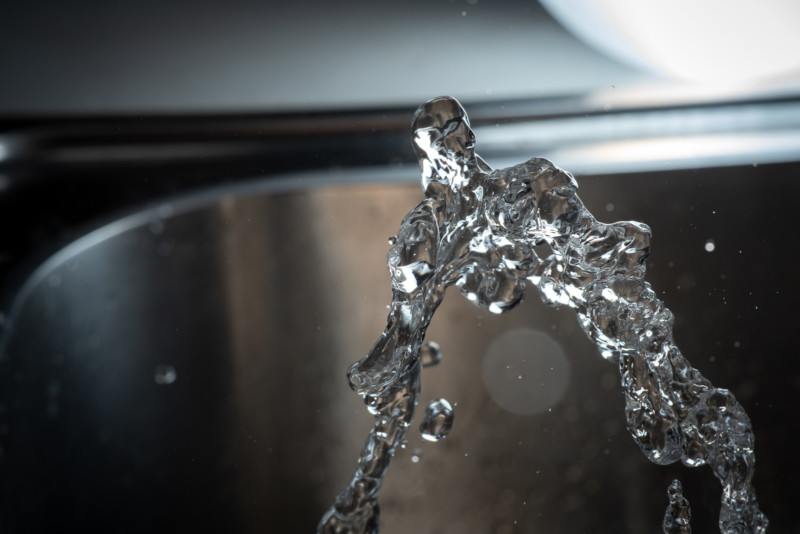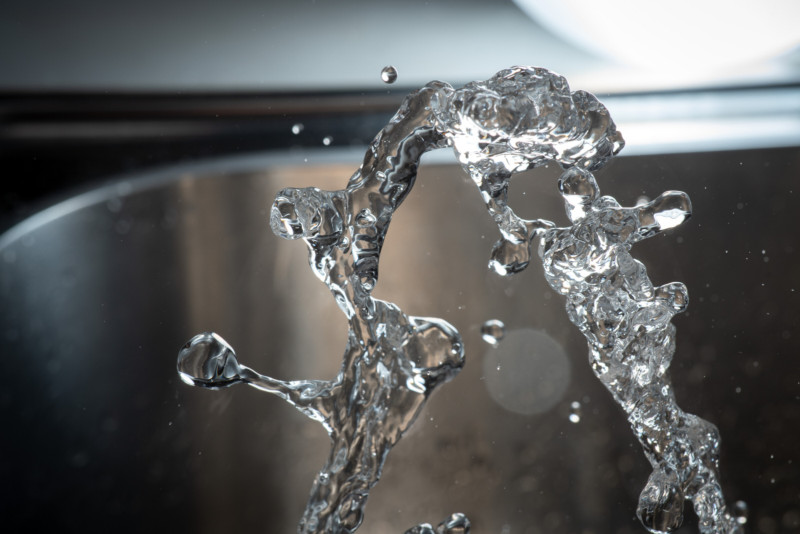 To get a more exotic background, and better separation of the subject, I tried placing a black T-shirt along the sink side behind the water stream.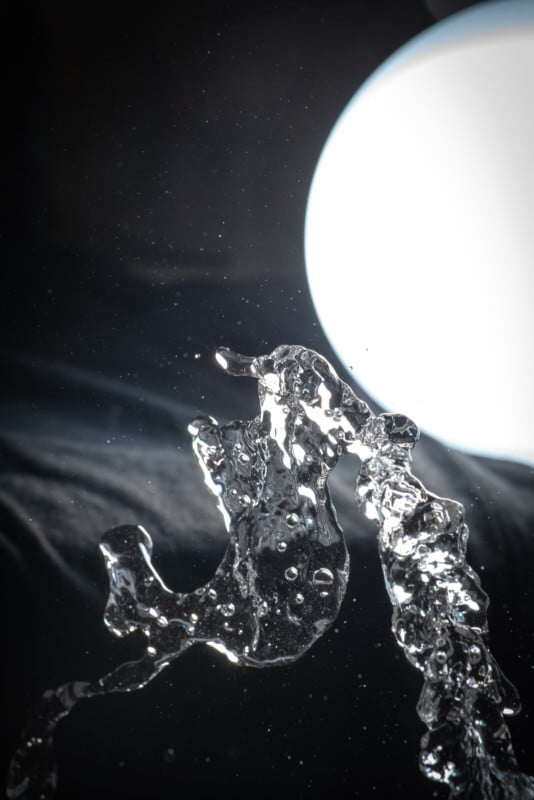 Try lots of different angles between the flash, the camera, and the water splashing up, and try to let the water splash against different things – maybe an egg cup, a spoon, or something else? I experimented for around 45 minutes to get the shots in this article, if you spend more time you might get even cooler-looking results.
---
About the author: Micael Widell is a full time macro photographer and YouTuber based in Stockholm Sweden. The opinions expressed in this article are solely those of the author. Find his work on YouTube or at mwroll.com.