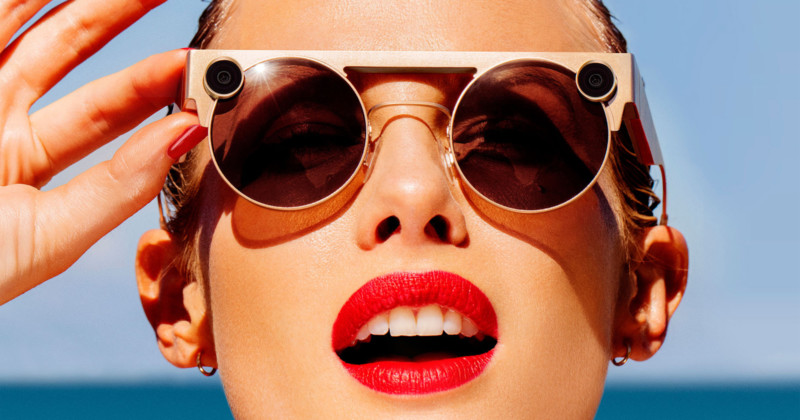 Snap is working on its next-generation glasses that will be able to layer Snapchat lenses (which are augmented reality effects) onto the environment without needing to use a smartphone camera, according to a new report. It has also reportedly revived its plans to introduce a selfie-drone.
According to a report from The Information, and noted by Engadget, the next generation camera glasses aren't actually being developed with the intention of deployment to the average consumer. Instead, the company is focusing efforts on developers and creators, those who currently are responsible for making the app's more popular SnapChat AR filters.
Snapchat is reportedly gearing up to officially announce these new Spectacles in May during its developer conference. Theoretically, if the glasses are successful, Snap could aim to launch more widely.
While Snap is most well-known for its social media app, the company has successfully brought hardware to market. Snap launched the Snap Spectacles 3 in 2019 and still offers them for sale today. The original Snap spectacles were a viral hit in 2016 when they launched in special pop-up vending machines in select cities. Eventually, the Spectacles became avaialble to order on Amazon. In 2018, Snap launched its second-generation Spectacles that allowed you to capture photos using the glasses.
That's not the only hardware Snap is investigating. The report goes on to say that the company is once again looking into producing a selfie drone. In 2017, Snap reportedly acquired the LA-based drone company Ctrl Me Robotics before looking at another China-based acquisition, Zero Zero Robotics. Back then, The Information reported that Zero Zero reached out to Snap for funding help, which was later denied by the robotics company's CEO.
Since then, news about Snap and drones has been largely pretty quiet, but that is apparently set to change. Snap supposedly did eventually invest in Zero Zero to the amount of $20 million, but it did not outright acquire the company. Since then, the new report indicates that Snap's own engineers have been working on developing an in-house product. It's not clear when such a drone would come to market and how it would differentiate itself in what has become a very crowded space.