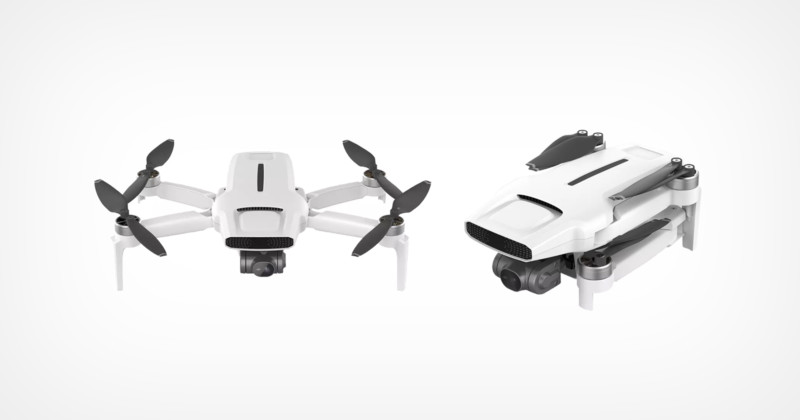 While DJI has not been particularly challenged in the drone space in recent years, that doesn't mean others aren't trying. FIMI, a Xiaomi brand, has announced the X8 Mini, a direct competitor to the DJI Mini 2.
As originally noted by Drone DJ and reported by DPReview, side-by-side with DJI's latest, the X8 Mini looks extremely similar. It's not just the design of the X8 Mini, which is looks almost identical in how it is designed, but also the unfolded size which is basically the same.
Both boast sub-250 gram weights (though the X8 Mini is even lighter at just 245 grams), support for 12-megapixel photos and 4K video at up to 30 frames per second at 100 Mbps, and both drones can shoot in both JPEG and RAW.
While the camera system might be the same, DJI was able to grab the lion's share of the drone market thanks mainly to how easy its products are to operate and how well they stabilize footage. To that end, FIMI has integrated a three-axis gimbal to smooth footage and also built-in multiple special features powered by onboard software.
First, it has a special night mode that uses artificial intelligence (AI) to make photos and videos look better. While not stated, the note about a night mode powered by AI sounds familiar, especially considering that FIMI is a Xiaomi brand. It would not be surprising to see the X8 Mini integrate the night-mode AI that is found in the Xiaomi Mi 11 that is the first smartphone implementation of BlinkAI's impressive technology.
It also supports timelapse, panorama stitching, live streaming, and other one-tap video modes.
As noted, the X8 Mini is very light at just 245 grams, but that is only the case when it is equipped with a specific "pro" battery. According to Drone DJ, the M8 Mini weighs closer to 258 grams with the standard battery, with a difference of about 200MAh and a couple of minutes of flight time between them for that 11 grams of weight difference. It's not much of a tradeoff in either direction and will likely just come down to individual preference, though the more robust battery does put the drone above 250 grams, and that places it in a different legal flight category.
The FIMI X8 Mini is expected to launch on April 18 for $494. It's currently available on AliExpress but is expected to hit U.S. retailers soon.