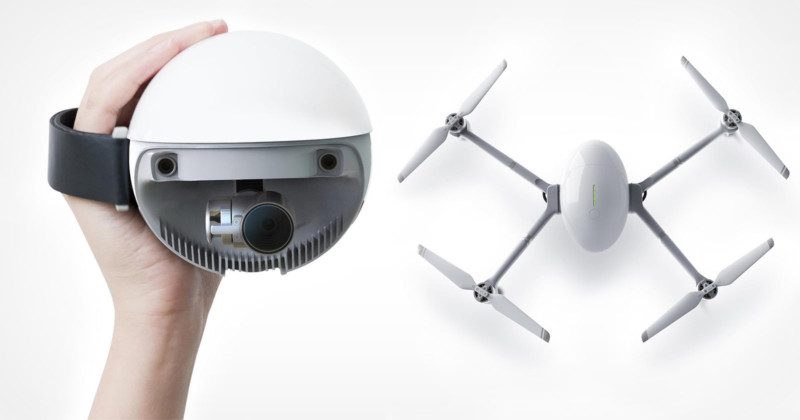 The PowerEgg X is a versatile drone and a camcorder that prides itself on being able to withstand harsh environments, land on water, and comes loaded with AI-powered live streaming and video conferencing features.
Established 2009, PowerVision — based in Beijing — now claims to be one of the world leaders in research, development, and production of aerial, water surface, and underwater robotics. Some of the company's product lines include an intelligent fish-finding drone, PowerSeeker, the first egg-shaped drone, PowerEgg, and subsequent PowerEgg X, which is the world's first full-platform AI camera.
This drone packs several years of improvements after its predecessor, PowerEgg, first came onto the market. First announced at the Consumer Technology Association (CES) trade show in 2020, the PowerEgg X has been designed as a versatile all-in-one piece of equipment. What differentiates this drone from others is its ability to perform in harsh weather conditions, such as rain, which is a definite advantage for photographers and videographers who regularly work outdoors.
However, it isn't just used as a drone that can fly in rain and land on water, it also acts as a tripod-mounted or hand-held gimbal camera, which can appeal to professional and amateur creators alike, whether it is used to create commercial footage for clients or for everyday lifestyle and travel vlogging. The 3-axis gimbal stabilizer helps avoid visible vibration in the produced footage.
Same as the exterior design of the earlier PowerEgg — and as the name might suggest — this drone/camcorder combo device is egg-shaped. It weighs 1.2 lbs (544 grams) when used in AI camera mode and 1.9 lbs (862 grams) in drone mode. It packs a 1/2.8″ CMOS 12-megapixel sensor and can produce up to 4K video files at up to 60 frames per second. The internal storage holds 6 GB of files, however, a Micro SD memory card with up to 128 GB capacity is also supported. In-app editing makes video production and editing easier on the go and the final video can be shared instantly from your smartphone.
While it has technically been on the market for over a year, many photographers may not have heard of it. Additionally, after launch the company introduced what it calls the Wizard Edition, which includes waterproof housing and a mini tripod. In September of last year, PowerVision added its first AI video conferencing camera mode to the device in an attempt to add features based on the latest technology trends of technology it found arose due to the COVID-19 pandemic.
According to the company, PowerVision has recognized the significance of this growing virtual communication market, both for smaller-scale video calls, live streams, and meetings as well as larger public events, which has led to the most recent PowerEgg X 2.1.2 firmware update. Wally Zheng, founder and CEO of PowerVision, explains that "the PowerEgg X's new features set a new standard for innovating the future of both live and virtual events and exhibitions."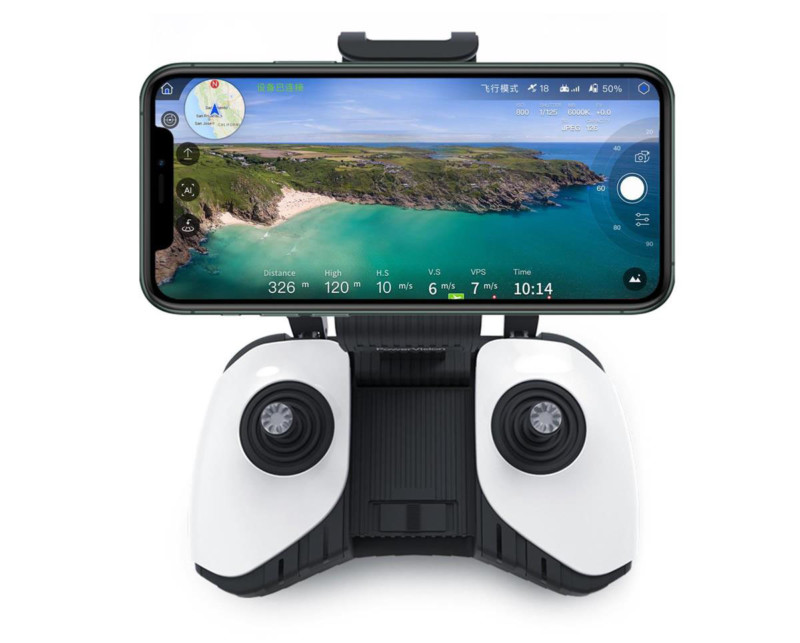 In the update, PowerVision introduced several new features that will give users more creative and technical possibilities when using the drone to create content. Livestreaming with third-party apps is now supported by the PowerEgg X while delivering 4K/60fps video coverage with a 3-axis gimbal. In addition to this video update, a "SyncVoice" feature allows users to capture clear audio remotely, delivering what the company promises is a high-quality visual and audio experience.
The new features are also aimed at making live streaming more user-friendly for the content creator by adding Smart AI, which uses both hand gesture controls and facial recognition. PowerVision says these features will help the presenter avoid physically having to press buttons near the recording screen, giving a more professional finish to their live stream. If the presenter is faced with a busy environment during their live stream, the AI will lock in and keep them in the frame.
In addition to live streaming, this firmware update additionally supports video conferencing both hand-held and in AI camera mode. For this, the drone gives 720P and 1080P video options which are on par or even surpasses many consumer laptops, which still generally use a low-quality onboard webcam.
Similar to live streaming, hand gesture control and AI facial recognition also contribute to enhancing video conferencing, for example, Smart AI allows you to start a conference without having to press a button and facial recognition will track you and keep focus throughout the meeting or presentation.
PowerEgg X is compatible with YouTube, Periscope, and TikTok for live streaming. However, if you are a TikTok user, you will need more than 1000 fans to enable this feature. For video conferencing mode, the drone supports Zoom, Skype, DingTalk, Tencent Meeting, and others, including both Windows and Mac system users.
PowerVision has packed the PowerEgg X with not only unique physical possibilities but also continues to add software features that directly address the needs the company sees in the market, like for remote working purposes or to allow for flexible high-quality content creation. For some, this might be a device that is trying to do too much as a drone, camcorder, and webcam, but PowerVision seems to believe that there is a market for a device that is the Swiss Army knife of content creation tools.
The PowerEgg X is available for $799 at the time of publication, which is rather competitive compared to the market of just drones — which typically ask for at least as much for similar features and rarely weather resistance — and may be an even better bargain considering how much this particular product promises it can do.