It's no secret that most photographers want the pro stuff. Indeed, perhaps your favorite YouTuber has a Canon R5 or the latest expensive L lens. Pro gear beats amateur gear in most areas, even if it's 10 years older. I know people who shot global campaigns in 2018 on a pro camera from 2009. Pro gear is great but expensive. Sometimes extremely expensive.
What if I told you it doesn't have to be that way? There is a fantastic way of buying pro gear for a fraction of the cost — buying it used.
I admit, whenever I recommend a used camera (or any used gear) to anyone, they get worried and start telling me they don't know what to buy. A good friend of mine told me that they just don't know where to look and what to look for. While that's a valid concern, I also strongly believe that there is a significant negative stigma around used gear that prevents photographers from buying pro-level equipment for a fraction of the cost.
I am not ashamed of saying that 99% of all of my photo gear is used. I believe that by this point, I've saved around $15,000 in costs. You can too, and here's how.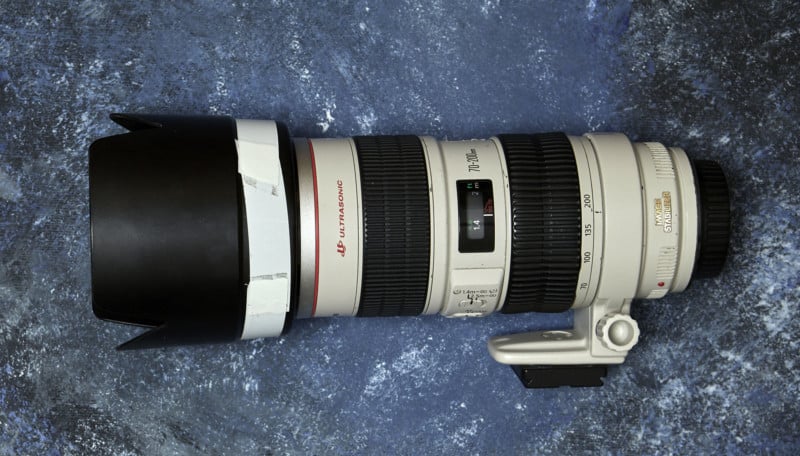 The Easiest Way
The easiest way to buy used gear and be sure it is quality is to go on the "used" sections in reputable camera stores such as Adorama, B&H, Amazon, etc. This is by far the best way to buy used gear for a beginner, as you are guaranteed to get a camera as described.
Pay attention to the description though. Never buy broken gear. Another option is to go to your local camera store and look at the "used" section.
When a business buys gear from a photographer to resell as used, they are interested in making sure that it works so they can turn a profit. It's in their interest to sell as described. Most stores are providing shipping and limited warranty for their used gear, meaning you can buy from anywhere. This is particularly helpful when you need something in a pinch for a job.
Buying used from large stores has drawbacks, though. The biggest one for me is not being able to negotiate the price with the seller. As I hunt for bargains, I am glad to wait to find the right kit for the right price.
The only time I was in a pinch was when I sold my 5D Mark II and had a job coming up in three days. Luckily a camera store had a 5D Mark IV going for a good price, so I bought it. My experience was very positive. The 5D was perfect and had a low shutter count. I don't care about scratches too much.
If you were to buy a 5D Mark IV now, you could save $800 by buying it used. For $800 you can get a decent used pro lens.
The Slightly Harder, Cheaper Way
I call this the harder way because it requires a lot more knowledge of what you're buying. I almost always go with this method because it works out to be a lot cheaper. What I'm talking about is buying from local sellers, such as those on Facebook Marketplace or craigslist.
Facebook Marketplace is a weird animal. There are both bargains and outright scams on there, but usually more bargains than scams. In any case, you have to be cautious. Having bought everything from lenses to light stands from Facebook Marketplace, I've found that I almost always negotiate for 10% cheaper. Often, ads featured on there are from pro photographers who need to get rid of an expensive bit of kit.
What to Look Out For?
The advice I always give to everyone buying any gear (new or used) is that you must, I repeat, must know what you're buying. Here are some common things that you should pay attention to whenever buying a used camera or lens.
Cameras
If you are in the market for a pro camera, you will want to look at the shutter count first.
The shutter count refers to the number of pictures the camera has taken. Think of it like mileage on a car. The more miles there are, the more the car has seen. I tend to buy cameras that have below 20,000 to 50,000 actuations. Canon claims that their pro cameras last 150,000 clicks. They generally last longer, but 150,000 is the watershed. A few were known to last 2 million.
The second thing is the physical state of the camera. You want to be looking at the mirror, and the sensor. Dust is generally fine, but there must not be any scratches or problems with the sensor.
Regarding the cosmetic state of the camera, I wouldn't worry too much. Scratches and small imperfections can be a negotiating point but only that. My 70-200mm lens is from 2006 and it's been through hell. After all these years, it still works like a dream.
Lenses
I mentioned my 70-200mm, and for good reason. The second thing you may want is a decent pro lens. Those can give you more creative options, and will probably last longer. I recommend buying a used pro lens over a used average lens. Maybe I've been unlucky, but all the average lenses that I bought broke within a relatively short time. The pro gear is going strong.
Whenever buying a lens, make sure the autofocus and apertures work. The depth of field preview button comes in handy there. You will probably get worried about all the tiny scratches on the front element and a dust particle inside. In reality, it doesn't affect the image quality. Look out for major dust and large scratches. I would advise against buying if the damage is too significant for you.
In Conclusion
Used gear has been good to me so far. I strongly encourage everyone to buy all gear used. This saves a lot of cash that you can spend on improving your skills and knowledge. Having spent a lot of time on finding prices, I calculated to have saved roughly $15,000 on gear because of buying used. Some things are best bought new, but that's a whole other topic in itself.
---
About the author: Illya Ovchar is a commercial and editorial fashion photographer based in Budapest. The opinions expressed in this article are solely those of the author. You can find more of Ovchar's work on his website and Instagram.