Oliver Wright, a professional macro photographer, shows how the Spherical Aberration Control Ring — also known as the Bokeh Control Ring — on the new RF 100mm f/2.8L Macro IS USM works in a 5.5-minute video published in conjunction with Canon Europe.
Originally noticed by Fstoppers, this video gives us a closer look at a lens that was announced earlier this week. While the video is very clearly a promotion designed to sell the lens and is part of Canon Europe's marketing endeavors, it does contain some of the first images that have been published using the lens, and the first examples of how the Spherical Aberration Control Ring actually affects images.
Canon describes the feature as a way to "adjust the look of the bokeh, while applying a flattering soft-focus effect." To demonstrate this, Wright shows the same image taken with different settings on the Spherical Aberration ring and how the image changes:
"As you go to the extremes of the spherical aberration control, you can see the model's hair changing significantly," Wright says.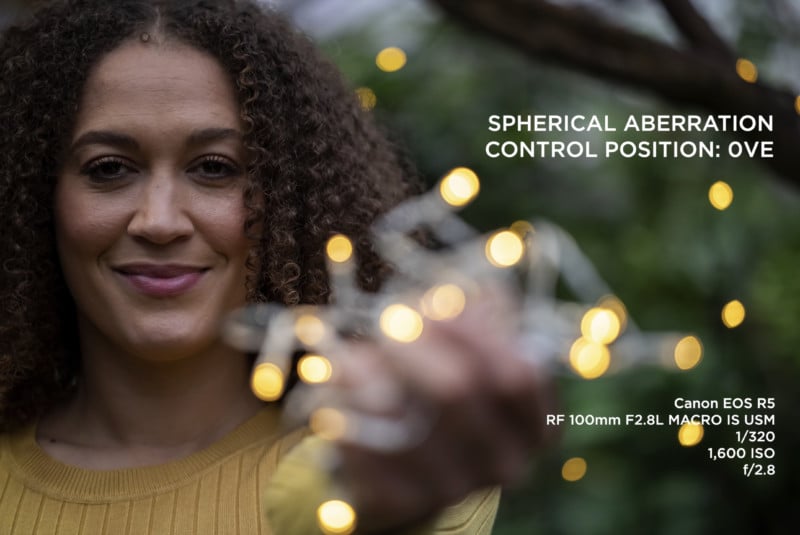 If you're looking for it, the changes are certainly noticeable. However, use cases for this particular feature will more often likely be for subtle adjustments that take into consideration the photographer's particular tastes in an image and won't be something that will jump out in importance to the average viewer.
In addition to that new unique feature, the lens has built-in optical stabilization with up to five stops of "Shake Correction" and when combined with a camera's In-Body Image Stabilizer (IBIS), Canon says it can achieve up to eight stops of shake correction through coordinated operation between the two features.
This new macro lens effectively replaces the current EF 100mm f/2.8L Macro IS USM lens for the company's DSLRs and has a brand new optical arrangement, new autofocus motor, and better stabilization features in addition to the new Spherical Aberration Control Ring. Speaking specifically to the 1.4x magnification, Canon says that this lens lets photographers get closer to subjects than expected. However, the company seems to have taken notice of the fact that the original EF version of the lens was particularly popular among portrait photographers, and is marketing this new optic to work well in that application.
The Canon RF100mm f/2.8 L Macro IS USM is set to go on sale in July for $1,400.