Kandao is going all-in on high-quality, VR-ready, 360-degree video with its newly-announced Obsidian Pro. The company is calling it the "world's-first cinematic 360-degree camera with 8 APS-C sensors" to offer 24 million pixels of high-resolution 12K capture.
As noted by Fstoppers, Kandao announced the camera on April 15 and says it can capture 12K by 12K video at up to 30 frames per second in 12-bit RAW (DNG8) or 10-bit All-I 4:2:2. Instead of each of the eight cameras needing its own storage system, the Kandao is able to send all the footage to what it describes as an 8-in-1 SSD that comes in 4, 8, and 16 terabyte configurations. For reference, a 16TB SSD can hold up to 90 minutes of RAW video and 100 minutes of All-I footage.
The Obsidian Pro camera weighs 11,160 grams (~24.6 pounds) and has a build size of 369.2 × 369.2 × 236.8mm (~14.5 x 14.5 x 9.3 inches).
Each of the 8 cameras offers 130 degrees of horizontal field of view and 195 degrees of vertical field of view. When overlapped, the eigh-lens structure "ensures that every single angle can be covered by three lenses so that capturing cover can reach 300%." Each lens array is constructed of 14 elements in 10 groups with a triplet of achromatic lenses and 18 layers of anti-reflective coating.
The Obsidian Pro also has a built-in "nine-axis gyroscope" that the company promises to precisely synchronize and achieve "excellent image stability" and eliminated rolling shutter.
The large APS-C sensors are a significant upgrade from the Micro Four Thirds sensors available in the next closest competitor, the Insta360 Titan. With them, Kandao says each of the 8 cameras has 14 stops of dynamic range. The company also claims that it is the first panoramic camera that is equipped with lenses that have adjustable apertures from f/2.8 to f/16. As such, it has up to 16 stops of adjustable exposure that Kandao says will allow for precise control of depth of field and for creative motion blur capture.
The camera also offers adjustable electronic focus control between "near" and "normal" as the two options:
The camera can be controlled both from the Kandao Obsidian Pro App or via the LCD touchscreen located on the Obsidian Pro device itself. It supports 10-gigabit ethernet as well as Wi-Fi 6 and Bluetooth 5 and also comes equipped with a built-in GPS module.
For audio, the Obsidian Pro has a standard 3.5mm audio input as well as a USB audio device input on top of its built-in omnidirectional microphones to realize full directional sound around the camera array. The camera system can be powered by a wall outlet or with a V-mount battery using a battery power supply module.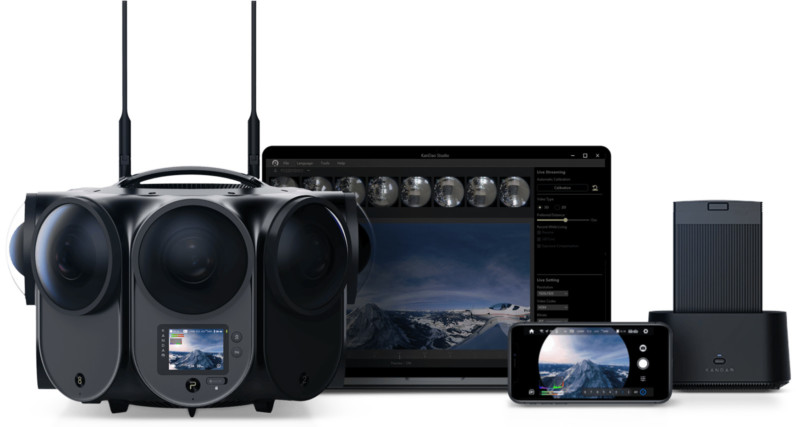 Currently, all models of the Obsidian Pro camera are on backorder, but the "Standard" version retails for $24,500 which does not appear to come with an SSD. Adding a 4TB SSD increases the price to $26,700, and currently the 8TB version comes with a free upgrade to 16TB for $29,000. When the free upgrade is no longer available, the 16TB version will cost $35,000. Those prices include shipping cost and shipping insurance, but does not cover VAT or customs expenses.