Photographer and filmmaker Daniel Haussmann recently joined the crowds enjoying the incredible volcanic eruption in Iceland and captured it using a mix of his DJI FPV, Mavic 2 Pro, and Mavic Air 2. During one sequence, his FPV is struck by a flying piece of lava, sending it tumbling through the air.
Haussmannn explains that he visited the location because he is a self-described "lava-holic and drone guy."
"The project, in general, was to capture the magnificent eruption in Iceland as much by drone as possible," he tells PetaPixel. "I have chased volcanoes since the 2014 Holuhraun eruption in Iceland. Since then, I have visited various volcanic eruptions around the world, Stromboli and Etna in southern Italy, Kilauea in Hawaii, and Erta Ale volcano in the Danakil Depression in Ethiopia. I was set to also visit the Yasur volcano in the South Pacific in 2020, but this trip had to be canceled because of the pandemic."
In order to get to the eruption in Iceland, Haussmann had to quarantine in Iceland for a week as he had yet to receive the vaccine against COVID-19. He went with a friend from Israel who was fully vaccinated, photographer Erez Marom — who also has a propensity for putting drones in front of volcanoes — who arrived at the location first while Haussmann was in quarantine.
"While Erez was already out shooting, I had several long days in quarantine, binge-watching Netflix and crossing my fingers for the volcano to continue erupting," he says.
"On the third day of my quarantine, another fissure opened up at the volcano extending the spectacle," he recalls. "When I finally was released from quarantine, it was a beautiful day even with snow. However, it was super cold and windy. Nevertheless, I headed out for the hike to the volcano and did some first shots there."
Despite the delay, Haussmann still managed to arrive on-site to see the eruption for himself and immediately set to capturing it with his drones. Overall, he made six total to the site. Haussmann says that while the experience was amazing, the conditions continued to change rapidly day to day.
"After my third trip to the volcano, another set of fissures opened up," he says. "We ended up in an arena with a 180-degree view of erupting volcanoes around us. This was the day of the 'fateful' flight into the piece of debris.
As seen in the video above, Haussmann sent his DJI FPV next to an erupting fissure and just as he passes, the volcano spews a chunk into the air that strikes the drone on its wing, sending it tumbling.
"My theory is that the piece it hit was still soft and therefore it only caused some scratches or burn marks on the plastic and did not actually break the arms that are as seen in other crashes," he says. "The interesting thing is that I see there are some red marks, too. I guess I was also lucky that the piece did not hit the propellers or the camera."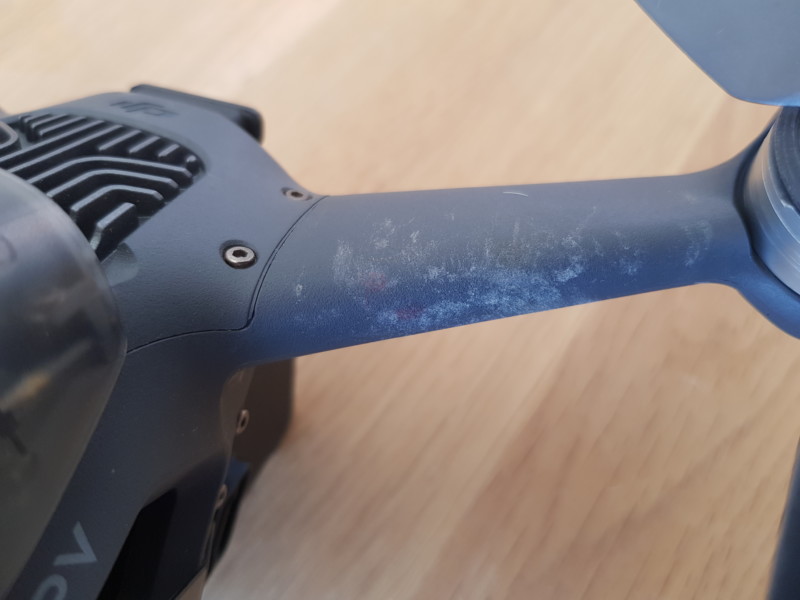 In images shared with PetaPixel, the location of the strike is clearly visible on one of his drone's wings. Despite the chaotic point of view seen in the video, the drone still works fine and he was able to regain control of it and fly it to safety.
"I am relatively new to FPV, although I have flown classic DJI drones since 2014, starting with a Phantom 2," he says. "When the first leaks of the DJI FPV drone surfaced in December, I started training in a simulator and also bought some TinyWhoops to learn to fly FPV."
Haussmann says that his practice may be why he was instinctively able to react to prevent his DJI FPV from taking a dive into the lava.
"When I flew that day, I was somewhat sure for a split second that it was gone. But somehow, intuitively, I managed to level it and with full throttle, I just tried to gain altitude to move it out of the danger zone, given that on both sides I was flying past were new volcanic fissures that started erupting earlier that day. I immediately flew the drone back to the takeoff location and took a deep breath.
The experience didn't prevent him from getting the drone back in the air, however, as he flew it multiple more times through the lava fields to capture shots that he used in the final video below.
Haussmann also used a Mavic 2 Air during the shoot, but eventually lost it due to high winds.
"On the last day of shooting, we had about 20 meters per second winds," he recalls. "I took my chances and flew my DJI Mavic Air 2 to the volcano, but due to the high winds I was unable to get it back and it was carried away, unrecoverable, far beyond the lava field and into the mountains of Iceland."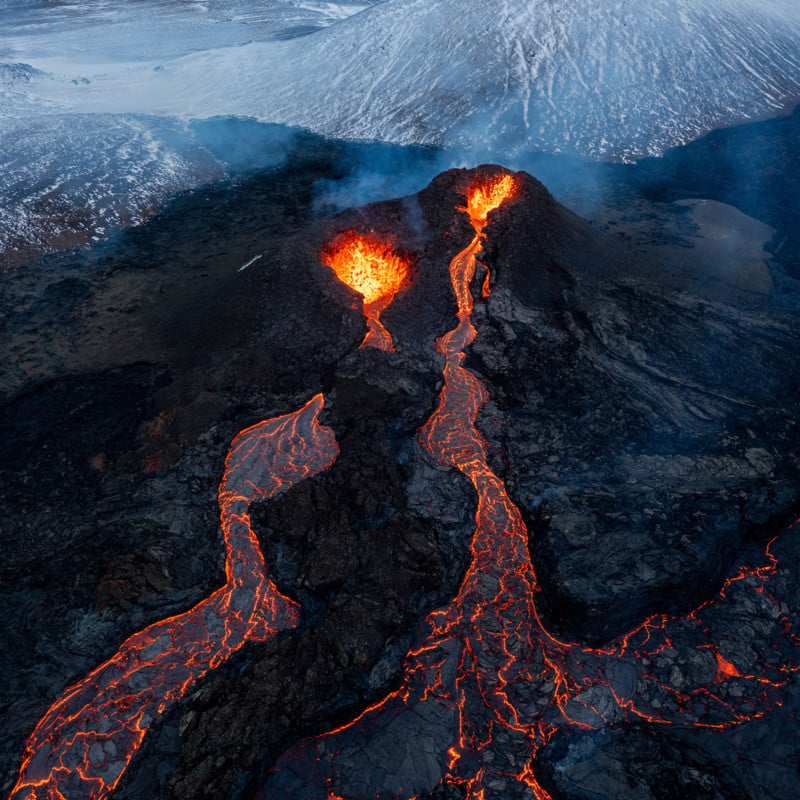 Still, Haussmann says it was worth it despite losing that drone, and damaging both his FPV and Mavic 2 Pro, which has a partially melted bottom section as seen below.
On the plus side, he managed to make an incredible final film and took a huge number of fantastic images.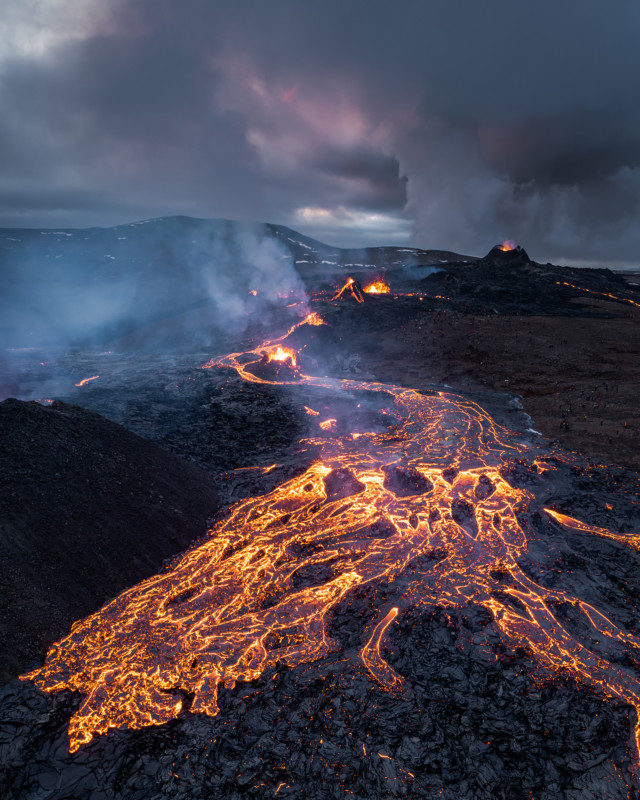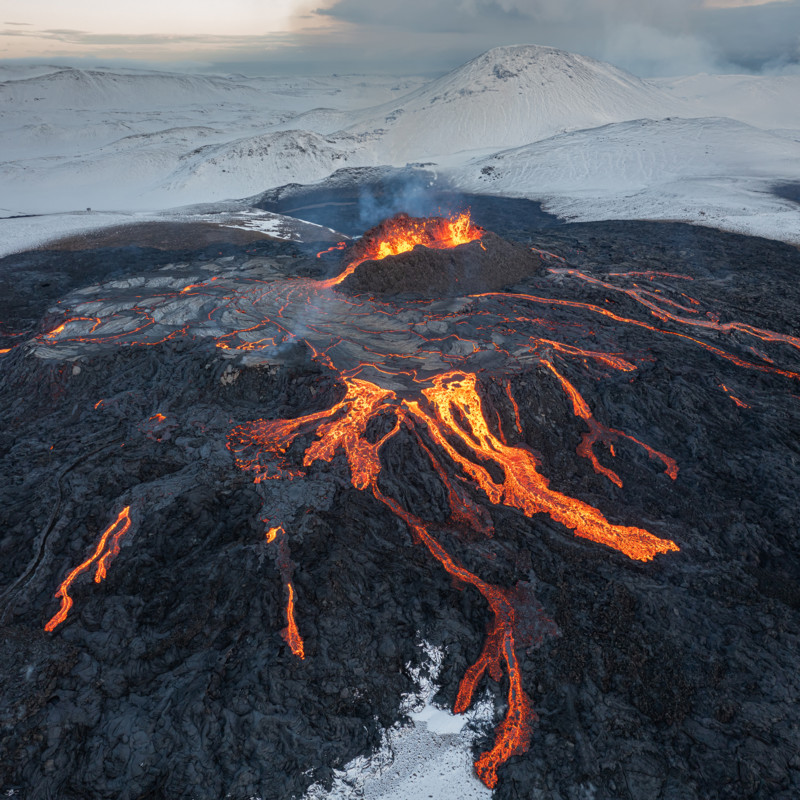 "I guess some sacrifices are expected when you want to capture epic footage," Haussmann says.
---
Image credits: Video and photos by Daniel Haussmann and used with permission.