Prince Albert II of Monaco Foundation (PA2F) has announced the winners of its 2021 Environmental Photography Award, which examines the relationship between people and the environment.
To mark the foundation's 15th anniversary, PA2F launched a new environmental photography award that judged entries in three categories: Incredible Wildlife, Wildlife in Crisis, and Reasons for Hope. The organization explains that "the choice of theme for this first edition is significant, reflecting one of the fundamental lessons to be learned when we come out of the current global crisis: that humankind's future is closely tied to the future of the species we coexist with on Earth,"
The competition awarded winning, second-placed, and third-placed image winner in each category, as well as awarded a Public Vote winner, and a number of shortlisted images in each category. Also, "The Prince Albert II of Monaco Foundation Environmental Photographer of the Year 2021" title was awarded based on the strength of a single entry to the awards.
Photographer of the Year 2021
The grand prize and "The Prince Albert II of Monaco Foundation Environmental Photographer of the Year 2021" title was awarded to Kathleen Ricker whose photograph, above, titled, Gorilla by the water, received recognition in the competition. The image depicts a young male gorilla with an endearing expression by the edge of a water stream in Uganda.
The photographer explains that the mountain gorilla is named Tabu, which, in Swahili, means trouble, and was full of energy and life when he was captured swinging from the trees and playing in the water during a trek in Bwindi National Park.
Incredible Wildlife
Photographer Lincoln MacGregor was awarded first place with his image, titled Enchanted Forest, taken in Australia. It is a photo of a wombat, wandering through a forest aglow with the light of bioluminescent mushrooms. The photographer explains that wildlife in this region experiences this phenomenon only at certain times of the year when Ghost Fungi glows in the dark.
Wildlife in Crisis
Titled Traces of life in the realm of death, Maxim Sayapin's image was awarded first place in this category. It shows an abandoned bird nest woven from pieces of garbage on the Mediterranean coast. This powerful image "denounces the imprint of man on nature, undermining a life that is about to be born."
Reasons for Hope
Emmanuel Rondeau was awarded the winning title for his photograph, The stag above the highway, which depicts a wildlife crossing in the Charente-Maritime region of France being used by a stag during nighttime. This type of structure allows animals to freely and safely travel without being interrupted by people and vehicles.
Public Vote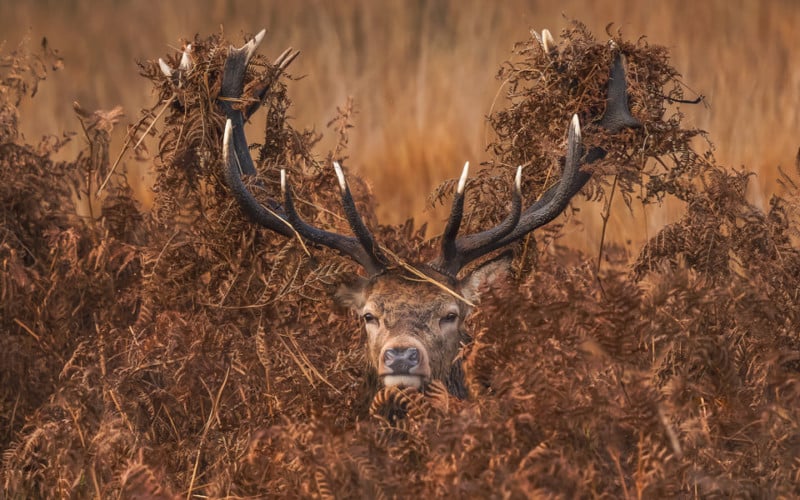 Hidden from sight, a photograph of a large Red Deer by Mitchell Lewis was awarded a Public Vote title in the Incredible Wildlife category. Taken in Richmond Park, London, United Kingdom, this image shows a stag hidden in some dead ferns as he watches over his herd of females.
Maxime Aliaga received the Public Vote title in Wildlife in Crisis category with his thought-provoking photograph, titled Captif, above. It was shot in Malaysia, which is a location where young orangutans are often poached from their mothers and sold as pets on the black market. Although it is illegal to hold a wild animal in domestic captivity, the photographer explains that it still "is a mark of richness for some families to have a young orangutan."
Public Vote winner title in the Reasons for Hope category was awarded to photographer Mathieu Courdesses with Love in the Jungle. He documented an intimate moment between a female orangutan and her cub, in the jungles of Sumatra. In this region, the orangutan population is estimated at around 14,500, which has seen an increase from past estimated figures.
---
The over-arching aim of PA2F is to address critical environmental issues by limiting the effects of climate change, safeguarding biodiversity, managing water resources, and combating desertification, with its mission also present in its photography competition. Judges, consisting of professional photographers and representatives of entities committed to more sustainable development, received over 5,700 entries from photographers across the world. The grand prize winner was awarded €6,000, each of the three category winners received a €1,000 prize, while public vote winners received €500 each.
The full list of judges, category winners, and other finalists can be found on the PA2F Environmental Photographer of the Year 2021 website.
---
Image credits: All photos individually credited and provided courtesy of The Prince Albert II of Monaco Foundation Environmental Photographer of the Year Awards 2021.