When you think about a product from Sony, whether it be one of their popular cameras to a TV, most consider them to be at the top of the list in terms of quality and functionality. Sony's first drone, the Sony Airpeak S1, however, is not going to be part of that list. In fact, it's about as far away from the top as you can get.
I went into this test and review with an open mind. To be honest, I hadn't heard much about the S1 since it was announced a while back in January 2021 and later that year when it became available to buy. Deep inside, I was hoping this would be the drone that would maybe be able to replace the DJI Inspire 2, which is the drone I fly the most at the time of writing this review.
That is something the world needs: a new, small, and compact drone that can shoot pretty pictures, fly for 20 minutes, and can be accepted by the top directors and directors of photography in the film industry. At first, the S1 looked like it might fit that bill, but by the end of my time with this drone that could not be further from the truth.
---
Special thanks to Lensrentals for providing the equipment used in this review.
---
The specifications for the S1 looked pretty good on paper. Sony promoted it as being able to fly any of the Alpha Mirrorless cameras including the FX3 and since Sony Alpha cameras, such as the A7 series and FX3, are used by many productions already, this looked promising.
Sony also said it had a good range of 1.2 miles (under ideal conditions) and claims a maximum flight speed of about 56 miles per hour (although this is without a payload). Flight time was shown to be 22 minutes maximum (again without a payload — why do drone manufactures always give a no payload time? No one flies these without a payload, but I digress) and 12 minutes with the Sony Alpha 7S III and Sony's 24mm G Mater Lens. The S1 also can fly as a single operator and dual operator — one pilot and one camera operator. The S1 has a maximum payload of 5.5 pounds with a maximum takeoff weight of 15.3 pounds.
Test Setup
I was graciously sent a full dual operator S1 kit from our friends over at Lensrentals for a week be able to test the S1 and see what it could do. Lensrentals also sent me a Sony FX3 and Sony's 24mm G Master series lens to hang under the drone with the included Gremsy T3 gimbal.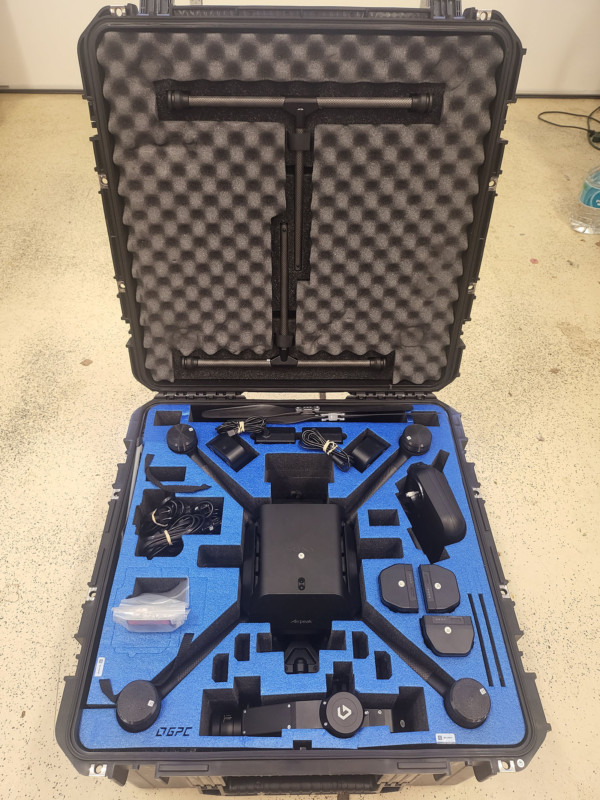 The day they arrived, I was greeted with a large pelican case that contained everything for the S1 and a smaller case for the FX3 camera package. When I opened up the case for the S1, I was very happy to see how well the case was laid out and how well everything was packaged.
The retractable landing legs come off the drone and are stored nicely in the lid using two Velcro straps. The case has enough room for six batteries, two chargers, two controllers, the drone, propellers, and all the miscellaneous cables a pilot might need depending on which camera they are using.
I was getting excited at this point to get the drone put together and get to testing. I had arranged to get together with another buddy of mine and set up some fun shots to see how the S1 handled ab on-set environment. Unfortunately, my excitement quickly started to turn into frustration as I started assembling and configuring the Airpeak S1.
Assembly
I started off by pulling out my Samsung Galaxy Fold3 phone and searching for the Airpeak app. The Fold3 is a great phone for flying since it has a huge screen and I use it on occasion with my Inspire 2. I was a little disappointed to find that the Airpeak App is only for iOS devices, but this wasn't a huge deal as I have an iPad Pro.
I went and grabbed that and then realized it doesn't fit in the holder on the controller. Yes, I know the iPad Pro is big but it almost fit; it was within half an inch of fitting, so I just set it on the side and plugged it into the controller via a USB cable. Sony does show that the standard iPad should fit.
I downloaded the app — which has just a single five-star review as of the time of writing this, which seemed odd considering the drone is more than six months old at this point — created my Sony account, and logged in.
The opening screen looks nice and clean and there was a nice tutorial that popped up on how to assemble the drone and pair the controller with the drone.
This is where all my problems started.
The Controller
The experience of pairing the controller with the Airpeak S1 drone was the hardest thing I have ever had to do when it comes to setting up a drone for the first time.
I followed the prompts exactly as they showed on the app and it took me close to 15 tries and almost 10 minutes with four restarts of the drone and controller before I got it to pair. Twice the lights on the controller showed it had paired but the app never moved on to the success page and after restarting the drone and controller they were no longer paired. I was incredibly frustrated with what should have been a simple process.
Let's talk a little about the controller: It's big. I have large hands, so it overall wasn't uncomfortable for me to hold but I could see someone with smaller hands having an issue with it.
The gimbals for each stick feel nice and smooth and don't feel "sloppy," and I actually preferred the feel of these over those of the DJI Inspire 2 controller. It feels very similar to the Futaba 14SG that I use with our FreeFly Systems ALTA X and ALTA 8.
There are four customizable buttons and two dials on the controller which you can set up how you would like to control various functions of the drone and gimbal. I will say that the placement of the C1 and C2 buttons are not in a good spot. They are really close together and depending on what setting you are trying to change, you have to hold one of them down while trying to turn the dial that is directly under it. I was having a lot of trouble doing this smoothly.
Updating the Drone
After I managed to pair the drone and controller to each other, I was notified that there was an update to the Airspace maps. I agreed to the update and let it run.
It started off by downloading the file from Sony, which was uneventful. After the download completed, it switched to the update process where it sat on 0% for over 30 minutes.
Once I established the update was not going to work properly, I turned the drone off and restarted it. I never saw another option to download the update again, so I figured that it had possibly updated successfully, but instead the app froze. With this in mind, I opened the flight portion of the app and was instantly greeted with a notice that the airspace data that was on the drone and the airspace data on the controller didn't match.
There was no option to fix it so I just left it alone.
The Airpeak App
The app is pretty clunky looking. I know I'm really used to how the DJI apps are set up, but this one doesn't really have much in the way of "looks." It's just all about function and even then it was sometimes not entirely intuitive to navigate. This is just a personal preference and others might like this approach.
It was responsive, however, and I never had the app crash on me outside of the initial setup, unlike my experience with DJI's apps.
Drone Design, Build Quality, and Operation
As far as the drone is concerned, right out of the box I thought it was off to a promising start. The drone looks great and is solid, nothing felt flimsy or cheap, and the retractable landing legs attach quickly without the need of any tools and they are keyed so they stay straight.
The gimbal mount is nice and cushy, and you can see all the cameras Sony has placed around the sides and top of the drone that allow for an obstacle avoidance system.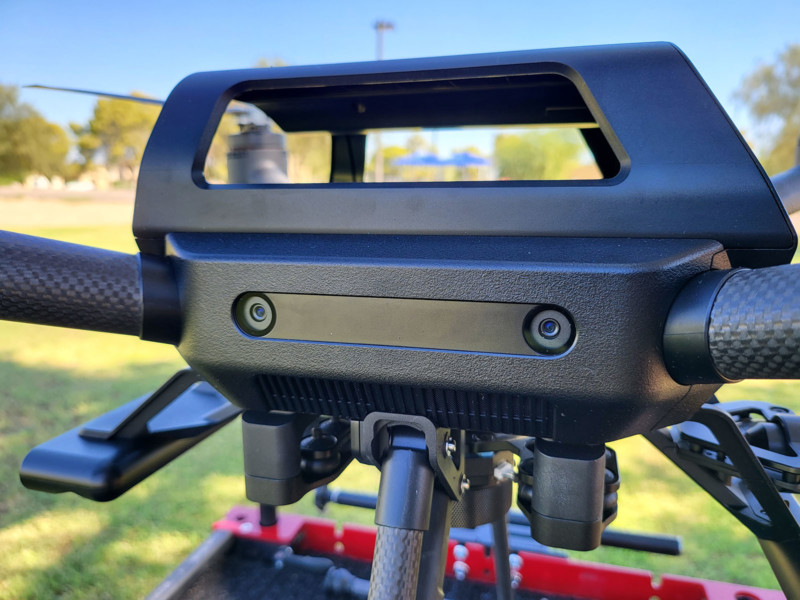 The propellers look like they are folding blades based on how they are assembled but they are in fact rigid and do not fold. The shape of the blade is slender, which I thought was a little interesting compared to other props of similar-sized drones I have flown in the past. Attaching the props is very easy and they feel nice and secure. There was virtually no play in them once attached, which is good for reducing vibrations during flight.
The batteries slide into the top of the drone and have a nice firm click once installed. Likewise, the gimbal quickly clicks into the bottom of the drone and the camera can be attached and balanced without tools.
As mentioned, for this review the camera I used was the Sony FX3 and the 24mm lens. Once both are attached to the gimbal, you need to configure the camera settings to be able to let the S1 communicate with it via a USB-C to USB-C cable that is included with the kit.
I followed the below video tutorial from Sony Cine to set it correctly for my use case:
After everything was configured properly, I turned it all on and that's where things went from mildly frustrating to just plain disappointing.
The video feed from the FX3 to the app is completely useless. The feed cuts in and out every two seconds for between three and five seconds at a time. When this happened, I lost all control of the camera settings as well.
If you could manage to spam the record button and get the camera to record, the live view from the camera would then cut out for around 30 seconds before coming back then would go back to the two-second cut-out issue again. Also, every time the feed would come back, the record time would reset back to 0:00 although the camera was still continuously recording.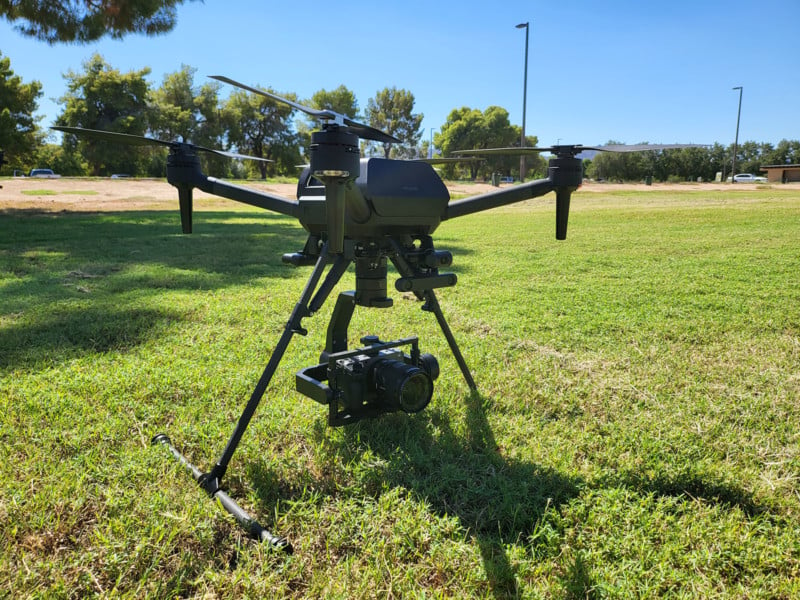 After about two hours of troubleshooting and trying different things and talking with a couple other pilots who have used the drone and with a tech from Lensrentals, I determined there wasn't anything else for me to try and this was an issue I was going to have to live with for the remainder of my time with the Airpeak S1.
With that in mind, I cancelled the plans for doing a mock "shoot" with the drone since I couldn't really see enough to even make a shoot happen. It was off to a local park/flying field to see how the S1 actually flew.
Once I arrived at the park, I got everything set up and powered on: the controller, drone, and FX3. Now that it was outside, I was hopeful that maybe the camera feed issue would fix itself since it wasn't inside a building with a bunch of other WiFi around.
That was wishful thinking, and the issue was still present.
Next, I got a notification that the drone needed a compass calibration completed. I followed the prompts on the screen, and it failed. It then told me to try again, so I pressed retry and then it instantly said failed before I was even able to try again.
After three more tries with the same outcome, I powered everything off and turned it all back on again. This time, I managed to get it to calibrate. By this point, the drone had been sitting powered up for about three to four minutes.
As I was getting ready to take-off, I noticed I couldn't control the gimbal anymore using the dial on the controller; It was completely unresponsive. I tried a few other options like spamming the record button and adjusting some camera settings, but nothing worked. I decided I wasn't going to be using the camera anyway, and attempted to arm the drone.
Nothing. No response whatsoever from the drone.
Again, I turned everything off and back on again. After a restart, I was able to control the gimbal again but I decided to wait a bit and see if it would continue to work or if it would stop again. Lo and behold, it stopped responding again.
At this stage, I didn't feel anything warm and fuzzy about flying the Airpeak S1 with this controller. I pulled the second controller out and paired it with the drone, which again took about five tries and two restarts. After it paired, I played with the gimbal controls for a good five to seven minutes and it was still responding, so I decided to arm the drone and see how the first flight would go.
Flying the Airpeak S1
After arming the drone, the motors started spinning and with a slow increase in throttle, the drone lifted into the air. Once it hit around 10 feet, I neutralized the controls and let the drone hover in place. There was a slight breeze of maybe four to five miles per hour and the S1 held position really well. There was very minimal drifting and the altitude was holding perfectly. I also noticed that the drone was pretty quiet, so that was a nice surprise; it was about as loud as an Inspire 2 but considering it is a much larger drone, I was expecting it to be appreciably louder.
After about 10 seconds of hovering, I gave a few control inputs to make sure all the controls were responding in the correct direction. The controls felt really touchy at first. This can be fixed by adding some expo in the app, and once I confirmed that the drone was responding correctly, I started flying it around.
I took it easier at first just to get a feel for it. Once you start flying the control inputs feel a bit mushy. What I mean by this is you give it an input, the drone responds quickly but then almost feels like it's lagging behind what you're telling it to do. It's not a lot, but to someone who has flown a lot of different drones over the years, I would have loved to have a more responsive and crisp feel to the controls.
After a few minutes of flying it around easily, I decided it was time to push the speeds a bit more. Sony says the maximum speed is 55 miles per hour, but I couldn't even get close to that. With the FX3 on board the best I could do was 32 miles per hour, which is really slow if you are planning to chase anything. I did four passes to average them out both with and into the wind. Into the wind it hit a max speed of 28 miles per hour.
For those who are familiar with the Inspire 2, that will do 50 to 55 miles per hour with a camera, and our ALTA X from FreeFly has hit 60 miles per hour with a full-blown RED Gemini, cinema lens, and follow-focus system hanging under it, and I still had a quarter stick left for making it go faster.
After a couple of speed runs, I started flying the Airpeak S1 like I stole it to really put it through it's paces. I also wanted to see how the gimbal responded to quick direction changes (although I couldn't see what I was filming so I was planning on reviewing that afterward on a computer — more on that later).
Right away as I made my first quick turn, I heard a beeping sound from the controller and iPad and the rear LEDs on the arms of the S1 started flashing blue. I neutralized the sticks and looked at the iPad expecting a warning of some kind but there wasn't anything there. I started flying it hard again, and again the same thing happened but when I looked down, still no warning.
I tried it a third time and this time watched the screen as I did a quick forward flight followed by a hard banking turn. Again the beeping started, but this time I saw a quick message on the screen saying the drone was braking due to its obstacle avoidance system. I thought this was really strange since I was close to 30 feet in the air and the closest tree or light pole was well over 100 feet away from me.
After recreating this situation a few more times, I determined that the S1 was most likely detecting the ground during these quick banking maneuvers. You can see why this would be an issue, especially if you are lower to the ground than the 30 feet I was currently flying. As a further test of my theory, I lowered down to 15 feet and tried the same thing again and this time the drone came to a full stop. I couldn't control the drone until I naturalized the sticks and let it settle. I can see this operational situation ruining many shots. That said, you can turn off the vision system if you want which would "fix" this issue.
After messing around with this, I got a new warning on the screen and this time it was a lot more of a serious issue then the obstacle avoidance. The warning told me that the battery was overheating and that the drone was going to return to home (RTH) automatically in 60 seconds. There was no way of canceling this RTH sequence. It was about 90 degrees Fahrenheit outside during this test (which was a cool day here in Phoenix for this time of year) and I had only been flying for 7.5 minutes when this warning showed up. The batteries were down to 33% as well.
This is a really short flight time, especially considering only about 50% of the flight was what I consider to be hard flying. I brought the drone back and landed before the RTH sequence initialized.
I think this RTH functionality could put you in a really bad position under certain shooting circumstances. Let me explain.
Think about this scenario for a minute: You are out on a lake chasing another boat with your Airpeak S1, which you have launched from a boat. Your have now flown close to three miles away from where you took off and now your batteries are overheating. You can't cancel the RTH sequence and now the drone tries to fly back to where it took off but there isn't anyone there and it lands in the water. Obviously, you can try and get it back to your boat but what if there was something else making it hard for that to happen? Maybe it's a little windy and takes more than one landing attempt — you only have 60 seconds. What if, right as you are almost landing it, it goes into the forced RTH mode and launches back into the sky, and starts heading "home." That would make for a very bad day. This is why I think there needs to be a way to cancel the RTH sequence.
Post Flight
After landing, I walked over and turned off the drone, carried it back to my cart, and looked it over (oh and stopped the camera from recording since I couldn't do it through the controller/app). I touched the motors to see how warm they were, and they were incredibly hot! A general rule of thumb I've always heard is if you can hold your hands on a motor for five seconds or longer, they are okay. I couldn't hold my fingers on these for more than one second before they burned me. This makes me think that the FX3 and 24mm lens is the absolute maximum payload for the S1, if not actually over-weight for what the hardware can do, even though it is an approved camera and lens package for the drone.
Next, I pulled the batteries out and found that they were also very warm. I set them aside to let them cool off in the shade. I let the motors cool down a bit and then put another set of batteries in the drone and flew it again. Again, I got about 8 minutes of flight time before the batteries were at 30% power and I came back and landed. I did not receive a battery overheat warning this time but I also was flying the drone a lot less aggressively than the first time.
After this second flight, I packed everything up and headed back to the shop to recharge the batteries and get ready to meet another friend of mine who also flies drones to get his opinion on the S1. I pulled out Sony's dual battery charger and put the first two batteries in the charging cradle. To my surprise, it only charges one battery at a time, and it charges it very slowly.
The S1 batteries are 37v, 2,518mAh, and 93wH, which is nice because you can carry as many as you want on an airplane. However, to give you a sense of how slow these chargers are, in the time it took to recharge one set of the S1 batteries, I recharged four of my ALTA X batteries which are 44v, 16,000mAh, and 710wH. This means you need to either bring one charger per battery or just bring a ridiculous amount of batteries with you to make it through a day on set.
For my next flight, I met with my buddy and fellow drone pilot, Jeremiah Davis with CineLifters here in Phoenix. We took the S1 to another park that has a designated flying field and put it through it's paces again and once again we ran into the same issues of camera disconnects, short flights, mushy controls, and then a new one: a full disconnect from the aircraft at a distance of 500 feet laterally and 150 feet above ground (AGL). We could still easily see the S1 and it started it's RTH sequence and after about 15 seconds we regained our link and control of the drone.
After reviewing the footage from the test flights, I was not that impressed. I followed all the tuning guides provided by Sony and used the pre-tuned settings that are loaded into the S1 for each camera and lens combination. Under easy flying conditions, the footage looks nice and smooth.
However, the moment you try and get even a little sporty with the drone you can see abrupt direction changes in the roll axis. At higher speeds (20 miles per hour and up) there are visible micro vibrations. Keep in mind, I am seeing all this with a 24mm lens so if you use the longer lenses (Sony advertises up to 85mm lenses are possible) it will make all these issues much worse. If I had a working video feed during my testing I would have been able to easily fine-tune the gimbal but since I couldn't see anything, it would have made it very difficult do to out in the field.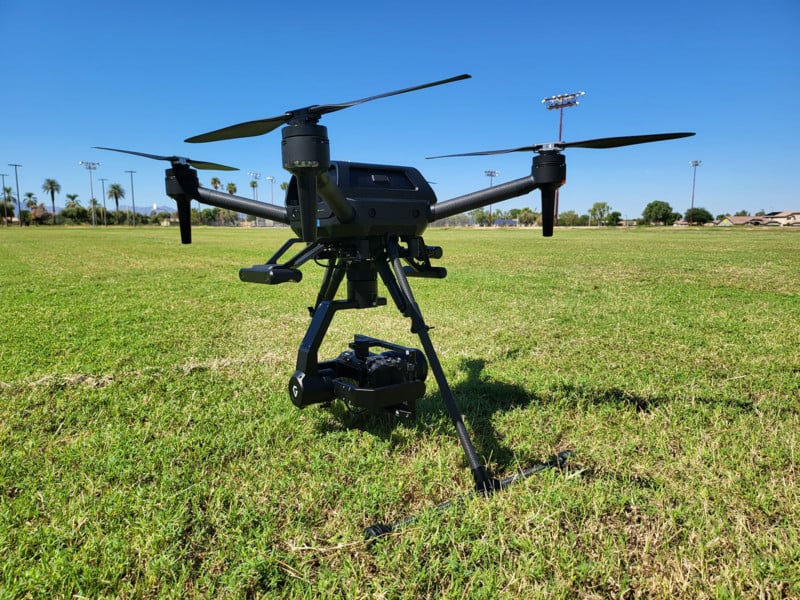 A Second Chance
After these flights, I reached out to Lensrentals and told them about my experience. They offered to ship me a second AirPeak S1 to test to see if it experienced the same issues. This was really nice of them to do, and I really did want to give the S1 a second chance. For all I knew, there was just something wrong with my particular unit.
Two days later, a second S1 arrived and I unpacked it all and set up the drone as before. Unfortunately for Sony, this one experienced all the same issues as the first one I received. This tells me that there is a fundamental issue with the software and quite possibly, the hardware of this drone.
The Airpeak S1 is an Incredibly Disappointing Drone
I am really disappointed with Sony's first attempt at a drone. I had such high hopes for it and was really hoping this would be a strong candidate to replace my Inspire 2. Unfortunately, the Sony AirPeak S1 missed pretty much every single mark that I was looking for in a replacement.
My overall opinion is that the Sony AirPeak S1 is not ready for commercial use. To be honest, I don't think it is even ready for release. The S1 is plagued by multiple bugs in the software that need to be addressed and if the temperatures were closer to what they really are here in Phoenix this time of year, I doubt I could have even gotten to five minutes of flight without it overheating. The fact that the flight times are so short even without the overheating issue also means you would need to bring a huge number of batteries and chargers along to make it through a normal shoot day.
I really want to thank Lensrentals for their awesome support during the setup process and for them sending me a second drone to test. I have been told that they have also experienced some of the same issues with the video feed that I experienced. They also mentioned that they were passing all my feedback on to Sony to see if there is anything they can do about these issues.
At the time of publication, we had not heard anything in response to that feedback.
Are There Alternatives?
I've mentioned them a few times in this review, but you're much better served going with the $5,300 DJI Inspire 2 or the $21,800 FreeFly Systems Alta X. Both drones are a lot more reliable, have much more stable software, and have significantly better performance in the air. The Sony Airpeak S1 is a $9,000 drone before adding a gimbal or camera, so these two alternative options fit on both sides of that pricing.
Should You Buy It?
No. If you are looking for a new drone for your film business, I would not recommend the Sony Airpeak S1 unless you are looking for trouble. I personally think Sony should stick to making cameras and TVs and leave the drone building to the professionals.
---
About the author: Josh Lambeth is the owner of Birds Eye Productions, LLC based in Phoenix Arizona. Birds Eye Productions was founded in March of 2012 and was the first cinema drone service company in Arizona. Josh specializes in medium and heavy-lift drone operations on commercial projects all around the world and has flown for companies such as Apple, Showtime, Netflix, Ford, Marriott, and many others. Josh has over 10 years of experience flying drones and 21 years of production experience.