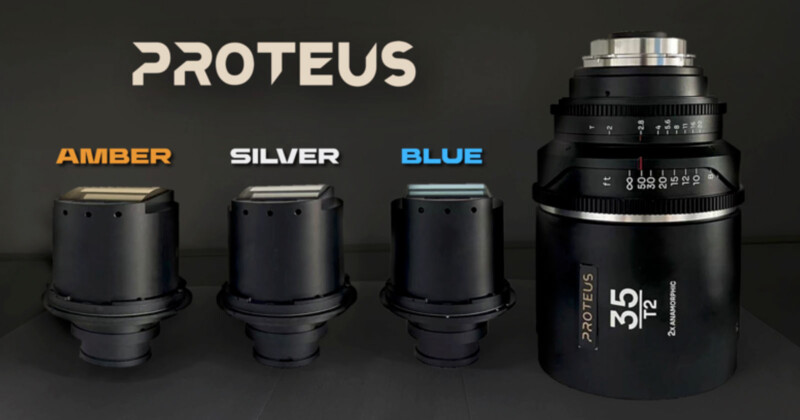 Venus Optics and Keslow Camera have jointly announced an interchangeable flare version of the Laowa Proteus 2X Anamorphic Lens series, the Proteus Flex.
The Laowa Proteus Flex is an "innovative addition to the Proteus 2X Anamorphic prime lens lineup" and includes interchangeable flare functionality.
Anamorphic lenses offer distinct, cinematic lens flare that appears as a streak of light rather than the typical circular flare on standard spherical lenses. Anamorphic lenses are often sold with different lens flare colors, including the standard Proteus 2X lenses available in amber, blue, and silver flare varieties.
With the new Proteus Flex, cinematographers do not need to pick just one flare color and can purchase a single lens and swap out flare colors to fit the needs of a specific production.
"Introducing the new Proteus Flex Series is a noteworthy development for rental houses and the film industry. This innovation brings remarkable flexibility and cost-efficiency to the forefront by providing three distinct flare colors within a single modular design," says Dennis McDonald, Chief Operating Officer at Keslow Camera. "This elevated level of modularity enhances the versatility of the entire series, simplifying the filmmaking process."
The Proteus Flex's modular design comprises a core Proteus lens body, which is identical to the existing Proteus line, plus three interchangeable flare modules. The precision-crafted modules can easily be swapped. It secures to the Proteus lens via screws, and Venus Optics says an on-set technician can perform the swap in about 10 minutes without the lens requiring optical calibration.
The Laowa Proteus Flex 2X Anamorphic Series with interchangeable flare options will be available to rent from Keslow Camera. The lenses will also be available for purchase through Venus Optics and authorized retailers beginning in January 2024. The pricing for the Laowa Proteus Flex lenses has not been finalized.
However, the Laowa Proteus 2X Anamorphic lenses without interchangeable flare options are available to order now, including the most recent 20mm, 28mm, 100mm, and 135mm primes, which are expected to ship later this year. The Laowa Proteus 2X Anamorphic series lenses are available in in PL mount by default and come with an interchangeable EF bayonet.
The complete details for all Laowa Proteus 2X Anamorphic lenses are available on the Laowa website.
---
Image credits: Venus Optics