Ahead of the iPhone 15 and iPhone 15 Pro series smartphones launching this Friday, Apple has released the latest version of iOS. Rolling out to iPhone users starting today, iOS 17 brings with it a bevy of exciting new features. Here are some of the best new features and functions available in iOS 17.
Phone Experience Offers Personalization and Live Voicemail
In iOS 17, users can customize what others see when they call. For example, people can ensure other iPhone users see their custom emoji or a selected photo. These "Contact Posters" also allow people to customize the font and color of their unique screen.
Another significant change to the Phone experience in iOS 17 is Live Voicemail. When someone leaves a voicemail on an iOS 17-equipped iPhone, the user will see a live transcription as the person leaves a voicemail. This transcription shows up on the lock screen so a person can determine if they want to pick up the phone or let the voicemail continue. It is worth noting that Live Voicemail changes a person's voicemail message.
Further, if someone has Silence Unknown Callers enabled, unknown numbers will go directly to the new Live Voicemail. Calls identified as spam by a person's carrier will be declined and not go to Live Voicemail.
Additional minor tweaks to the iPhone include an improved call log and more robust Dual-SIM support.
Improved Messages
Apple has changed the look of the Messages app in iOS 17, delivering a cleaner user interface. A significant change is that all add-on features, like Camera and Photos, are now accessible via a new "+" icon above the keyboard instead of in the existing ribbon menu.
Other improvements to Messages include a "catch-up arrow" to jump straight to the first unread message in a chat, new search filters, the ability to use a swipe gesture to reply inline to a message, and improvements to audio messages.
Turn Live Photos into Live Stickers
iOS 17 delivers a revised Sticker experience, including the ability to create stickers from photos and animated stickers from Live Photos. Further, stickers are saved in the same location as emoji, downloaded stickers, and Memoji.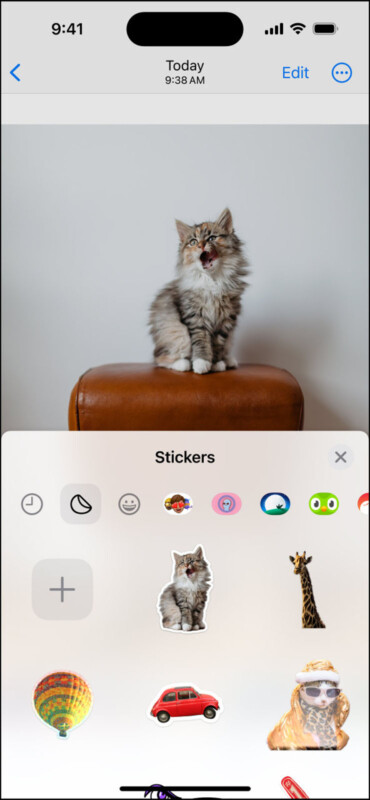 New FaceTime Features
With iOS 16, if someone misses a FaceTime call, then there is only a notification of a missed FaceTime call. In iOS 17, people can leave a video or audio message following a missed FaceTime call, like leaving a voicemail for a typical phone call.
FaceTime now supports 3D augmented reality (AR) effects like reactions that react to specific hand gestures.
iPhone and iPad owners with an Apple TV can use Continuity Camera for FaceTime to show a FaceTime call on their television.
Continuity Camera also enables some exciting features, such as using external cameras for FaceTime. One person has already devised a way to use a Nintendo Game Boy Camera for FaceTime.
StandBy: A New Full-Screen Experience
The first of two major changes to the iPhone's Lock Screen is the new StandBy mode. This mode activates when an iPhone is in a horizontal orientation, like when charging on a magnetic charger. StandBy shows information like the time, calendar, favorite photos, music controls, Siri functionality, Live Activities, weather, and more through widgets.
Interactive Widgets: More Actions
The second major change concerns widgets. They are now interactive on the Lock Screen and the Home Screen. Users can tap and use gestures to interact with widgets directly on the Lock or Home Screen without opening the related app.
AirDrop Does More
Thanks to NameDrop, if someone holds their iPhone near someone else's iPhone or Apple Watch, they can exchange contact information over AirDrop. Users can customize which part of their contact info is shared using this feature.
SharePlay With a Tap
Another new AirDrop improvement is SharePlay Initiation. Holding two iPhones close to each other can start SharePlay, enabling shared music, movies, or playing games on the two separate devices.
Journal
iOS 17 includes a brand-new native app called Journal. The Journal app lets users write about their experiences with built-in prompt suggestions to help people get started.
Like the native Health app, the Journal app includes robust privacy and security protections.
Better Keyboard, Smarter Autocorrect
Autocorrect promises to be more useful in iOS 17. Apple says that it is more accurate than ever. Further, words that are autocorrected are temporarily underlined and can be reverted to their original form with a simple tap.
Adaptive Audio for AirPods Pro
iOS 17 introduces an all-new listening mode for AirPods Pro called Adaptive Audio. This mode "dynamically blends Transparency and Active Noise Cancellation to tailor the noise control experience."
Apple Maps Goes Offline
Apple Maps has been steadily increasing in popularity among iOS users. In iOS 17, users can save an area of a map to their phone for use while offline. This is very useful for people who visit areas where service is limited.
No More 'Hey Siri'
iOS users can now say "Siri" instead of "Hey, Siri" to open Apple's digital assistant. It is a small but meaningful change. A bigger improvement is Siri's ability to handle back-to-back requests. Users can tell Siri to send a message and set a reminder at the same time, for example.
Visual Look Up
Like Google's Lens, iOS 17 lets users search for things using an image. Visual Look Up can identify plants, animals, landmarks, and more. Users can tap and hold on to the subject in a video frame too.
Summary: Get iOS 17 Now
iOS 17 includes many more features than the ones outlined above. This dedicated .PDF shows even more features and enhancements available in iOS 17.
iOS 17 is compatible with all iPhones including and newer than the iPhone SE (2nd generation or later) and the iPhone Xr/Xs/Xs Max generation. This includes iPhone 11, 12, 13, 14, and 15 device families.
The new software update is now available to download to many users, with availability being rolled out to customers worldwide.
---
Image credits: Apple