Milwaukee, Wisconsin-based product design studio Retrospekt has partnered with Sanrio to release a "Strawberry Kawaii" collection of Hello Kitty-themed devices, including a Polaroid 600 instant camera.
"Kawaii" is the Japanese word for cute, and the entire collection leans hard into the aesthetic through pink accents, Japanese characters, and the iconic Hello Kitty herself.
"Smooth and sweet like a strawberry milkshake — this delectable collection is Hello Kitty at her most scrumptious. Created by Retrospekt and Sanrio exclusively for this new collection of retro tech products, every piece from the Strawberry Kawaii series features a clean white and pink palette with official Hello Kitty artwork bursting with flavor and including phrases such as 'Hello Kitty' and 'Kawaii' set in authentic Japanese hiragana characters."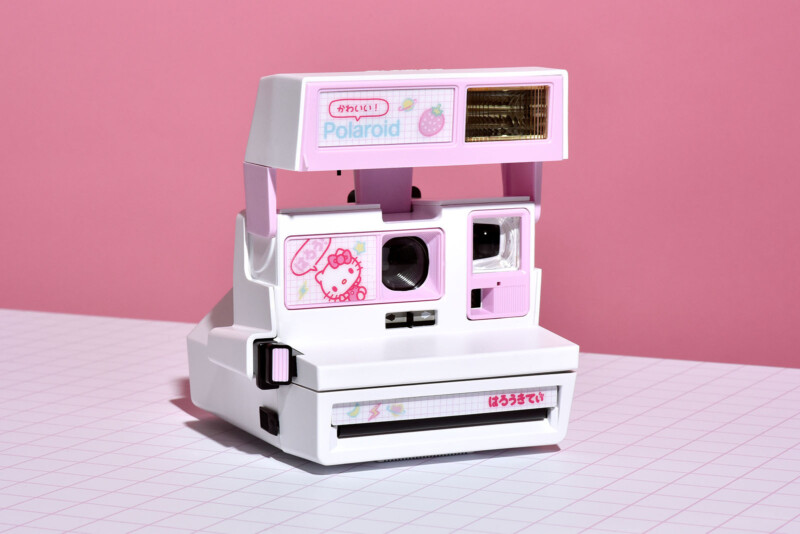 Just like Retrospekt's last collaboration with Santa Cruz brand Killer Acid, the Sanrio collaboration collection includes two cameras: a refurbished Polaroid 600 and the company's own FC-11 35mm film camera. Like all of Retrospekt's Polaroid cameras, this latest one is an original Polaroid 600 and is refurbished with genuine components from the 1980s and 1990s.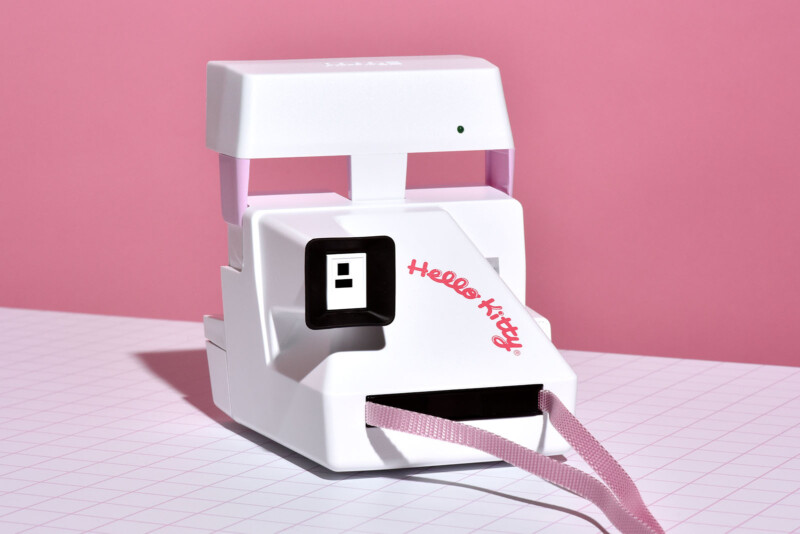 "Faithfully restored to work just like new, these original parts are housed inside newly designed and molded plastic exteriors featuring pink plastic accents, luscious red-printed external graphics and other exclusive Hello Kitty artwork," the company says.
The FC-11 is a simple point-and-shoot film camera that uses 35mm film (ISO 200 or 400) captured through its 31mm f/9 fixed-focus lens at a fixed 1/120 of a second.
But the Strawberry Kawaii collection doesn't end there: it also includes two new Retrospekt-created products including the CP-81 portable cassette player (and classic headphones) as well as a FC-11 camera bag that comes in one of two Hello Kitty designs. While designed to work with Retrospekt's camera, they are available separately from it and can fit any other similarly sized camera.
This is just the latest in a series of pop-culture collaborations that Retrospekt has done, including the aforementioned Killer Acid collab, another with Mattel, and yet another with artist Evan Weselmann. The company has even gold-plated a Polaroid SX-70.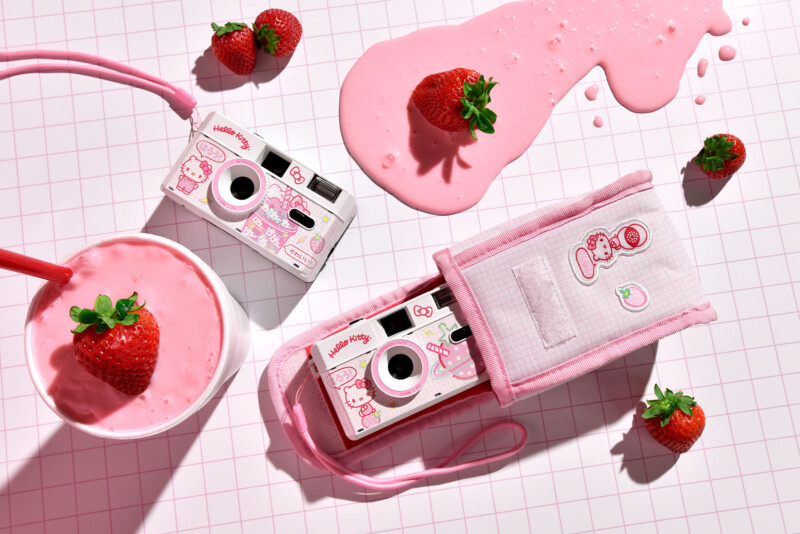 The Polaroid 600 Hello Kitty Kawaii film camera will retail for $179 and uses Polaroid 600 instant film (sold separately). The FC-11 film camera can use color or black and white 35mm film (also sold separately) and will retail for $59. The CP-81 is available for $99 and includes matching Hello Kitty headphones.
---
Image credits: Retrospekt