It might feel like Apple has been producing its own silicon for a long time now, but it's really only been a few short years. It's been less than two years since we got the M1 Ultra and with the new M3 Max, we've already surpassed its power in a portable form factor.
Yeah, that's a spoiler, but the M3 Max is remarkably impressive and in almost every metric we at PetaPixel test it outperforms the performance of the M1 Ultra inside of the Mac Studio desktop machine. We were all so taken with the M1 Ultra when it first came out but the ensuing chips have not had that same impact since, well, they didn't improve on that greatness all that much.
But put in context, we really do have to give more than a cursory glance to what Apple has accomplished in the past few years in order to really appreciate it, because it is so very impressive.
In this review, I evaluated the new 16-inch M3 Max MacBook Pro with 48GB of memory and 1TB of internal SSD storage. The M3 Max chip tested has a 16-core CPU, 16-core neural engine, and 40-core GPU, however it is not outfitted with the most memory that it can support which is 128GB with the M3 Max chip. As such, this laptop computer is fast, but it's not the fastest that Apple makes. As configured, it costs $3,999. Upgrading it to its highest specifications (max memory and 8TB SSD storage) bumps that cost up significantly to $7,199.
Apple MacBook Pro with M3 Max: Design and Build
Outside of a new color, the design and build quality of the MacBook Pro hasn't changed all that much since the Apple moved over to its own silicon. Side-by-side, the arrangement of the ports, the design of the keyboard, and the display are all visibly identical if not functionally the same as the M1 Max laptop I've been using as my portable workstation since it was released.
The biggest visual difference this year is that the MacBook Pro is available in a new "Space Black" color option in addition to the classic silver, and it looks good. I have always been a fan of darker hardware and my favorite colors are black and red, so naturally I have taken to this new option.
It also ships with a black, cord-wrapped MagSafe cable that is equally as dashing, but, bizarrely, the included charging brick is the same white that all Apple plugs are. I feel like this is a big missed opportunity, and seeing my beautiful black cable plugged into that white brick puts visible stank face on my visage. It is, at least, a 140W charger that recharges the MacBook very quickly.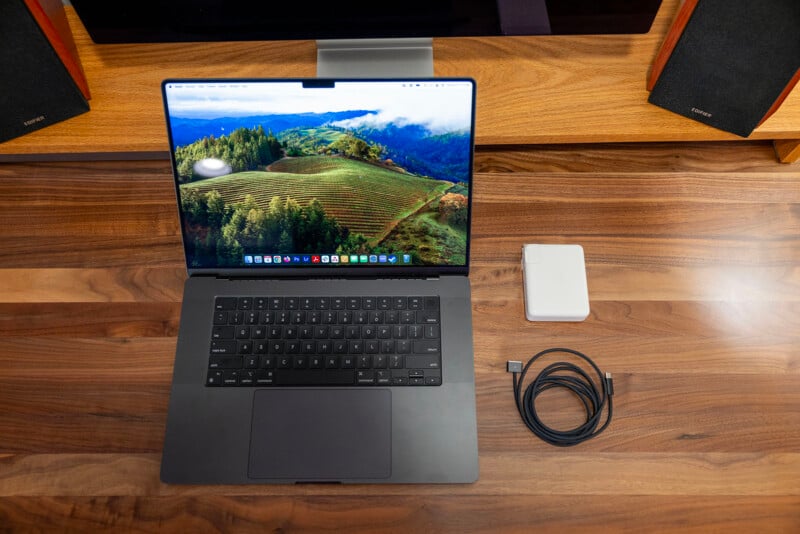 I will say that as much as I like the darker color, it shows fingerprints far more easily than the past space gray or current silver colors. I'll be regularly scrubbing this computer with a microfiber cloth compared to not really noticing it at all on the previous MacBook Pro.
The display is still fabulous and identical to last year's M2 Max model (check out that review for more details on the display). It's Apple's Liquid Retina XDR and offers 1,600 nits of HDR peak brightness and 1,000 nits of sustained HDR brightness (600 nits of SDR brightness, which is 100 nits higher than before and matches the Studio Display's maximum brightness). It also uses Apple's ProMotion technology for a refresh rate of up to 120Hz.
It features a two-dimensional backlight with 10,216 mini LEDs arranged in 2,554 local dimming zones for a 1,000,000:1 contrast ratio. If those numbers sound familiar, it's because they are the same as was found in the M2 Max MacBook Pro I reviewed in January. While I am partial to OLED panels, they are not without flaws. OLEDs can suffer from what is colloquially called burn-in and while they are getting brighter, they aren't as bright as LED technology. Mini LED is still quite capable of rich blacks and can deliver better brightness without the risk of burn-in. I very much like Apple's display and am happy to see it return.
Also making a return is the 1080p FaceTime camera which is as good as you can expect from a tiny sensor that lives in the notch at the top of the display. Yes, the notch remains and I continue to not have a problem with it, just as I have not been bothered by it for the last two iterations of this machine. I understand some people really don't like it, but I find it superior to the alternative of a smaller screen because of the necessity of a thicker bezel or the particularly horrible option of placing it at the bottom of the display right above the keyboard (this is an atrocious angle and I can't believe it's not banned by the Geneva Conventions).
Audio quality remains high thanks to Apple's use of six speakers and four force-canceling woofers. It remains my standard for what "good" laptop audio should sound like and not only does it have surprisingly good range across the lows, mids, and highs, but it also gets quite loud.
Ports and Connectivity
The number and layout of the ports is, again, familiar although there are some improvements to their performance. On the left side of the laptop, you'll find the MagSafe connector, two Thunderbolt 4 ports, and a headphone jack. On the opposite side is the HDMI 2.1 port, another Thunderbolt 4 port, and the SDXC card reader.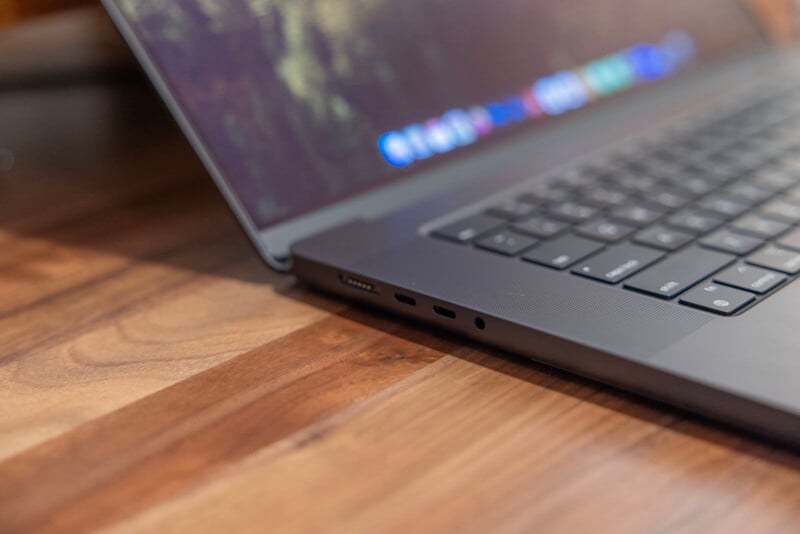 While this arrangement is not new, what is possible got a bit of an uplift. They now allow you to get up to four external displays: up to three external displays with 6K resolution at 60Hz over Thunderbolt and one external display with up to 4K resolution at 144Hz over HDMI. When using three external displays, you can get up to two external displays with 6K resolution at 60Hz over Thunderbolt and one external display with up to 8K resolution at 60Hz or one external display with 4K resolution at 240Hz over HDMI.
Having true HDMI 2.1 is fantastic, and Apple's inclusion of it here also means the MacBook Pro gets HDMI variable refresh rate (VRR) support, too.
I wish that Thunderbolt was capable of a higher framerate at 4K (and higher) resolution, and as a result I do find myself wanting a full-size DisplayPort, but I recognize that the tools I have here are probably more than enough for most people. However, if Apple really wants to push more into gaming like it really seems like it does, then it is very likely going to have to consider supporting full-size DisplayPort in the future.
Of note (although not different from previous models) you can charge the MacBook Pro one of two ways. The first is via the USB-4/Thunderbolt 4 ports which provides a charge power (and will bus power attached devices at up to 15W). The other is with the aforementioned MagSafe and that is capable of 140W fast charging. Apple says that the 140W charging brick that ships with the 16-inch MacBook Pro is capable of taking the computer from empty to 50% charged in 30 minutes.
I like this flexibility and find that I use the MagSafe when I travel but tend to do a "one cable" solution when I'm at home: one Thunderbolt 4 cable into a Studio Display, which connects me to a second screen and keeps the laptop juiced up.
Keyboard and Trackpad
This will be short and sweet because to my touch, again there isn't anything new here compared to the last two MacBook Pro models. The keyboard is based on the standalone Magic Keyboard and feels fantastic to use if you're a fan of low-profile keys. I don't personally like full-sized, "clicky" mechanical keyboards but I know that many people do. If you're in that latter camp, you will probably find Apple's keyboard to feel significantly "mushier" than a mechanical keyboard would, but it's by no means anywhere as bad as it used to be with the Butterfly keyboard.
For those of you who are like me, this is the standard by which all other low profile keyboards are judged. I also have a Logitech low profile keyboard and while that one is "fine," it can't hold a candle to how good it feels to use Apple's keyboard.
As I have said before, I think Apple's trackpad is pretty much the perfect size. It's not so large that you accidentally hit it when you don't intend to but not so small that you're fighting to get enough room to perform any tasks. It is Force Touch-enabled, of course, and it is overall very responsive. That's exactly what I said in my last review and, since nothing has changed, I maintain that opinion.
Apple MacBook Pro with M3 Max: Performance
What has changed the most is, of course, the M3 Max chip in this latest 2023 MacBook Pro. Because of it we were promised some rather impressive performance bumps via Apple's ambiguous charts, so rather than rely on those, we went ahead and actually tested it to see how it performed in the tasks that filmmakers and photographers actually care about.
We perform three benchmarks as part of our testing at PetaPixel: Lightroom Classic, Photoshop, and Premiere Pro.
For Lightroom classic, we import 110 61-megapixel Sony Alpha 7R IV and 150 100-megapixel Phase One XF RAW files, generate 1:1 previews, apply a custom-made preset with heavy global edits, and then export those same files as 100% JPEGs and 16-bit TIFFs. We track all of these tasks by time that is an average of three runs.
For Photoshop and Premiere we rely on Puget Systems' industry-standard PugetBench benchmark. For Photoshop, we still use version 0.8 since it is the last version that includes the Photo Merge test, which is a feature we think is particularly valuable for photographers. For Premiere, we use the latest benchmark which looks at how well computers perform high-resolution (4K and 8K) exports in LongGOP and intraframe as well as provides a RAW video and GPU effects score.
The High Power Setting
Like the M1 Max and M2 Max chips, the M3 Max can also utilize Apple's "High Power" mode. In the Battery section of the computer's settings you can select "High Power" over the default "Automatic" or optional "Low Power" modes.
High Power mode is designed to maximize performance in intensive, sustained graphic workloads. By default, the computer is set to Automatic regardless of whether the notebook is running on battery or plugged in. However, users can toggle this separately for either scenario.
When the computer is in High Power mode, the fans are allowed to run at higher speeds to increase the cooling capacity and, theoretically, may allow it to perform better in very intensive workloads.
So, naturally, I ran our benchmarks in both High Power and Automatic modes to see if I could eke out better scores by unlocking the fans and letting them spin up to max. After looking at the data, I found that at least in creative applications, there was no noticeable difference. In fact, I didn't even notice that it used more power than when the computer was set to Automatic.
What this tells me isn't that High Power mode doesn't work, but rather the tasks that we assign it for our benchmarking just don't tax the computer enough to warrant more cooling. This makes sense to me because even during the most laborious benchmarks, the fan only kicked on for a portion of it and not for very long.
I think instead this is going to be something folks who are doing intense 3D modeling or gaming will appreciate, but it's not something we specifically test right now in a benchmark.
With that said, let's get to the benchmark results.
Lightroom
As mentioned, we track performance in Lightroom (which has GPU acceleration) across three metrics with two high-resolution camera files:
The M3 Max MacBook Pro is easily the fastest portable computer we've tested and it's even beating out desktop machines. M2 Max came close to surpassing M1 Ultra's performance but lagged specifically with those Phase One files. That is no longer the case on M3 Max.
Photoshop
PugetBench assigns an Overall and four Category scores after timing a wide variety of tasks ranging from the basics like loading, saving, and resizing a large .psd, to GPU-accelerated filters like Smart Sharpen and Field Blur, to heavily RAM-dependent tasks like Photo Merge.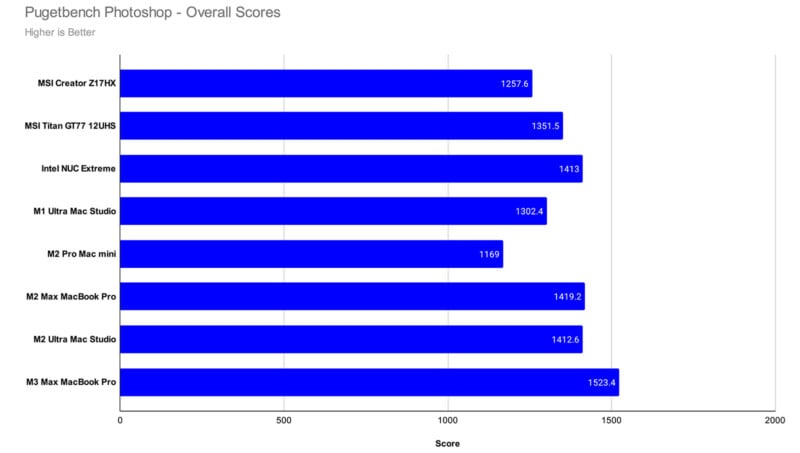 It has been a while since we saw a notable bump in this benchmark, but we're finally seeing it here with M3 Max. Where in the past we were starting to plateau, Apple has found a way to shift into another gear with its latest chip. Outside of the GPU portion of the test, the M3 Max is even besting the M2 Ultra Mac Studio. This is also the first computer we've tested that posted an Overall Score of more than 1,500.
Premiere Pro
In Puget Systems' Premiere Pro benchmark, the M2 Ultra retakes the lead (as it should). But the M3 Max still performs extremely well: it is the second-best computer we've tested in this benchmark, beating out two other desktop machines in the M1 Ultra Mac Studio and the Intel NUC 13 Extreme.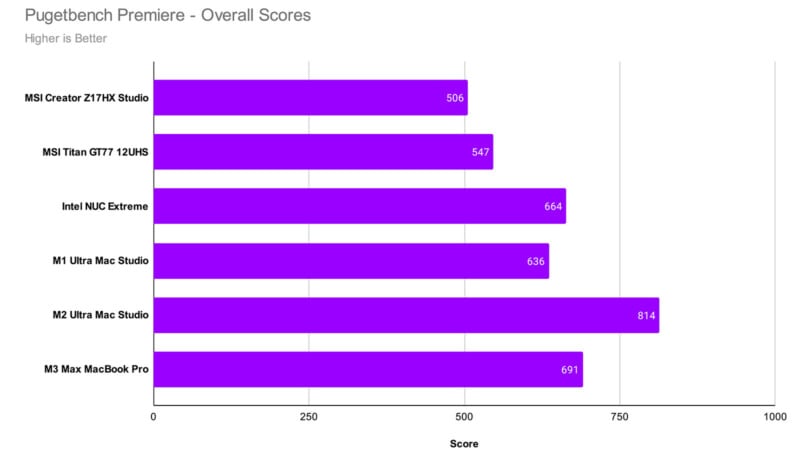 Apple MacBook Pro with M3 Max: Performance Takeaways
There are a couple very important details to bring up about these results after we get past the obvious fact that yes, the M3 Max is very, very powerful.
First, you can expect this level of performance with or without wall power. I know this not only because Apple promises it but also because I tested it. I ran our benchmarks on wall power for the main results, but to verify I also ran them again on battery power only. I got the same results. This continues to be the biggest advantage of Apple: excellent power and thermal management and no compromise on performance between wall power and battery power.
It is also worth considering that I am not using the most powerful M3 Max computer that Apple makes. Memory is relatively low at 48GB on this machine and yet it is outperforming the M1 Ultra Mac Studio that has a 64-core GPU, 32-core neural engine, 20-core CPU, and 128 GB of unified memory. Apple's use of 3-nanometer technology with M3 is clearly making a huge difference, since the number of cores and memory are both significantly lower compared to M1 Ultra and yet performance is notably better in almost every metric. M3 also uses what Apple characterizes as next-generation CPU cores and feature faster performance cores and efficiency cores.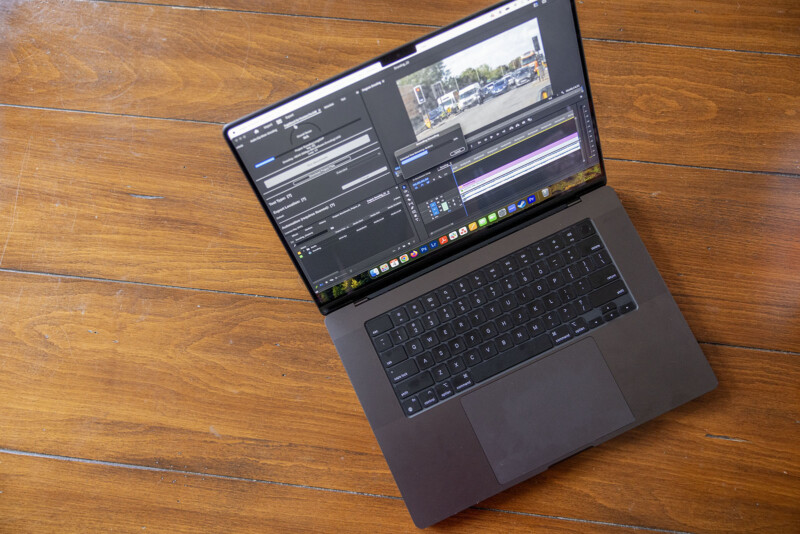 I think that's the best way to really "get" why M3 is so impressive. Sure, compared to M2 Max, it's not nearly as big of a leap. But M1 Ultra isn't even two years old yet and we've already compressed the performance of what used to take two chips fused together in a desktop machine and beaten it in a single chip laptop. Oh, and we're beating the most tricked-out M1 Ultra-equipped computer, the best that was available at the time, with not even the highest-end M3 Max. Like, what!? We are even coming close to the performance of M2 Ultra with this new chip.
Yes, M3 Max is faster than M2 Max which is faster than M1 Max, but if you only look at improvements over the most recent generation, it really doesn't sell just how big of a leap Apple is making in such a short period of time. We really have come an incredibly long way so very, very quickly.
Apple MacBook Pro with M3 Max: Battery Life
Apple says the M3 family of chips can deliver up to 22 hours of battery life, a metric determined by measuring how long it lasts when watching Apple TV with the brightness set to eight clicks from the bottom. The company says it'll last for 16 hours when browsing "25 popular website" with the brightness set to eight clicks from the bottom. That level of brightness might seem low, but it's definitely not unheard of as I've seen other battery tests also measure when display brightness is pretty low.
That is, however, not entirely realistic. Many users will be pushing the display's brightness to 75% and beyond, especially photo and video editors. Also, this is a professional machine and as such, it's more useful to know how long it lasts when actually performing at least a somewhat demanding task.
So to get us that, I tested battery life in both High Power and Automatic modes in Premiere Pro, where I played back a 1080p timeline edit at full resolution at 75% brightness. With these parameters, the laptop lasted a bit more than six and a half hours. It burned about 15% of battery power per hour and it performed identically in High Power and Automatic modes — that is to say, it didn't use more power when set to High Power.
Breaking down Apple's battery numbers, the company is quoting about 4.5% of battery life used per hour to get to the quoted 22 hours of life. So, around three times that figure while doing something resource-intensive like running a Premiere edit isn't really too bad and I'm perfectly happy with the 6.5 hours. That's a lot better than any PC laptop I have can achieve.
Apple MacBook Pro with M3 Max: Gaming Performance
Ew, gaming? I thought this was a photography website. As I type this, I can hear all your comments lamenting that I would even sully my computer with a video game, but given that Apple is putting a lot of emphasis on gaming now, I decided it was only in your best interest if I tried it out for myself and let you know how it fares.
There aren't a ton of games out there that are designed to work on the Mac, especially when you look at new AAA releases, but there is one that is both resource-intensive and basically brand new: Baldur's Gate III. I am happy to report that I was able to max out all the settings (I was capped at 4K 60hz, but graphically I pushed everything as high as it would go) and I only saw two total errors in a few hours with the game: one was a single frame of screen tearing in a pre-rendered cutscene and the other was an odd graphical glitch in a single conversational scene that caused lighting to appear strange for about 10 seconds. I'm not sure who is to blame for the second one which popped up a few times over the course of my gaming time but neither issue was enough to ruffle my feathers or seriously interrupt my experience.
Look, we aren't set up to benchmark games because it's not what we do here, but I have to say that I never noticed frames dropping to a degree that interrupted gameplay and I didn't have any major bugs or crashes. The fan did spin up, but it was never at maximum and was easily ignored. It was a lot quieter than the NUC 13 Extreme or Chris Niccolls' Gigabyte Aero, let me tell you. I do also want to note that I wasn't playing with High Power enabled because I wanted to see if at any point I would feel throttled without it. At least in Baldur's Gate, that never happened.
All I can say is that if a game is set up to run on Mac and optimized for the operating system, the M3 Max can handle it beautifully. It's just a matter of convincing developers to put that time and effort in. Now, excuse me, my half-elf ranger and I have a realm to save.
Apple MacBook Pro with M3 Max: It Just Keeps Getting Better
Apple's Mac sales aren't particularly strong right now and that, I wager, is due to two main factors: one, the previous chips are very good and most who bought in to Apple Silicon don't see a real need to upgrade. Two, gaming is a big deal right now and Apple's weak support for it in the past sent a lot of folks to the PC side. I can't really help solve that first issue since I think that it's great Apple silicon is so good that it is lasting for years and likely will have much more staying power than when Apple was using Intel.
But I will say that the performance of Baldur's Gate III on the M3 Max bodes extremely well at addressing the second issue. As an avid gamer, I can't really express how excited I am that I can finally take a good video game with me when I travel. I've been lamenting that my best gaming laptops are huge, have massive power adapters, and sound like a helicopter when I fire them up. Now I can just use the same computer I employ to edit the PetaPixel Podcast every week and when that is done uploading, I can fire up a game before calling it for the night.
All this is in addition to the immensely impressive performance leaps we're seeing on Apple Silicon year over year, and especially with M3. I am in awe that Apple has already surpassed the performance of its M1 Ultra in a laptop less than two years after it hit the market. That's absurd.
Obviously I like this computer and you'll have to decide if it's worth an upgrade, but if you're still somehow still using an Intel-based MacBook Pro or desktop computer, I think this should be obvious: M3 Max is definitely worth the upgrade.
Are There Alternatives?
I think the best bet for an alternative is either an M2 Max MacBook Pro or even the M3 Pro MacBook Pro, as either will bring enough performance to the table to satisfy most photographers and independent filmmakers. If you are more interested in a PC but want similar performance, I would recommend the Razer Blade 16 or other Razer Blade laptop sizes as they have the best Intel and NVIDIA currently offer. I've had a Razer Blade for two years now and it's still performing great, so I can at least attest to their staying power. But just remember: battery life and performance off wall power is not going to be as good.
Should You Buy It?
Yes, though it will appeal most to those who are still using an Intel-based MacBook Pro or the original M1 series laptops (the former more than the latter). The 2023 MacBook Pro with M3 Max is a wonderful machine.